BERLIN — Detectives launched a Europe-wide manhunt Wednesday for a Tunisian suspected in the deadly terrorist truck attack on a Christmas market in Berlin.
German police have identified the suspect as 24-year-old Anis Amri. He was being sought in Germany and across Europe's border-free travel zone, Interior Minister Thomas de Maiziere said after briefing Parliament's domestic affairs committee.
A reward of up to 100,000 euros ($105,000) is being offered for information that leads to his capture.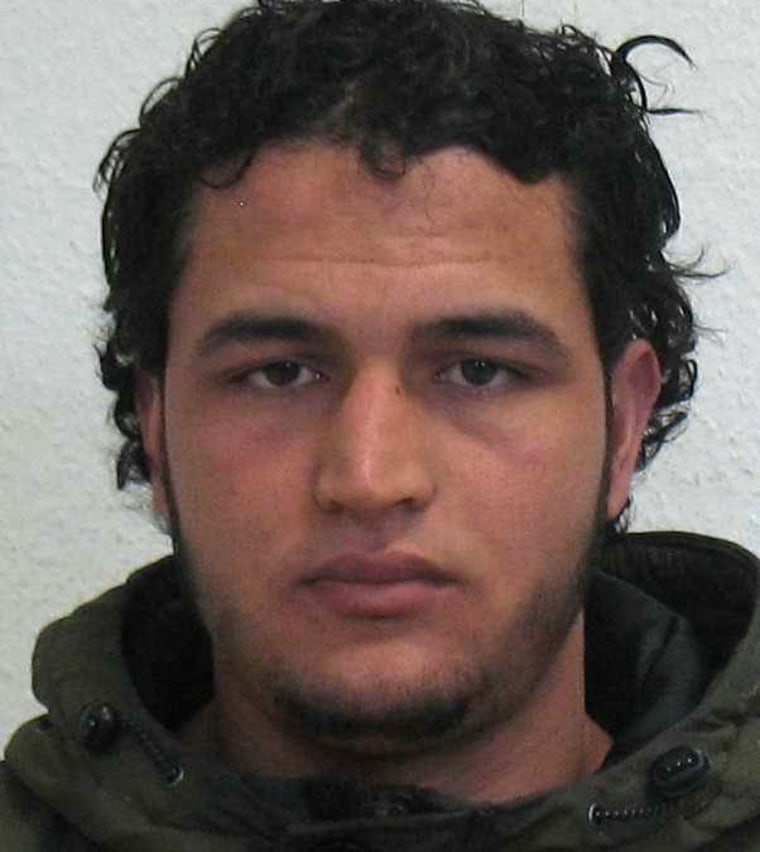 Two U.S.intelligence officials confirmed to NBC News that the Germans were seeking the man in connection with Monday's rampage. Another suspect, a Pakistani migrant, was released Tuesday without charge after police said there was insufficient evidence.
Twelve people were killed and 48 wounded when the stolen 27.5-ton truck smashed into wooden huts serving mulled wine and sausages in the capital's Breitscheidplatz on Monday night.
The city's police department posted on Twitter that "508 leads regarding [the attack] were received by our colleagues answering the tip-line … thank you."
There were signs of a struggle in the truck's cab and traces of the suspect's DNA were found, regional state broadcaster RBB reported, saying officers searched local hospitals in case the culprit had sought medical treatment. A second arrest was made overnight but that suspect was also released, it added.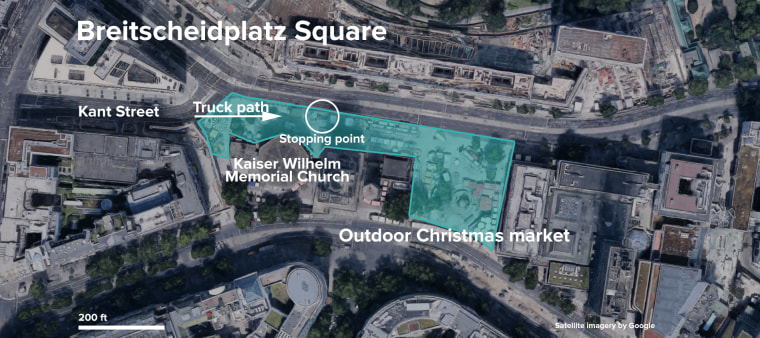 Meanwhile, Der Spiegel reported that an identity document belonging to a Tunisian man was found in the cab and that a police operation was underway in the region of North Rhine Westphalia.
None of those reports could immediately be verified by NBC News.
Authorities sought to calm nervous Germans who find themselves in the midst of manhunt during the traditionally busy final shopping days before Christmas.
"We must not be afraid," Berlin Mayor Michael Müller told ZDF early Wednesday. "It would be fatal now if we locked ourselves up at home and did not go out. It is right that we remind people that we have a tense situation and that people must remain vigilant."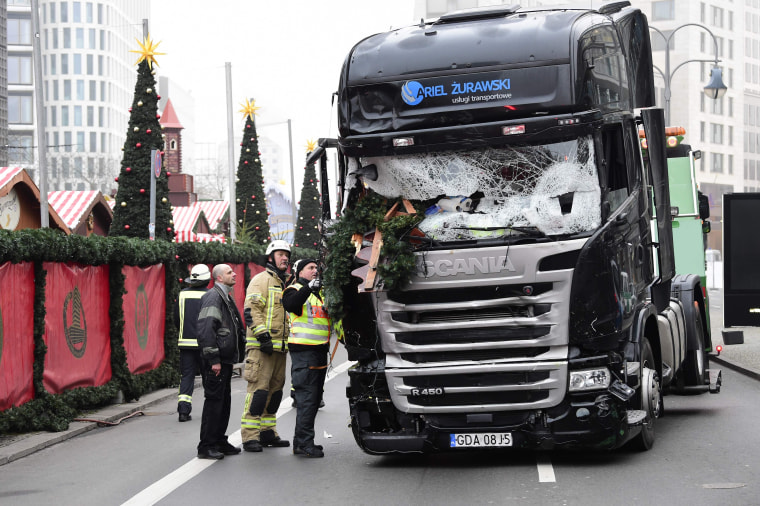 Most of the approximately 60 Christmas markets in Berlin were expected to re-open Wednesday, although Breitscheidplatz remained closed off by forensic teams.
Police in Cologne expressed fear of copycat attacks and added extra armed patrols but said closing Christmas markets was not an option.
Andre Schulz, national chairman of the Federation of German Detectives, expressed optimism that the investigation would be quick.
"I am relatively confident that we will perhaps [Wednesday] or in the near future be able to present a new suspect," he told a discussion panel on ZDF.
Authorities on Tuesday released a 23-year-old Pakistani migrant, identified only as "Naved B.," who had been taken into custody Monday night.
Reports that a brave witness chased the suspect from the truck turned out to be untrue, Die Welt reported Wednesday, adding that the Pakistani was arrested "on the basis of vague descriptions."
His cellphone "did not contain any evidence of links to terrorist groups and the asylum-seeker vehemently denied the accusations — untypical for a radical religious extremist," Focus magazine reported.
The person responsible could now be hiding among an estimated 500 known Islamist sympathizers living in Berlin, the magazine said.
Officials have yet to find a pistol that is believed to have been used to kill the first of the 12 victims — a Polish truck driver who was supposed to be delivering steel beams.
The driver, identified by his boss in media interviews as 37-year-old father-of-one Lukasz U., may have fought the suspect even as the attack unfolded, according to reports. "There must have been a fight," an anonymous investigator told Bild.
Among the injured was Inaki Ellakuria, who underwent surgery for a broken tibia and fibula on his left leg. He said he knew immediately it was no accident.
"It came fast, too fast to be driving off the road accidentally," the 21-year-old student from Spain tweeted only minutes after the attack. "It has swept me and ran over both of my legs."
The media arm of ISIS issued a statement claiming the attack was done in its name, although it gave no evidence and did not identify the attacker, according to analysts Flashpoint Intelligence.
Germany is not involved in anti-ISIS combat operations but has fighter jets and a refueling plane stationed in Turkey in support of the U.S.-led coalition fighting militants in Syria, as well as a frigate protecting a French aircraft carrier in the Mediterranean, among other assets.
In Florida, President-elect Trump said he has not spoken to President Obama about the Berlin truck assault and called it "an attack on humanity."
"That's what it is," he said. "It's an attack on humanity and it's got to be stopped."
Asked if what happened has made him rethink his calls for banning Muslim immigration to the U.S. or creating a Muslim registry, Trump gave a vague answer.
"Hey, you've known my plans all along," he said. "They've proven to be 100 percent correct. What's happened is disgraceful."