MILAN, Italy — Emotions ran high on Saturday near the spot where the suspect in the deadly Berlin truck rampage was killed in a shootout with Italian police.
Competing rallies were held as details emerged about the death of 24-year-old Anis Amri, who died in a hail of bullets after a chance encounter with cops on the outskirts of Milan early on Friday. A handful of supporters of the Northern League, a right-wing party, staged a protest outside the train station in Milan's Sesto San Giovanni neighborhood.
"It's unacceptable that this man was free to go back and forth from Italy," said the party's leader, Matteo Salvini, as he stood behind a banner that read "No To Terrorism, More Security. "We need more checks at the borders, and we need to expel illegal immigrants."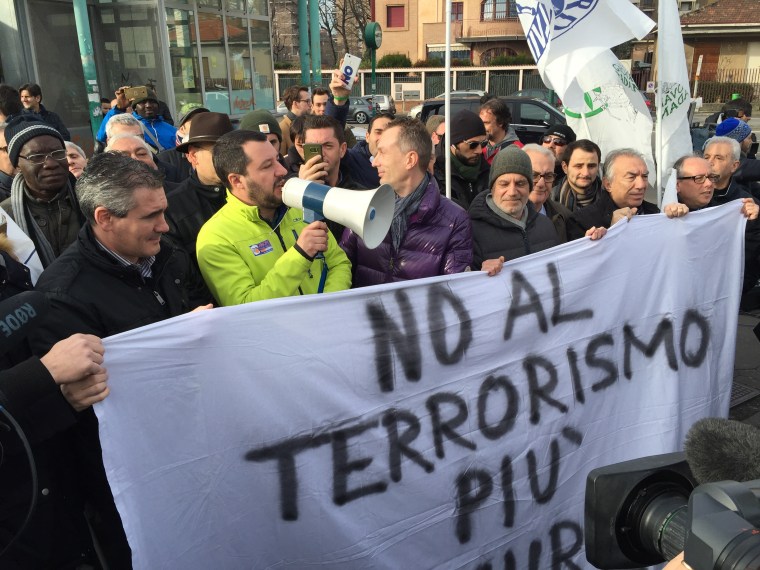 A few feet away, a group held a banner that read "People before Borders" and shouted insults at the other crowd.
Also on Saturday, Italian officials painted a fuller picture of the encounter between Amri and police early Friday.
Two officers — 36-year-old Cristian Movio and 29-year-old Luca Scata — performed a routine check on Amri as he was standing in front of the station alone at 3 a.m. (9 p.m. Thursday ET), according to Fabio Perilli, a spokesman for Italian federal police.
After the policemen asked for identification, Amri pulled out a gun and shot Movio at close range, hitting the officer in the shoulder, he said. Scata then took cover behind the police car and fired back, shooting Amri fatally, Perilli added.
Movio's injuries were not life threatening.
On Friday, Italy's Interior Minister Marco Minniti described how cops noticed a "man who walked suspiciously." When he was stopped, Amri shot the policemen, Minniti said.
Italian police also provided some details of Amri's journey to Italy, based on train tickets found on the slain suspect.
On Thursday evening, Amri took a train at at 5:24 p.m. (11:24 a.m. ET) from Chambery, France, to Turin, Italy, where he arrived at 8:18 p.m. (2:18 p.m. ET). It is not known how and when he got from Berlin to Chambery.
Amri then got on a train destined for Milan, Perilli said, arriving at 12:45 a.m. on Friday (6:45 p.m. ET Thursday). He walked to a bus stop nearby, and took a shuttle bus to Sesto San Giovanni, where he eventually encountered police.
While intelligence agencies are asking themselves how Amri managed to travel across Europe via train unnoticed, Italian authorities are looking to establish the reasons behind his decision to go to Sesto San Giovanni, a relatively quiet and residential area.
Sesto San Giovanni is an important junction for buses that travel to southern Italy, Albania and several other destinations. The only bus scheduled to leave on Friday morning, a driver told NBC News, was bound for Morocco via Spain.