BERLIN — The Tunisian man named as a suspect in Monday's truck ramming attack on a Berlin Christmas market had been investigated and was scheduled to be deported — but documents that held up the expulsion arrived two days after the deadly rampage, authorities said Wednesday.
"He was classed as a potential risk by various authorities," including those in the state of North Rhine-Westphalia where he briefly stayed, Ralf Jäger, interior minister for the NRW, said.
Now a massive manhunt across Europe is underway for Anis Amri, 24, wanted in the Monday evening attack on the holiday market in the Breitscheidplatz, which killed 11 people and injured nearly 50 others.
The Polish driver of the truck used in the attack was also found shot dead in the cab of the vehicle, and authorities have said there were signs of a struggle.
The media arm of ISIS issued a statement Tuesday claiming the attack was done in its name, although it gave no evidence and did not identify the attacker, according to analysts at security consulting firm and NBC News partner Flashpoint Intelligence.
Germany has been a leader in Europe in taking in refugees from war-torn Syria. A few dozen demonstrators from the extreme-right NPD party held a demonstration Wednesday in which a speaker use racist language and said "Bit by bit we are losing our homeland."
Amri came to Germany in July 2015 and while he lived mostly in Berlin, Jäger described him as "very mobile" and said he used various aliases.
Information about Amri from NRW was shared with a joint terror prevention center, and at one point he was under surveillance, Jäger said.
"Various authorities were watching him," he said.
And when Germany's Federal Ministry for Migration and Refugees in June rejected his request for asylum, the process of deporting him were held up by missing identification papers, Jäger said.
Tunisia at first denied Amri was a Tunisian citizen, and missing identification papers that delayed the deportation only arrived Wednesday, Jäger said.
Germany's Interior Minister Thomas de Maiziere cautioned that Amri was "a suspect, not necessarily the perpetrator."
"We are still investigating in all directions," he said.
A man who claimed to be Amri's brother, Walid Amri, told NBC News he spoke with him five days ago and upon seeing him in the news, "I was surprised like everyone else." Walid said he knew Amri was in Germany but didn't know what he was doing there.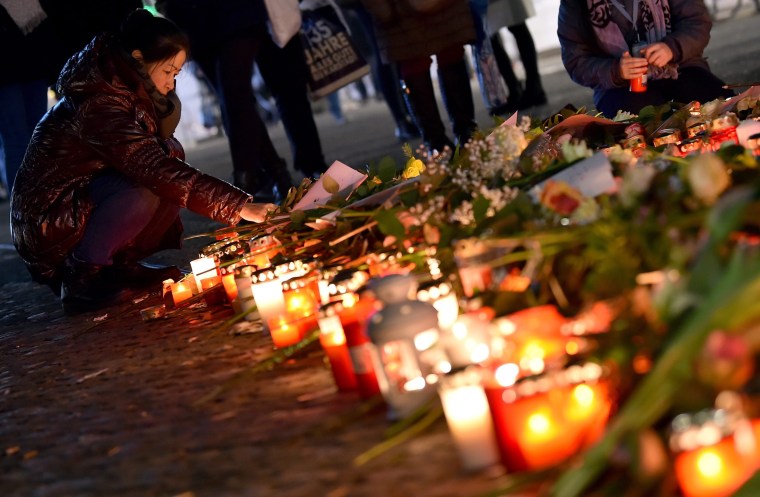 Berliners who gathered at the Breitscheidplatz to attend a memorial for the victims Wednesday said they would not be intimidated, and many used the attack to speak out in favor of Germany's open society.
"I feel just as safe as I did before; I'm a lot more likely to die in a bike accident than in this kind of situation," Michael Bickel, 51, said as he arrived to light candles. "All the stuff I'm reading about how we need to be afraid is nonsense. People in Aleppo have reason to be afraid."
Near the NPD rally, counter-demonstrators held heart signs and yelled "shame on you!"
"Yesterday I lit a candle for Aleppo, today I'm lighting a candle for the victims" in Berlin, Christoph Schliski said, referring to the Syrian city which was relentlessly bombed by Syrian government and Russian forces in a bloody campaign.
"I find it unbearable how the attack is being used to stoke even more hate because that's exactly the terrorists' goal," Schliski said.
German authorities have appealed for calm in the wake of the attack, and most of the city's Christmas markets re-opened Wednesday, after shutting down for a day in respect for the victims of the attack. Police late Wednesday finished up their forensic investigation and were reopening the Breitscheidplatz.
Many of those interviewed by NBC News Wednesday said they would not change their habits and want Germany to remain an open society. "I think it's remarkable how Berliners are taking it, not spreading fear. I haven't yet heard from anyone that they feel unsafe," Johanna Rüdiger, 20, said.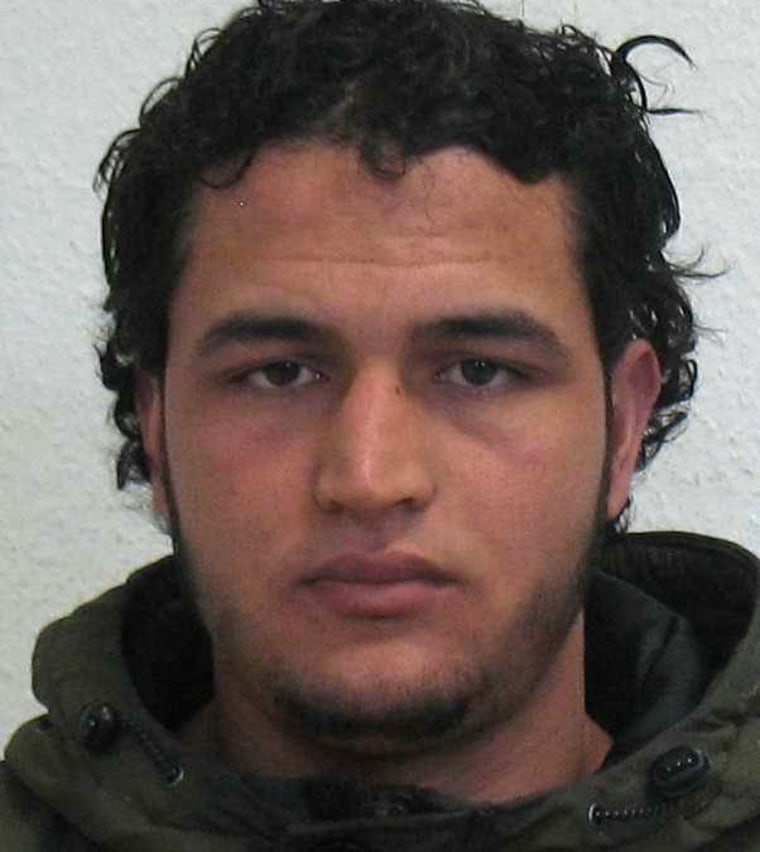 But police in Cologne expressed fear of copycat attacks and added extra armed patrols, although they said closing Christmas markets was not an option.
Not everyone in Germany's capital city said they felt safe.
"When you hear about an attack you don't let it affect you that much, but when it happens in the city where you live — and I walked by here an hour before it happened — it feels very different," said Marius Schuster, 27. "I couldn't hold back the tears."
"This [type of attack] can happen. It will, with certainty, happen again, as long as things don't change in this country," he said while visiting the Breitscheidplatz with his mother. "If it ... becomes normal to have to put concrete posts and fences around Christmas markets because we can't guarantee people's safety, that'll be pretty sad," he said.
The truck attack in Berlin put also U.S. cities on high alert, and security was heightened at markets and public spaces across Europe. The New York Police Department said it increased counter-terrorism in high profile areas.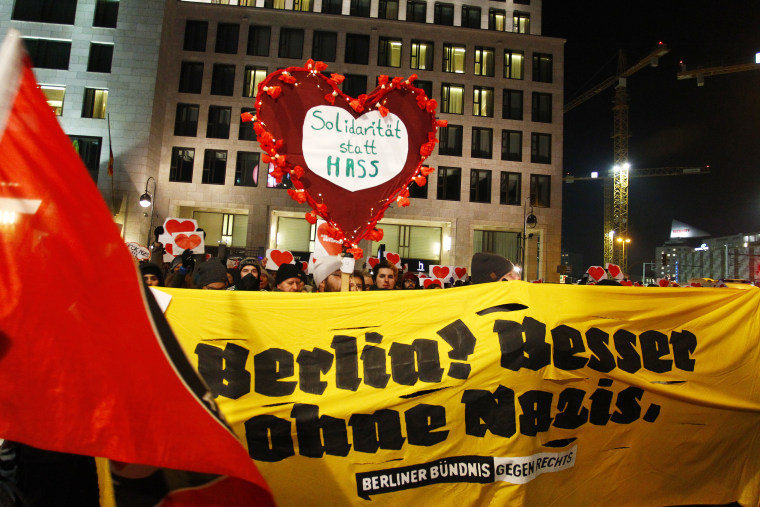 In Chicago, police parked their vehicles diagonally at the corners of Daley Plaza to block any vehicle access to a Christmas market there. In San Francisco, motorcycle and mounted horse units will were patrolling in high-traffic shopping areas.
"We'll make sure that the proper barriers are up — it's just a really sad situation," Boston Mayor Marty Walsh said.
In Berlin, Malian Seydou Coulibaly said the counter-demonstrators opposing the NDP rally buoyed his feeling that Germany wouldn't scapegoat immigrants following the Monday's deadly attack.
"I feel good because I see that most people aren't against foreigners," Coulibaly, 35, said.