A driver who plowed a truck through a Christmas market in Germany's capital, killing 12, acted deliberately in an incident that authorities said early Tuesday was probably terrorism.
At least 48 other people were injured in the incident Monday night at Berlin's Breitscheidplatz, a public square in the center of the city. German police said Tuesday morning that investigators now believe the truck was "intentionally directed" into the crowd.
Police said a man who was found dead in the truck, which bore Polish license plates, was a Polish citizen but was not the driver.
A second person was arrested near the public square, police said. No further details of the arrest were provided.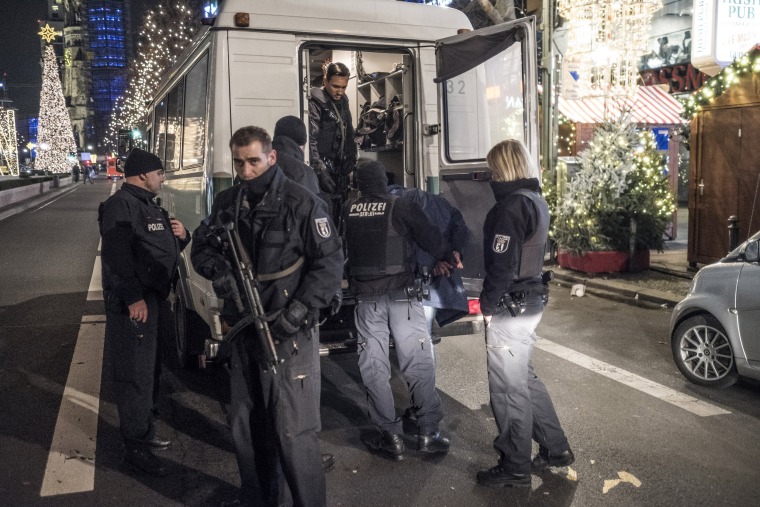 Ned Price, a spokesman for the U.S. National Security Council, said in a strongly worded statement that the incident "appears to have been a terrorist attack."
"Germany is one of our closest partners and strongest allies, and we stand together with Berlin in the fight against all those who target our way of life and threaten our societies," he said.
Photos: Truck Rams Through Christmas Market in Berlin
Emma Rushton, a witness, told NBC News that she heard the "terrifying" crash while she was with a friend at the Christmas market while on vacation in Berlin from Rugby, England.
"People were bleeding. There was lots of blood and lots of crying," she said.
Rushton said she that thought the truck was going about 40 mph and that "there was no way it was just a veer-off-the-road accident."
Other witnesses said victims were crushed.
Related: Low-Tech, Soft-Target Terrorism Is Growing Threat
The U.S. ambassador to Germany, John B. Emerson, called reports of the incident "devastating." Emerson said the embassy in Berlin was closely monitoring updates from German authorities and was ready to assist any U.S. citizens searching for news of their loved ones.
In July, a truck driver killed 84 Bastille Day revelers in Nice, France, and injured more than 200 others before he was shot dead by police. Officials said he had been planning the attack for months.
U.S. intelligence officials told NBC News that Monday's incident was somewhat consistent but that they are aware of no claims of responsibility and aren't ready to call it a terrorist attack. They pointed out that German authorities have conducted a series of raids in recent weeks, rolling up numerous ISIS operatives.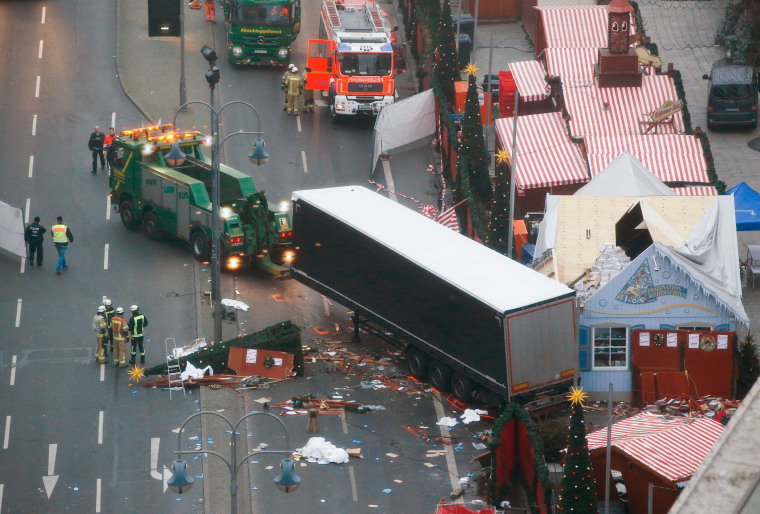 U.S. officials have long feared truck attacks on U.S. soil. Permanent truck barriers were installed around government buildings nationwide after the 1995 truck bomb attack in Oklahoma City. Police in New York and Chicago said Monday that they had beefed up their presences at high-profile locations as a precaution.
In November, the State Department warned U.S> citizens to exercise caution at overseas holiday festivals and outdoor markets in light of the heightened risk of terrorist attacks throughout Europe.
The Weihnachtsmarkt, or Christmas market, at Breitscheidplatz — just off the main shopping district of West Berlin close to the historic Kaiser Wilhelm Memorial Church — is one of dozens of Christmas markets in the city.