The deposition under oath Monday morning of Bill Cosby's wife, Camille, marks her first detailed comments since her husband was indicted on sex crimes charges in December.
A federal judge rejected the latest in a string of motions Sunday to stop the deposition in Springfield, Massachusetts, meaning Camille Cosby will have to show up to answer questions related to the allegations against her husband.
Related: Camille Cosby Loses Last Bid to Stop Monday's Deposition
The criminal case is separate from the civil suit that requires Camille Cosby's deposition, but the two legal tracks eventually could be linked, because such depositions can be used in a criminal prosecution.
Indeed, it was a leaked deposition in another civil case that, according to prosecutors, helped strengthen the evidence to indict Bill Cosby.
While Camille Cosby has consistently defended her husband, the lawyer taking Monday's deposition, Joe Cammarata, says she should have answers to crucial questions at issue in the suit.
"Did he sleep around? What were his relationships? Did he make payments of money to other women?" Cammarata asked, previewing his line of questioning in a telephone interview.
Cammarata said Camille Cosby's truthful answers to those questions could support his clients' claims, regardless of whether she is sympathetic to her husband.
Those topics are also highly private matters for a spouse to discuss in a civil case, which was one of the reasons Camille Cosby's lawyers argued that she shouldn't have to testify. They cited a Massachusetts rule — similar to those exists in most other states — protecting "private conversations" between spouses that occur "during their marriage."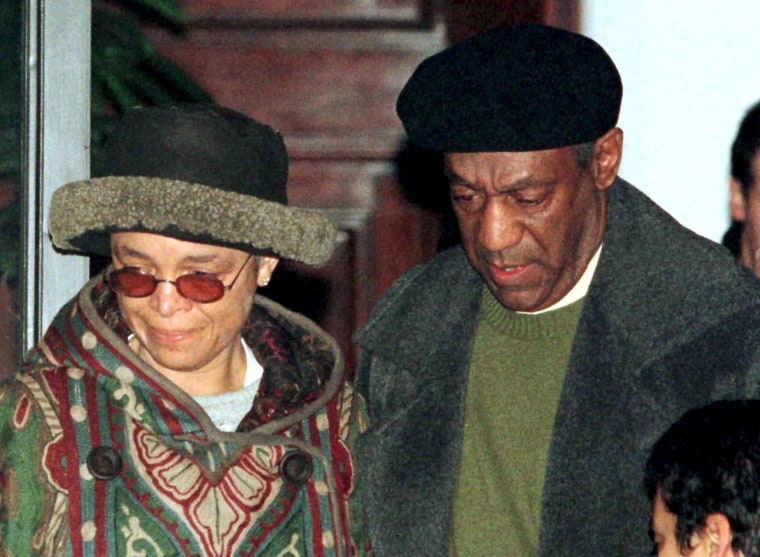 Camille Cosby's lawyers sought to prevent the entire deposition, arguing that it would cause "embarrassment" and diminish "the sanctity of her marital relationship."
The goal of marital privilege laws is to insulate the intimate, trusted communications between spouses from potential meddling by the government or courts. Massachusetts lawyer Tom Lesser said such protections allow spouses to be "open in their relationship," even about matters that might otherwise cause legal trouble.
Generally, if a spouse knows something based only on a private marital discussion, that testimony may be privileged. But a judge ruled earlier this month that the rule wouldn't insulate Camille Cosby from having to testify at all.
The extra wrinkle for Camille Cosby is that she isn't simply a spouse — she also served as Bill Cosby's business manager. That means she may know relevant information not based on their private conversations.
Bill Cosby has denied any wrongdoing through his representatives, who declined to comment beyond their latest filings.
Bill Cosby is suing several of his accusers for defamation, and the civil suit compelling Camille Cosby's testimony includes accusations of defamation from both sides.
While there may be skepticism that Camille Cosby's testimony would advance the case, Cammarata said she knows a great deal about her husband's life and has a serious duty to be honest.
"We expect [she] will be truthful to [her] oath," Cammarata said, adding that anything less would "open up her to criminal prosecution for perjury."