Andrea Constand emerged from the Bill Cosby trial with the justice she had long sought — but no malice for the man convicted of drugging and molesting her.
"I forgave Bill Cosby for what he did to me," she told NBC News in an exclusive interview for "Dateline" that aired Friday.
Watch the full episode of Dateline's "Bringing Down Bill Cosby" here.
"It's been many, many years. And if I did not forgive him, I wouldn't have peace. And I sit here today and I have my peace" Constand said.
Cosby, known as "America's Dad" before a flood of sexual misconduct allegations, was found guilty of sexually assaulting Constand at his Pennsylvania home in 2004. The 80-year-old comedian, who plans to appeal, faces up to 30 years in prison when he's sentenced in September.
Twice, Constand took the stand to testify against him — at the first trial last year that led to a hung jury and at the retrial last month that ended with the words she and her supporters longed to hear: "Guilty... guilty ... guilty."
There were no cameras in the courtroom, so the larger public has never heard Constand tell the story of Cosby's friendship and betrayal in her own words — until now.
Sitting with her mother days after the verdict, Constand, 45, said it was clear to her that Cosby is "sick."
"He needs help and he needs to repent for what he did, not only to me but for a lot of women," she said. "He's a convicted sex assaulter, but I forgive him for what he did to me."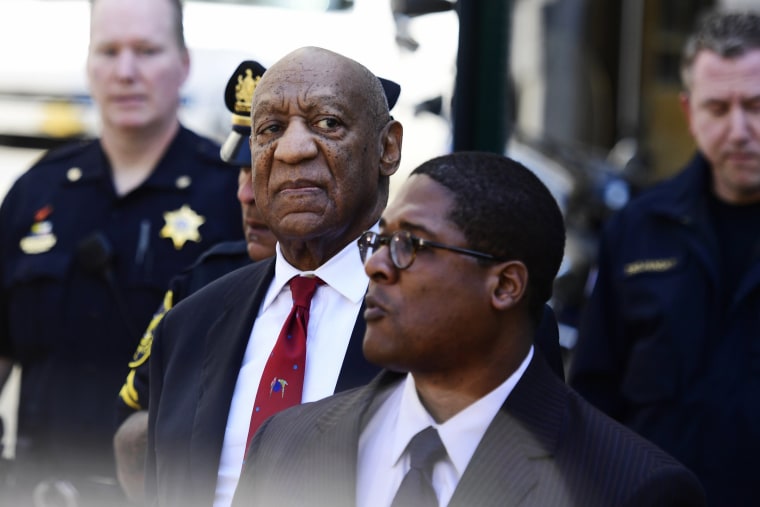 It might be a surprising impulse for a woman who was branded a pathological liar, a con artist and a gold-digger by Cosby's defense. But Constand is deeply spiritual and says her journey to justice was always guided by her faith.
"I just needed to take the first step and that was cooperating [with prosecutors]," she said. "After that, it was in God's hands."
Constand, a former pro basketball player, was working for Temple University's hoops team when she met Cosby, a powerful alumnus, after a game 16 years ago. He later admitted he was sexually interested in her immediately; she thought of him as a mentor.
The details of what transpired were laid out during the trial: a dinner where he touched her thigh, another dinner where she rebuffed a full-on pass, an awkward moment in his hotel room at a casino. Then came the fateful encounter at his estate outside Philadelphia, where she had gone to talk about leaving Temple and starting a new career.
She was anxious and Cosby offered her three blue pills. He said they would help her relax and she asked if they were herbal.
"And he said, 'No, they're your friends. Just put 'em down,'" Constand recalled. "I took them because I trusted they would maybe just help me feel a little more relaxed."
Instead, they made her slur her words and see double. Cosby, she said, walked her over to the sofa and put a pillow under her head and she "passed out."
Later in the evening, she said, "I remember feeling something penetrating my vagina very forcefully. And I remember my breast being groped, a hand being up my shirt." Then, she said, Cosby took her hand and used it to masturbate himself.
"My mind is saying, 'Move your hands. Kick. Can you do anything? I don't want this. Why is this person doing this?' And me not being able to react in any specific way. So I was limp. I was a limp noodle.
"He said nothing that I could recall. I was in and out of consciousness," she said. "I was crying out inside, in my throat, in my mind, for this to stop. And I couldn't do anything."
After she woke up in the morning and left, she didn't tell anyone what happened — a point the defense hammered on during the trials. Constand said the reason for her silence was simple.
"I didn't think anyone would believe me. It was Bill Cosby. It was Dr. Huxtable. I thought I was the only person he did this to," she said.
But a year later, when she was back in her native Canada studying to be a massage therapist, Constand finally told someone — her mother, Gianna, who then called Cosby about what he did while a tape recorder was running.
Constand filed a complaint with Pennsylvania police, but the Montgomery County district attorney declined to prosecute. Instead, Constand filed a civil suit against Cosby that was settled in 2006 for $3.4 million.
Her allegations faded from the public consciousness until comedian Hannibal Buress' 2014 line about Cosby being a rapist unleashed dozens of allegations — from groping to sexual assault to rape — in a kind of prologue to the #MeToo movement. Cosby, who declined NBC News' request for an interview, denies the accusations.
Public outrage led a new Montgomery County DA to reopen the investigation and charge Cosby after Constand agreed to testify against him. To date, it's the only criminal case against the TV star.
"I did it for justice," Constand said. "But I also did it because of what was happening at the time. And what was happening was many women came out into the public, into the media in droves, saying that they too had been drugged and sexually assaulted."
Constand had to steel herself to relive the trauma at the trial. She underwent "extensive therapy" and brought her beloved poodles, Madlyn and Cassie, to Pennsylvania as support animals. But she said she never wavered in her commitment to testifying.
"And that's because you can't change the truth," she said. "No matter what, the defense couldn't change the truth. My job was not a difficult job. My job was to tell the truth and I did that."
During both trials, she appeared almost serene in the witness box, even during blistering cross-examinations with defense lawyers zeroing in on inconsistencies in her statements about when she had seen or spoken to Cosby.
Constand said she admitted mistakes where she made them. "I did my absolute best to be as consistent as possible and the one thing I've remained consistent [about] is what he did to me that night," she added. "It will never go away. It's stuck in my brain for the rest of my life."
Her mother, Gianna, found the attacks painful to watch.
"People would call me and my sisters would call me and they'd be crying and they'd say, 'Oh my God, I read they said she's a con artist. I've known her since she was born.' I had a really hard time with that," she said.
To Andrea, the characterization was "despicable."
"I'm not a con artist, Bill Cosby is a con artist," she said. "For years and years and decades, he preyed upon young women."
The first jury deliberated 52 hours without reaching a verdict before the judge declared a mistrial. That result left Constand feeling "empty," but the second trial turned out to be less stressful for her.
"It was kind of like what we call in basketball a shoot-around," she said.
And this time she had more support: the judge had allowed five other accusers to tell their stories to demonstrate that what happened to Constand was part of a pattern of behavior. When it was her turn to testify, she tried as hard as she could to connect with the jurors — and didn't look at Cosby.
Gianna, whose feisty personality was on full display when she testified, said the retrial was much harder for her to watch. "A couple of times I thought I wasn't going to make it through that one," she said. "I just couldn't take the pounding because I know her."
This time, the jury deliberated 14 hours before finding Cosby guilty. Constand was in the courtroom as the verdict was read.
"I felt like I was on another planet and somebody had to pinch me and come back down to earth," she said.
When she returned to Toronto, she found that her nieces had decorated her door with hearts and a three-word message. "It said, 'You did it,' so I know my nieces are very proud of me," she said.
Since then, she has been trying to return to her routines: long walks with the poodles, time in the wilderness, yoga classes and her therapeutic massage practice.
Many of Cosby's accusers — who cannot press criminal charges because statutes of limitation have expired — consider Constand a hero for bringing him down.
"It's not me," she insisted. "There were four, five other women that testified. And so I would rather say we brought down Bill Cosby, but I just had the shoes on."
She said she hopes to remain involved in the movement to empower women and protect them from sexual abuse and assault.
"We're better than we were a year ago, but we've got a long way to go," she said. "But I am so proud that I've been able to be an instrument for change."