NORRISTOWN, Pa. — Victoria Valentino was so overwhelmed with emotion on Tuesday afternoon that she began to shake.
Bill Cosby, the man she alleges drugged and raped her in 1969, was finally going to prison.
"There's so much emotion going on, I don't know whether to laugh, cry or dance," Valentino said outside the courthouse here after Cosby, 81, was sentenced to three to 10 years.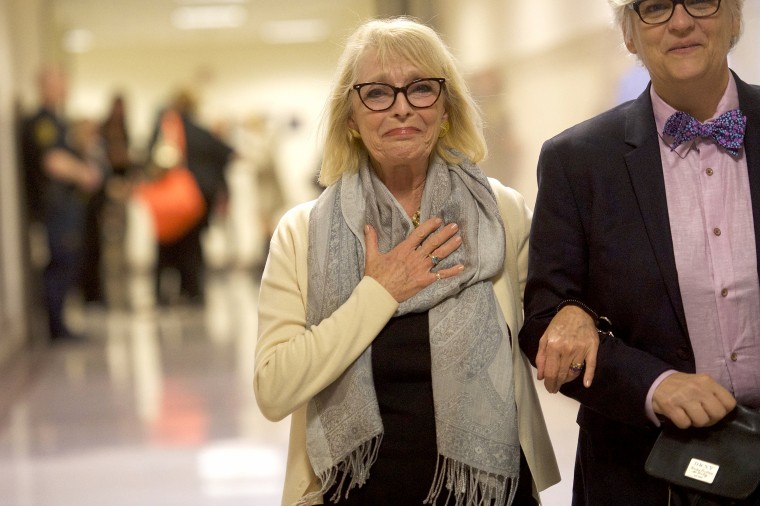 The disgraced comedian, who has been denied bail, was convicted in April of drugging and sexually assaulting Andrea Constand, then Temple University women's basketball administrator.
The special prosecutor on the case, Kristen Gibbons Feden, said she spoke with Constand after the sentencing.
"I asked her is she happy with the sentence, and she said yes," Feden said Wednesday on "Today."
Feden said she drew on Constand's courage in deciding to seek a retrial against Cosby after the first one ended in a mistrial last year.
"The individual who sexually assaulted Andrea Constand was nothing more than a con artist, a man who was two different individuals," Feden said. "A man who we saw on TV, and he utilized that as a cloak so that he could lure women."
Women who said they were victims of Cosby's depraved actions applauded the judge's sentencing.
"This is the pinnacle," said Valentino, 75, as she recounted seeing Cosby, wearing "baggy trousers and suspenders," being led out of the courtroom in handcuffs.
"I can't even find words to describe ... I think we all stood there and cried," Valentino said, referring to the other accusers who had assembled at the courthouse.
Lili Bernard, one of dozens of other women who have accused Cosby of sexual assault, said she felt "jubilation" on Tuesday afternoon. (Cosby, who has repeatedly denied all allegations of sexual misconduct, was only criminally charged in Constand's case.)
Speaking outside the courthouse, Bernard hailed what she characterized as a "new day in rape culture, a new day in the women's movement, a new day for feminism." She also applauded the judge in the case.
The judge, Steven O'Neill, used harsh language when sentencing Cosby, ruling earlier Tuesday that the former sitcom dad is a "sexually violent predator."
"Nobody is above the law because of where they live, who they are, wealth, fame, celebrity or even philanthropy," O'Neill later said, adding: "Your time has come."
Cosby's time in prison is "not only going to make the community of this Norristown County a safer place, it's going to make the nation a safer place," said Bernard, who alleges she was drugged and raped while guest-starring on "The Cosby Show" in the early 1990s.
Constand was given a chance to speak during a hearing on Monday, but she addressed the court for less than two minutes. In a victim impact statement released Tuesday, however, Constand excoriated the man she alleges derailed her life.
"Bill Cosby took my beautiful, healthy young spirit and crushed it," she wrote. "He robbed me of my health and vitality, my open nature, and my trust in myself and others."
Gloria Allred, who represents some of Cosby's accusers, stood alongside them in the rain on Tuesday afternoon and recognized the "long journey to justice."
"We're glad the judgment day has finally come for Mr. Cosby," Allred said.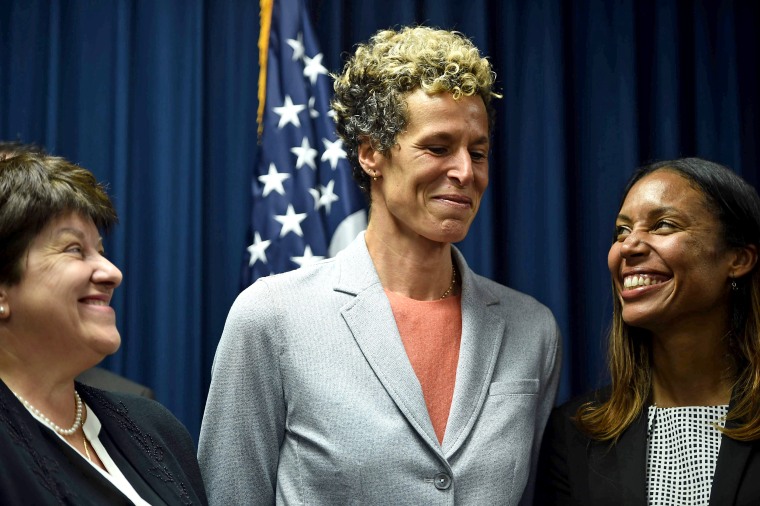 But Cosby's publicist defended the disgraced entertainer outside of the courtroom, saying he was the victim of lies.
"They persecuted Jesus and look what happened," Andrew Wyatt said. "Not saying Mr. Cosby is Jesus, but we know what this country has done to black men for centuries. So, Mr. Cosby's doing fine, he's holding up well and everybody who wants to say anything negative, you're a joke as well."
Feden on Wednesday said justice was served when it came to Cosby, and that his conviction stands as a testament to who he truly is.
She added: "To equivocate that man to Jesus is just offensive."
Ron Allen reported from Norristown, Daniel Arkin reported from New York