Bill Cosby's wife underwent questioning that was at times contentious during a deposition in February involving a defamation case involving her husband.
But Camille Cosby gave few answers in the six-hour-long deposition, often invoking spousal privilege and at times refusing to answer questions altogether, according to a transcript released Friday.
"I'm done," Camille Cosby said at one point in reply to a question. At another time, she left the room where the Feb. 22 deposition was taking place.
The deposition was conducted as part of a defamation suit filed against Bill Cosby by seven women who say they were portrayed as liars after accusing the comedian of sexual assault. Camille Cosby is not named in the suit. Bill Cosby has counter-sued the seven women who filed suit, also alleging defamation.
Camille Cosby was read sections of her husband's 2005 deposition where he said he "had sex and we had dinners and sex and rendezvous" with Beth Farrier in the 1970s.
However, when asked repeatedly if she thought her husband was being deceitful, or whether or not she had an opinion on whether Bill Cosby deceived her, Camille Cosby invoked marital privilege or said she had no opinion.
When asked about honesty and what it means, Camille Cosby answered: "I'm not going to expound on this." When she was told she had to, she answered: "I do not have to. I'm done."
Camille Cosby also refused to answer in the deposition whether or not it is a dishonest act or whether or not it is deceitful to give Quaaludes to someone for the purposes of sex.
Related: Bill Cosby Said He Gave Quaaludes to Woman Before Sex, Court Documents Show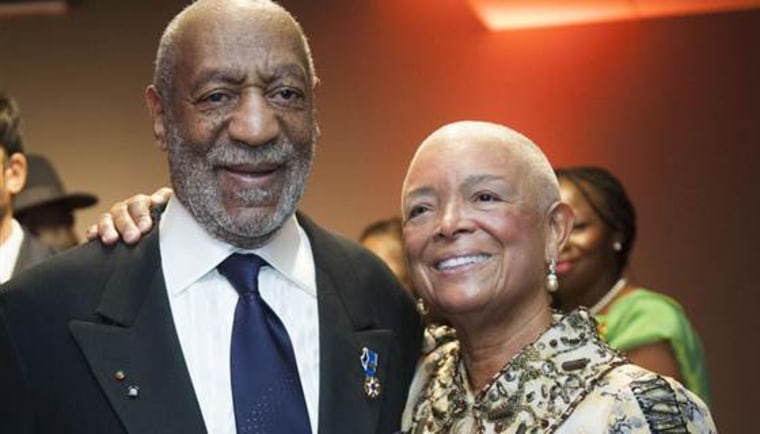 About 50 women have publicly accused Bill Cosby of sexual misconduct going back decades. Cosby and his representatives have repeatedly denied the allegations.
Bill Cosby faces a criminal case in Pennsylvania for allegedly drugging and molesting a former Temple University employee in 2004. Bill Cosby has not yet entered a plea in that case, but his attorneys have said he is innocent of the charges. The woman in that case is not part of the defamation suit.
Camille Cosby invoked spousal privilege in the February deposition when asked whether or not her husband has been truthful with her.
She did say she never obtained Quaaludes for her own use or someone else's use.
She was asked by an opposing attorney, "now, can we agree that throughout your marriage, Mr. Cosby acted with a lack of integrity?"
Camille's attorney, Monique Pressley, interjected immediately and instructed Camille Cosby that she did not have to answer that question or any others related to conversations with her husband. Camille Cosby replied: "And I won't."
Related: Women Suing Bill Cosby for Defamation Win Key Ruling
When asked if she had an opinion on whether Bill Cosby acted with a lack of integrity, Camille Cosby said she wouldn't answer.
Camille said she rarely watched television or read newspapers and when asked if "all of the information that you have regarding the sexual allegations against your husband came from conversation — whether conversations with your husband or conversations with counsel," Camille said, "That is correct. That's my answer."
Camille also said that she has no understanding and is unaware of what her husband said in the 2005 deposition where Bill Cosby said he obtained Quaaludes to give to women he wanted to have sex with.
The lawyer for the seven women suing Cosby for defamation, Joseph Cammarata, asked her about Shawn Thompson, a woman who said Bill Cosby fathered her daughter, Autumn Jackson, in the 1970s.
Jackson was convicted in 1997 of attempting to extort money from Bill Cosby to prevent her from telling a tabloid she's his daughter. He acknowledged he had an affair with her mother and had given her money.
Camille Cosby said that Autumn Jackson is not Bill Cosby's daughter and that she is confident about that "because there was a test, a DNA test."
Related: Bill Cosby Wants Another Chance to Throw Out Sexual-Assault Case
Camille said, "I do not have an opinion." However, later she said, "it was a big deal then, yes" when it was revealed that in the 1970s Bill Cosby had extramarital affairs.
Camille Cosby was also questioned on April 19, but that transcript has not been released. Her lawyers argued unsuccessfully to stop the deposition, which a judge ruled she would have to givebut said she could refuse to answer questions about private communications between her and her husband.
An attorney handling a separate lawsuit against Bill Cosby revealed Friday that Playboy magazine founder Hugh Hefner provided sworn testimony Wednesday.
In the sexual battery lawsuit filed in Los Angeles, Judy Huth says Cosby forced her to perform a sex act on him at the Playboy Mansion around 1974, when she was 15.
Bill Cosby's former lawyers have accused Huth of attempting to extort him before filing the case and have tried unsuccessfully to have it dismissed. Huth's attorney, Gloria Allred, said Hefner's testimony will remain under seal for now.
Hefner also was named as a defendant in a case filed Monday by former model Chloe Goins, who accuses Bill Cosby of drugging and sexually abusing her at the Playboy Mansion in 2008.