NORRISTOWN, Pa. — Jurors in the Bill Cosby trial heard from the first witness Monday, a woman who testified in tears that she was drugged and sexually assaulted by the comedian in 1996 and who then came under a combative cross-examination from the defense.
Kelly Johnson, who worked for the comedian's agent at the time, broke down on the stand while testifying that Cosby invited her to his hotel bungalow and made her swallow a white pill. She said she woke up half-naked in his bed.
"I remember him being behind me, making those grunting sounds. I remember wanting to pull up my dress and wanting to cover myself but not being able to," Johnson said on the stand in Montgomery County Court.
Cosby's attorney, Brian McMonagle, went after her with rapid-fire questions, attacking her memory, her credibility and the timeline she gave the jury of seven men and five women who will decide Cosby's fate.
"Did anyone tell you to get selective amnesia in this case?" McMonagle screeched as jurors followed the back-and-forth with their eyes.
He questioned why Johnson did not immediately report the alleged attack.
"I was very afraid because I have a secret about the biggest celebrity in the world at that time and it was just me, just me and my word against his," she shot back as Cosby, who says he is blind, listened intently.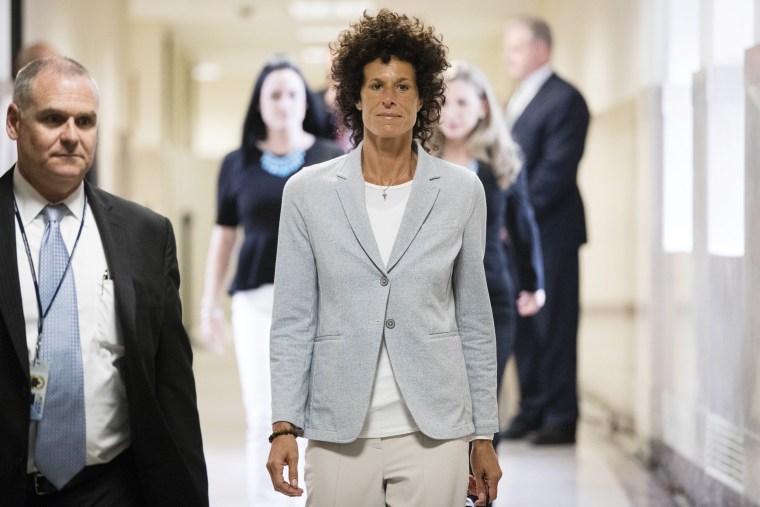 It was a dramatic beginning to the trial of a man who was known as "America's Dad" before dozens of women began coming forward two years ago to accuse him of sexual misconduct — allegations he denies.
Cosby, 79, who was escorted into the courtroom by the actress who played his youngest daughter on "The Cosby Show," is not charged with attacking Johnson, who first publicly told her story under a pseudonym at a 2015 press conference.
Prosecutors put her on the stand in the hopes of showing a pattern of behavior by the star, who is on trial for allegedly drugging and molesting another woman, Andrea Constand, in 2004. Constand is expected to testify later in the week.
Before the courtroom fireworks erupted, Johnson began the afternoon session by answering a prosecutor's questions in a clear and calm voice.
She said that Cosby took an interest in her while she was working as an assistant to his late agent, Tom Illius, at the William Morris agency, in Los Angeles the 1990s — in a "fatherly, favorite uncle, Dr. Huxtable kind of way."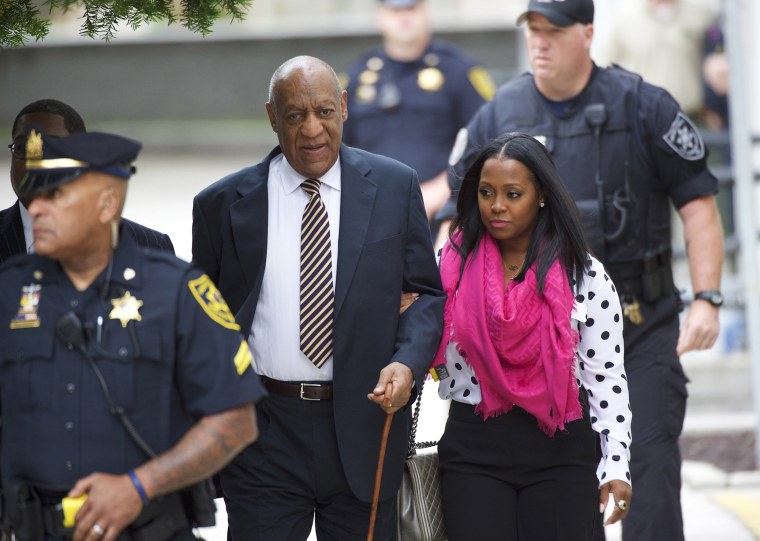 The married showbiz powerhouse called often, invited her and her family to shows, and gave her a giant Bird of Paradise plant for her birthday. She was flattered, she said, because he was such a big star, the most important client of the agency.
But, she said, there were interactions that made her uncomfortable. He would call her to chat and tell her to keep it from Illius. He invited her to her house to teach her about TV production, and had her rehearse a scene that would have required her to kiss him, which she said she "couldn't do."
In 1996, she said, he invited her to his bungalow at the Bel-Air Hotel for lunch and to discuss her career. He met her in robe and slippers, produced a large white pill from his fist and repeatedly urged her to take it to relax.
"I pretended to swallow it with water and he handed me a glass of wine," Johnson said, her voice choked with emotion. "He leaned forward and said, 'Lift up your tongue. Open your mouth. Lift up your tongue. And I did. And there it was, under my tongue."
She said she ultimately downed the pill and then locked herself in the bathroom to compose herself. The sink was littered with prescription bottles, but she was having trouble reading the labels. Before long, she said, she felt like she was "under water" and then her memory went blank.
"I sort of came to in the bedroom of the bungalow ... on the bed," she said.
Her dress was half-off, wrenched around her waist, and her breasts were exposed. Cosby was on the bed, behind her, she said. He put lotion on her hand and had her masturbate him, she said.
Johnson grabbed a tissue and blotted her eyes and then continued testifying, saying she did not remember how she got home. She said when she went back to work, she eavesdropped on a phone call from Cosby to Illius in which the star described her as a "problem," she said.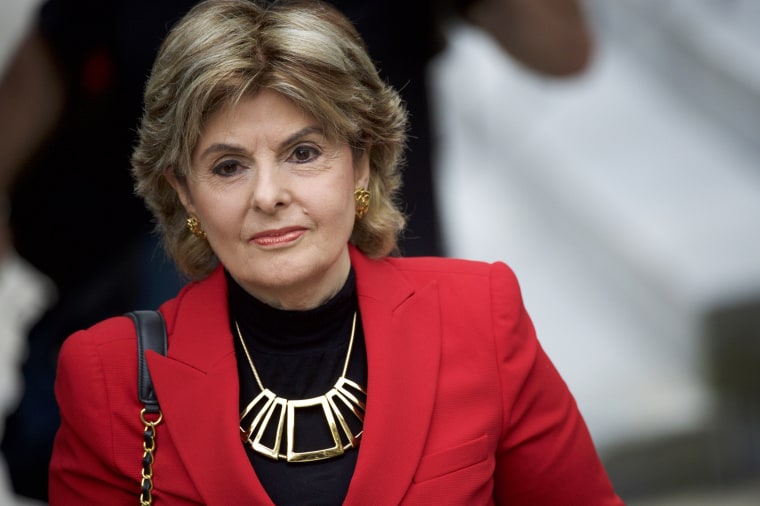 Fearing she was about to be fired, she went to human resources, but did not go into detail about what happened at the Bel-Air hotel, she said. "I was a little bit of a mess," she explained.
She was sent home and never returned to work, she said. Instead, she contacted an attorney who advised her not to take on Cosby, and she filed a worker's compensation claim.
During a deposition for the worker's compensation case, she said, she described what had happened at the hotel.
"It was one of the most humiliating, embarrassing things I've ever had to do," she said tearfully.
When it was McMonagle's turn, he went on the offensive immediately, shooting questions at her in quick succession, his voice rising as he pressed her for answers.
Johnson frequently responded that she could not recall certain details but did not backtrack from the timeline she gave the jurors about her encounters with Cosby.
McMonagle grilled her extensively about why the account she gave from the stand did not match up with what he said were lawyer's notes taken during the deposition for the 1996 worker's compensation case, which was not transcribed.
He said the notes indicated she testified back then that she visited Cosby at the Bel-Air hotel in 1990 and that the meeting where she acted out a scene happened in 1996.
Occasionally flustered, Johnson said she didn't exactly recall what she said during the deposition, and it remained unclear if the legal notes were incorrect or if there was a discrepancy between her two accounts.
The defense lawyer also suggested that Johnson's high-profile attorney, Gloria Allred — who represents a raft of Cosby accusers and was watching from the first row in court — had told her what to say. Johnson denied it.
He intimated that she had an affair with Cosby and that Cosby had given her money: $100 to get her hair done and $400 for a doctor's appointment for her grandmother. She said he had not. "It was not a relationship," she said.
He even grilled her on whether she had done drugs with a former boyfriend, singer Maxi Priest.
"Isn't it a fact that you were doing drugs in the 1990s?" McMonagle pressed her.
"I would say no," she responded.
Johnson, who was fighting back tears as she left the courtroom in the late afternoon, was called to the stand after a morning devoted to opening arguments where the focus was on Constand — the only accuser whose allegations have resulted in criminal charges against Cosby.
The 44-year-old Canadian massage therapist was working at Cosby's alma mater when he befriended her and then, allegedly, drugged and molested her.
"Trust. Betrayal. And an inability to consent. That's what this case is about, ladies and gentlemen," Montgomery County Assistant District Attorney Kristen Feden told the jury, her voice dripping with contempt at times.
"This is a case about a man — this man — who used his power and his fame and his previously practiced method of placing a young trusting woman in an incapacitated state so he could sexually pleasure himself, so she couldn't say no," Feden said.
Feden told jurors that the defense would attack Constand for continuing to have contact with Cosby after the incident and for waiting for so long to make a report. Those issues, she said, were "distractions."
McMonagle loudly disagreed.
"The false accusation of sexual assault is an attack on human innocence," he said. "It's not a distraction!"
He pointed out inconsistencies in Constand's various statements to police, including an early claim that before the alleged attack she had never been alone with him and that she did not have contact with him afterward.
As he held phone records aloft, he told the jury, "After the so-called paralyzation and drugging and assault, there were 72 phone calls. She called him 53 times."
The trial is expected to last two weeks. Cosby is charged with three counts of aggravated indecent assault, which carries a maximum of 10 years in prison.
When he arrived at the courthouse Monday, he was met by actress Keshia Knight Pulliam, who played his youngest daughter on "The Cosby Show."
"It's easy to support when things are good," Pulliam told reporters. "But true family is who shows up when things aren't good.
"It's the jury's job to decide guilt or innocence. It's not mine or anyone else's," she added.
CORRECTION (June 6, 2017; 1:30 p.m. ET): A previous version of this article misstated a comment made by Feden. He said Cosby used his fame to "sexually pleasure himself," not herself.