Bill Cosby says he won't testify at his upcoming sexual assault trial because he doesn't "want to sit there and have to figure out what I believe is a truthful answer."
The 79-year-old comedian made the disclosure during a sometimes rambling interview on Sirius XM radio that aired Tuesday, less than a week before the start of jury selection in the case.
He was cautious in discussing legal issues but said that he thinks racism and revenge could be behind the dozens of public allegations of sexual misconduct that have piled up in the last two years, and he vented his frustrations with the media and the legal system.
"Boy, the education I'm getting is absolutely fantastic," he said. "The old saying there are two sides to every story unravels when you're dealing with lawyers."
It was the first recorded interview Cosby has given since he was charged in December 2015 with drugging and molesting Andrea Constand at his home in 2004 — the only criminal case stemming from dozens of accusations that range from groping to rape and span decades.
Gloria Allred, who represents some of the accusers, denounced the interview as "a desperate attempt to influence and perhaps contaminate the jury pool."
Sirius XM host Michael Smerconish said a public relations representative for Cosby called last week and asked him to air three audio clips: two short messages from the comedian's daughters and an hour-long Q-and-A between Cosby and one daughter that barely touched on the criminal case.
Smerconish said he agreed under the condition that Cosby sit and answer questions. Cosby, whose attorneys have complained vigorously about pretrial publicity, previously gave an interview to a consortium of black-owned newspapers.
In the new interview, Cosby talked about the glaucoma that has left him legally blind, his hopes of resuming his career after the trial, and having to apologize to his ever-loyal wife after he told her on Mother's Day that letters of support were just from people who "feel sorry" for her.
Several times, he said he had to be careful talking about the case, on his attorneys' advice. But when Smerconish asked if he believed racism was a factor — a claim his attorneys have made before — Cosby suggested it might be.
"Could be, could be," he said. "There are so many tentacles...nefarious is a great word."
"I just truly believe that some of it may very well be that," he added.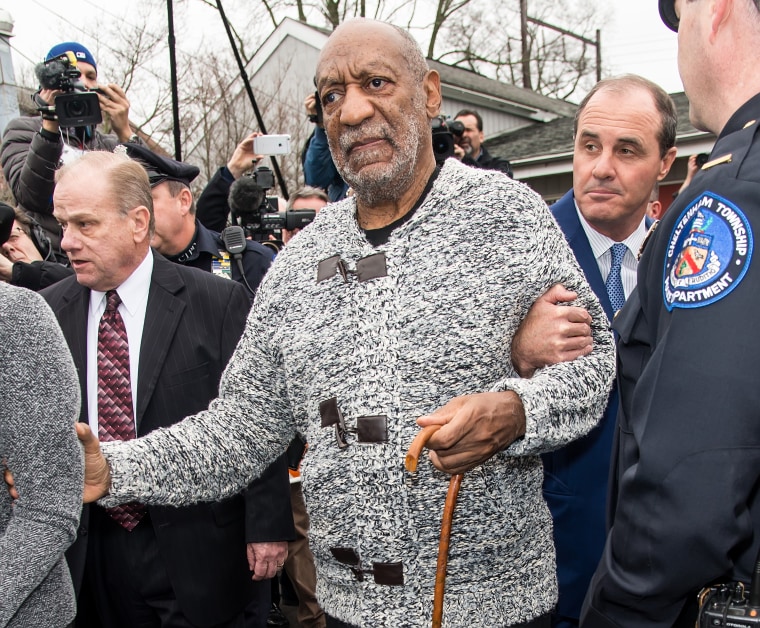 When the host pointed out that some of the accusers are black, Cosby did not back off.
"When you look at the power structure, and when you look at individuals, there are some people who can very well be motivated by whether or not they're going to work. Or whether or not they might be able to get back at someone," he said.
"So if it's in terms of whatever the choice is, I think that you can also examine individuals and situations and they will come out differently. So it's not all, it's not every, but I do think that there's some."
Although only two accusers will testify at his trial, more than 50 have come forward with allegations against Cosby since the scandal exploded in 2015. He denies wrongdoing and has sued some of the women for defamation.
"[T]he piling on, so to speak, is a way — and certainly an impressive, impressive way — to get public opinion to come to the other side."
Smerconish asked, "Are you telling me they're all lying?"
"You know better than that," Cosby said. "All I have to do is say something similar to that and the next thing I know the postman is carrying a big bag...saying defamation, defamation, defamation."
Jury selection in Cosby's trial begins May 22. His trial in Norristown, Pennsylvania, is expected to start June 5.
He confirmed he will not take the stand, suggesting that he feared his words would be twisted.
"When you have to deal with examination, cross-examination, et cetera, et cetera — more than two sides to every story, sometimes it's four or five — and what people want to say and want you to say and how they maneuver..." he said.
"And yes, I do have lawyers to protect me — 'Objection! Sustained!' — I just don't want to sit there and have to figure out what I believe is a truthful answer as to whether or not I'm opening a can of something that my lawyers are scrambling..."
Cosby denied the interview was meant for the ears of the men and women who will decide his fate, a jury that will chosen in the Pittsburgh area because his lawyers claimed the Philadelphia-area jury pool was tainted by bad press.
"You can't aim at jurors," Cosby said.
He also conceded that no matter what the jury's verdict is, public opinion of him will remain divided.
"You never will be able to satisfy all minds and all behaviors," he said. "But I still feel that I have an awful lot to offer. In terms of my writing, in terms of my performance."