NORRISTOWN, Pa. — As Bill Cosby's sexual assault trial opened Monday, there was a reminder of his former reputation as "America's Dad" — the actress who played his youngest daughter on TV.
Keshia Knight Pulliam, 38, who played Rudy Huxtable on "The Cosby Show," accompanied the comedian into the Montgomery County courthouse, where he stands accused of drugging and molesting a woman at his home in 2004.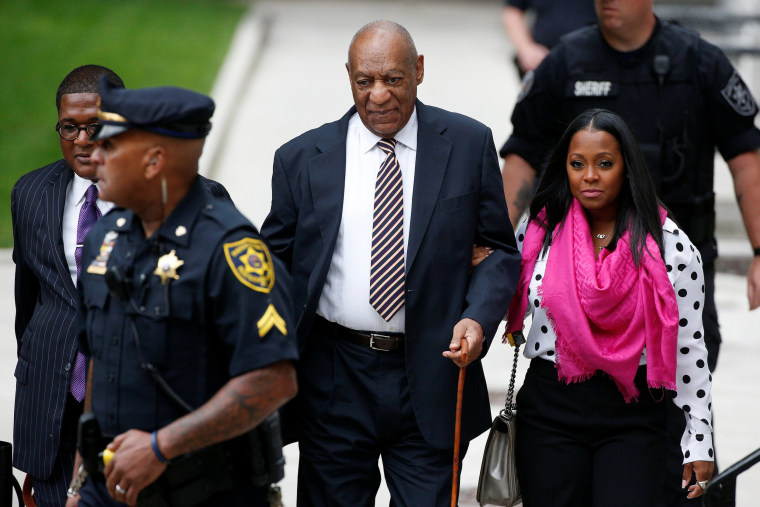 Neither Cosby nor Pulliam spoke as they entered.
Gloria Allred, the attorney who represents some of the dozens of women who have accused Cosby of sexual misconduct, called it an "historic day."
"It's the first time Mr. Cosby will have to face his accusers in criminal court," Allred said.
A handful of those women traveled to be at the green-domed courthouse in small-town Pennsylvania.
"I haven't seen him since 1969," said Victoria Valentino, 74, who says Cosby drugged and raped her in Los Angeles nearly five decades ago.
"I hope he makes eye contact because I'd love to look him in the eye and stare him down."
Related: 'No Fear': Andrea Constand Ready to Confront Cosby at Trial
Cosby, 79, is on trial for allegedly assaulting just one woman, Andrea Constand, who worked for his alma mater, Temple University.
She claims that after two years of friendship and mentorship, the star turned predator, giving her pills that incapacitated her and then molesting her while she lay "paralyzed."
Cosby has portrayed the encounter as consensual, saying he gave Constand two Benadryl pills to help her relax. He has pleaded not guilty to three counts of aggravated indecent assault, denied all other allegations and sued some of his accusers for defamation.
The "I Spy" actor, who says glaucoma has left him legally blind, does not intend to take the stand. Constand, who settled a lawsuit against Cosby in 2006, will testify. Other potential witnesses include:
Prior Alleged Victim No. 6: Also known by the pseudonym Kacey, she is the only one of the other accusers who can testify. A former assistant to Cosby's late agent, she alleges that in 1996, after Cosby insisted she take a pill, she woke up in bed with the half-naked entertainer.
An unnamed William Morris Agency employee who the defense contends can contradict Kacey's account of her interaction with Cosby.
A psychologist who will discuss the behavior of sex-abuse victims. Prosecutors may use her testimony to try to explain why Constand waited a year to report the alleged assault to police.
Pharmaceutical experts who will testify about the effects of Benadryl and Quaaludes, the latter of which Cosby has admitted he gave to women for sex in the 1970s.
Although the jury was chosen in the Pittsburgh area, the trial is taking place in Montgomery County in the Philadelphia suburb of Norristown.
Barricades ringed the columned courthouse on Sunday night in anticipation of big crowds, but as of 7 a.m., there were only a few spectators lined up to get in.
Bill Parker, 43, who owns a donut shop said the he thought the trial "would be an incredible event to witness."
"He has been an idol to us," Parker said. "To hear the accusations was quite a shocker."
Parker said he was "trying to remain neutral" on the question of whether Cosby attacked Constand. "But I'm already disappointed he confessed to extramarital affairs," he said. "It doesn't connect with the man we thought he was."
Other local residents said they had not paid much attention to the legal drama that had played out at the courthouse over the last year.
"I don't know what's happening," said one 15-year-old walking by the stately building. "Who is Bill Cosby?"