Bill Cosby will be in the fight of his life when his sexual-assault trial opens Monday, but some crucial battles have already been waged in a series of hearings that determined what evidence jurors will hear — and what they will not.
In broad strokes, the judge admitted documents and testimony that are focused on the 2004 encounter between Cosby and accuser Andrea Constand, while he banned much of the evidence that related to Cosby's sexual contacts with other women, with some important exceptions.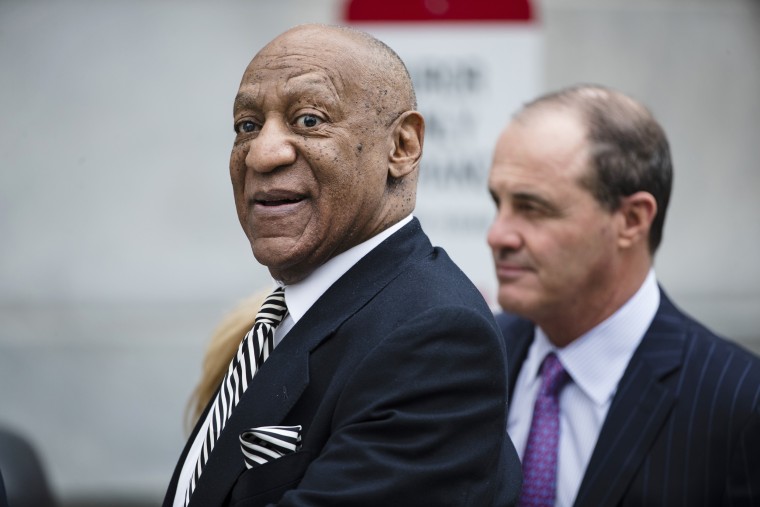 "It's a mixed bag," said Wes Oliver, the criminal justice program director at Duquesne University.
Cosby, 79, is charged with drugging and molesting Constand at his Pennsylvania home — the only criminal case stemming from dozens of accusations of misconduct that piled up over the last two years. The TV superstar denies any wrongdoing.
Prosecutors were anxious to bring in details of the other women to prove a pattern of behavior, and the defense wanted to keep out as much evidence as possible. Over the last year, Montgomery County Judge Steven O'Neill has sorted through a mountain of motions and weighed in on the legal issues:
The Other Women
Prosecutors wanted to put on the stand 13 other women who claim they were given an intoxicant and then abused, saying it would show the alleged attack on Constand was part of a pattern — what the district attorney explosively branded "a lifetime of sexual assault."
Cosby's lawyers argued ferociously against it, raising questions about the women's memories and mental states as they insisted a parade of accusers would prejudice the jurors against their client.
Decision: The judge ruled only one of the 13 women, known as Victim No. 6, can testify. A onetime assistant to Cosby's longtime agent, she claims that during a lunch meeting about her career n 1976, the comedian gave her a white pill and that she woke up next to him in bed.
Although Cosby was hoping to keep all the women out of the case, the defense could still declare victory. "With any he-said-she-said case, the more people who come forward and tell the same story, the better the prosecution's case," Oliver said. "Cosby versus two women is a better defense scenario than Cosby versus 13."
The Phone Call
Team Cosby tried to get the judge to quash the recording of a January 2005 phone call between Cosby and Andrea Constand's mother in which she asked what kind of drug he gave her daughter and he offered to pay for her schooling.
The defense argued that because Cosby had not consented to being taped, the recording was illegal and should be kept out of the trial. But prosecutors noted that Cosby later admitted he suspected he was being recorded and kept talking.
"I don't trust anybody," he explained during a deposition.
Decision: The judge ruled that because Gianna Constand was in Canada, which allows calls to be taped with the consent of just one party, the jury can hear the recording.
Cosby undoubtedly does not want jurors to think he was trying to pay off Constand. However, Oliver notes that the defense can argue it's no admission of guilt, that he was just trying to protect his reputation or help out a friend. And, he said, the judge's ruling on this issue could be grounds for appeal down the road.
The Lawsuit
After Pennsylvania prosecutors decided in 2005 not to charge Cosby, Constand filed a civil suit against him which was settled a year later for an undisclosed sum. The defense wanted the judge to exclude any evidence regarding the settlement, and the prosecution asked that any reference to the suit be kept out of the trial.
Decision: The judge granted both motions; there will be no mention of the lawsuit or the settlement.
This is a wash for both sides. Jurors could have seen the lawsuit as a sign that Constand was after money and the settlement as an admission of wrongdoing by Cosby.
The Deposition
As part of the 2005 lawsuit filed by Constand, Cosby was questioned under oath — and transcripts were unsealed in 2015.
The deposition was wide-ranging and included Cosby testifying that he gave Constand three Benadryl pills to relax and a cringe-inducing description of of their sexual encounter. "I don't hear her say anything. And I don't feel her say anything," he said. "And so I continue and I go into the area that is somewhere between permission and rejection. I am not stopped."
The questioning also covered Cosby's sexual contacts with other women, including some who have accused him of abuse; money he has paid to women; and his practice in the 1970s of giving women Quaaludes before sex.
Decision: In a blow to the defense, the judge ruled in December that the deposition is admissible, but he then followed up with some rulings on specific sections. Out: references to sexual contacts with other women, money paid to women or allegations by other women. In: Cosby's comments about Quaaludes.
Oliver said how the jury reacts to Cosby's words could hinge on what they've heard about the case and how they feel about him.
"It's fairly difficult for a person to describe a sexual encounter with another person in any official setting that doesn't somehow seem inappropriate," he said. "Will the jury sit there and think, 'How would I describe sex with my wife in a deposition? Wouldn't that be awkward?' Or will they go, 'Ewwww, what a creepy guy.'"
As for the Quaaludes, on the one hand they back up the contention by Constand and Victim No. 6 that Cosby gives drugs to women for sexual purposes. On the other, Oliver said, "in the 1970s, people were actually using Quaaludes to enhance the sexual experience."
The 'Spanish Fly' Story
In one of their last motions, prosecutors told the judge they wanted to use excerpts from a book and an interview in which Cosby told a story about using the purported aphrodisiac on a romantic interest as a adolescent.
Calling it a "date rape" drug, they said it was more proof that Cosby relied on substances for sexual conquests. Cosby's lawyers said the stories were meant to be humorous and couldn't be considered evidence.
Decision: The judge ruled the jury won't hear about Spanish Fly. Anyone else can hear Cosby talk about it during this standup routine.