Bill Cosby's wife Camille testified under oath Monday in a defamation lawsuit filed by seven women who claim the comedian sexually assaulted them — but she's not done answering questions.
Lawyers said the intensely private 71-year-old will return on March 14 for the second part of the deposition, which she tried and failed to prevent.
The plaintiffs' attorney, Joseph Cammarata, said Cosby's lawyers objected to questions, invoking spousal privilege, more than a dozen times during during Monday's session, and the attorneys had to call the judge twice for rulings.
"I get the sense she didn't want to be there," Cammarata told reporters, describing the reluctant witness as "reserved."
The two sides were behind closed doors at a Massachusetts hotel for nearly seven hours. Camille Cosby sat at one end of a long rectangular table, opposite a videographer, as two four-person teams of lawyers squared off against each other.
By day's end, Cosby had answered questions for just 2.5 hours, Cammarata said, necessitating a second session. No details of her testimony were disclosed.
The deposition was conducted under tight security, with black curtains cordoning off the wing of the Springfield Marriott and security posted at all entrances. Camille Cosby was whisked in and out of the hotel out of public view and made no comments.
The Cosbys fought hard to prevent the grilling, but a judge ruled late Sunday that Camille, who staunchly defended her husband of 52 years as his sex scandal mushroomed, could be questioned under oath.
Camille Cosby's lawyers argued she has no information that would be relevant to the lawsuit and that her conversations with her husband are confidential under the law.
But she also served as his business manager, and the plaintiff's lawyers contended she has information that did not come from private marital discussions.
Although the deposition is for a civil case, anything she says theoretically could be used in a criminal prosecution — and Cosby is under indictment in Pennsylvania.
"We're hoping to learn about issues important to the case involving his relationship with her and his relationship with other women and his relationship with the business," Cammarata said before the deposition.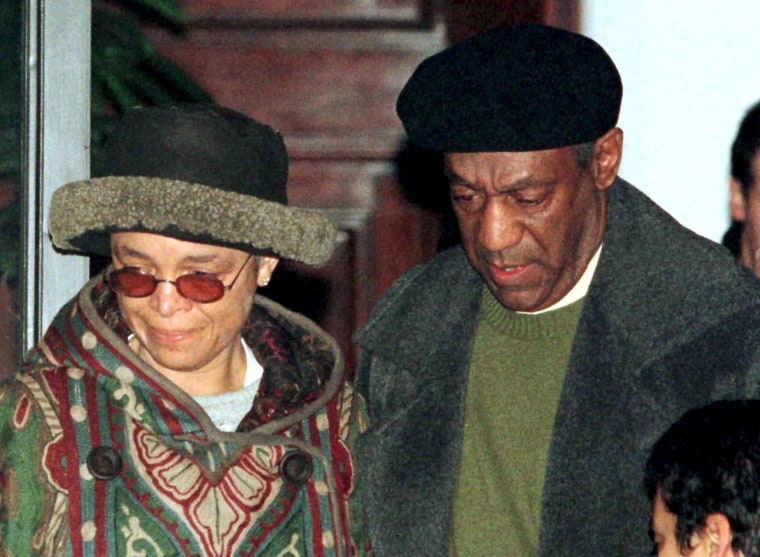 The seven women who filed suit claim Cosby defamed them by branding them liars after they came forward with stories of being sexually assaulted. He has filed a counter suit.
Cosby has denied wrongdoing. Although dozens of women have accused him of sexual misconduct, he faces criminal charges in just one case — a sexual assault complaint from Andrea Constand, who says she was drugged and molested by the actor at his Philadelphia-area home in 2004.
He recently lost a bid to get the Constand case thrown out but is appealing.