Bill Cosby's trial for alleged sex crimes is months away, but this week a judge may decide the key issue that could determine Cosby's fate — whether some of his past accusers are allowed to confront him in court.
Last year, Cosby was indicted on allegations of a 2004 sex crime against Andrea Constand. In a typical trial, only the accuser of the crime in question may testify.
The case against Cosby, however, hinges on accusations from a whole group of women who accuse him of a similar pattern of sexual abuse.
At a preliminary hearing on Tuesday, prosecutors will press a somewhat unusual strategy: they'll attempt to turn the case against Cosby from a he said-she said to a he said-they said.
Prosecutors will urge the judge to allow up to 13 women to testify against Cosby, effectively backing up Constand's storyline with overwhelming evidentiary force.
Fielding accusations from women about incidents that are not on trial, Cosby's lawyers say, will prejudice the jury and taint the case. Some of the law is on their side.
'Bad Acts' Case Law
Under the law in Pennsylvania, where Cosby was indicted, prosecutors are generally prohibited from introducing evidence designed to show a defendant does bad things other than the crime in question.
The idea is that it would be unfair for prosecutors to smear a defendant with evidence of "bad acts" unrelated to the case.
Prosecutors are expected to seize on a legal exception, however, that allows such accusations if they help provide a defendant's specific motive and preparation.
DATELINE SPECIAL: The Cosby Accusers Speak
Prosecutors argue that the array of Cosby accusers recount similar stories that support Constand's allegations — a friendly approach and use of drugs to incapacitate victims for sexual advances and abuse.
"It's hard to make a judgment — judges like to see cases resolved on their own facts, but they give a fair amount of consideration if evidence is highly relevant," University of Pennsylvania criminal law professor David Rudovsky said.
The defense can argue that including other accusers means adding evidence of "things from supposedly ten years ago that are not at issue in this trial," Rudovsky said.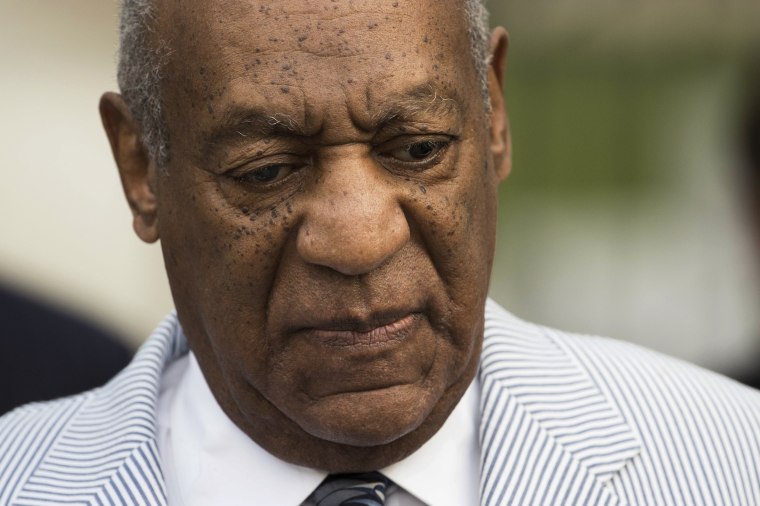 Prosecutors do have some history on their side. According to a review by the msnbc legal unit, courts in Pennsylvania have admitted evidence of prior "bad acts" in some sex crimes cases.
In one 2015 case, an appeals court allowed evidence of prior bad acts designed to show an accused rapist specifically preyed on women when he knew when they were in a "weakened or compromised state." The Court found that because two alleged incidents showed a "common scheme" in the defendant's actions, including allegations of raping a women who was asleep after donating blood, prior bad acts could be introduced.
The court ruled that the allegations "reflect a clear pattern."
"It was an uphill battle," the prosecutor on the case, Kenneth Kelecic, recounted. "We had to point out eight similarities between the acts and argued that was enough to show a common scheme."
Unlike Cosby's case, however, the prior act in that case had been proven in court. Cosby has never been convicted of a sex crime.
Pennsylvania defense attorney Daniel Craig Nevins said courts are more likely to allow prosecutors to present the extra evidence in sex crimes cases. "In general, for evidence in rape and crimes of sexual violence ... it's more permissive to bring in prior bad acts than other types of cases."
Some states have specific rules to that effect, though Pennsylvania does not, according to University of Colorado Law School Professor Aya Gruber.
Another Pennsylvania case shows judges can be measured even when they do allow some extra evidence of bad acts.
In Commonwealth v. Mason, a judge allowed evidence of two incidents that a defendant preyed on his two teenage nieces, but refused to admit accusations that he also preyed on an older foster sister.
Parsing the difference, the judge noted the alleged "encounters with the foster sister had different dynamics, and lack both the logical connection and the high correlation of details with the current offenses."
For Cosby, that kind of ruling shows that any distinctions his lawyers can draw between Constand's allegations and other accusers might reduce the evidence allowed against him.
Pennsylvania courts have allowed evidence of unindicted bad acts when a sexual assault defendant allegedly tried to prey on women he sought to date.
In a 2009 case regarding a sexual assault and drugging, a judge allowed testimony by two accusers who did not allege the same pattern of drugging, but both said that the defendant shifted from courting them to physical violence.
"The evidence of these prior bad acts show intent to get the victim in a relationship-type atmosphere," the court ruled, "where the defendant thereupon takes control of the situation, which is what he did in this case."
The defense attorney in that case, Carl Marcus, said that link was "tenuous" at best.
"That's how you meet anybody. It's not anything uncommon about going on a date," said Marcus. "That wasn't something unique to this particular person charged with rape."
The pattern of meeting through dating or a relationship is relevant to many of Cosby's accusers, who have said he attacked them after winning over their trust.
While Cosby's lawyers emphasize he had never been charged before this indictment and has never been convicted, state law does allow accusations even absent a conviction. The test is not mechanical — requiring a conviction — but is instead a measurement of whether the accusers' stories are more likely to provide the kind of evidence that proves enough to "outweigh its prejudice."
Prejudice is a standard that could help Cosby, experts said, because a jury could be highly swayed by a long list of accusers at trial.
"Having over twenty or thirty women come in would sway towards prejudice," Yale criminal law professor Steven Duke said. "A judge should limit the number of witnesses — two or three is enough to prove a point."
A judge will hear both sides' arguments on Tuesday and Wednesday, and the decision over how many accusers, if any, the jury will hear from could have a pivotal impact on one of the most prominent sexual assault trials in a generation.