Twelve jurors have been chosen for the Bill Cosby sexual assault trial: seven men and five women, two of them black, in a case where race and gender loom large.
Defense lawyers had accused prosecutors of trying to block black jurors from the panel, but the district attorney denied it, and the challenge was overruled by the judge.
Cosby did not mention the controversy when he spoke to reporters as he left the courthouse, instead thanking the "wonderful people" of Pittsburgh and local police who "made everything very, very smooth."
The final two jurors were chosen on the third day of selection; one of them replaced a previously chosen juror who was removed for personal reasons that were not disclosed. Six alternate jurors were also picked Wednesday, and two of them are black.
Few details are known about the jurors, who were chosen in Pittsburgh and will be bused to the Philadelphia area for the two-week trial that starts June 5. They are anonymous and answered only a few questions, mostly in hushed voices, during individual questioning this week.
Cosby, 79, is charged with three counts of indecent aggravated assault for allegedly drugging and molesting Andrea Constand at his Pennsylvania home in 2004. He has pleaded not guilty and has described the encounter in sworn testimony as consensual.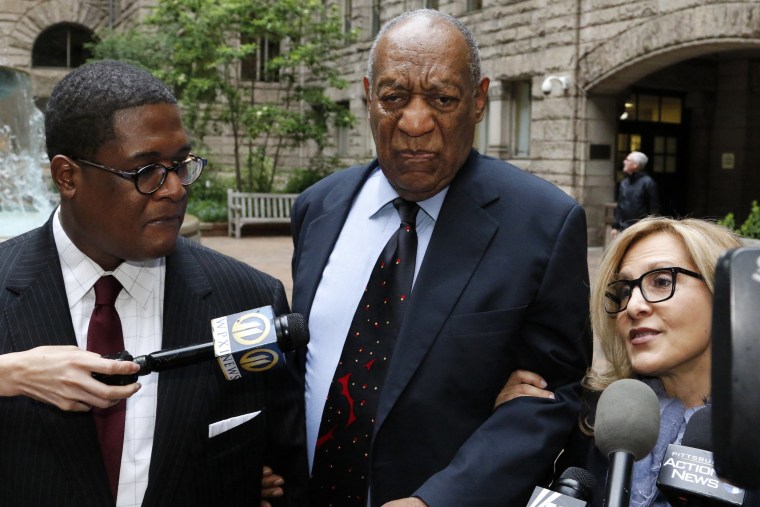 The Montgomery County district attorney's office, which declined to prosecute Cosby in 2005, brought charges a decade later as dozens of women came forward with allegations of sexual misconduct dating back to the 1960s. None of the other accusations have resulted in criminal charges.
Related: Can They Find an Impartial Jury for the Cosby Trial?
Because of intense publicity surrounding the case, the search for a jury was moved from the Philadelphia suburbs to Pittsburgh, almost 300 miles away, in hopes of finding people who had not already made up their minds about the comedian's guilt or innocence.
A parade of potential jurors, questioned one by one, professed to have paid little attention to news of Cosby's legal troubles and insisted they could be impartial and base their verdict only on the evidence presented at trial.
One was dismissed today for posting on his Facebook page, "I'm not supposed to talk about it but I got picked for Cosby," even after being instructed by the judge to avoid social media.
The process of selecting the 12 jurors went smoothly, with little acrimony, until Tuesday afternoon when prosecutors used one of their seven peremptory challenges to strike an older black woman — the second black woman they had struck.
Defense attorney Brian McMonagle quickly objected, raising what's called a Batson challenge on the grounds that jurors cannot be excluded on the basis of race or gender. The DA, he charged, was "systematically excluding" blacks from the panel, making it impossible to get a "diverse jury."
Prosecutors, however, said their reasons had nothing to do with race. The woman, they explained, was a former Pittsburgh police detective who had been charged, though never convicted, in a department scandal and she had sued the city.
Their concern, they said, was her credibility and possible anti-government bias, not her skin color. The judge accepted their explanation and let the strike stand.
Wes Oliver, criminal justice program director at Duquesne University, said the defense might later try to use that decision as grounds for appeal, if Cosby is convicted.
But, he noted, the trial judge has "extraordinary discretion" to decide whether he believes the prosecution's explanation. If the DA's reasoning is plausible, he said, "there's almost no chance of being reversed on appeal."
"People are more complicated than their skin color or their gender."
The defense team has highlighted race as an issue in the case, claiming the fact that Cosby is black has fueled some of the accusations. Constand is white, while another accuser who will testify at the trial is black.
In a recent interview, asked about his daughter's contention that racism underlies the scandal, Cosby allowed that it "could be" a factor.
Legal experts predicted that the defense would want black jurors and, in fact, Cosby's lawyers only struck whites with their peremptory challenges. Other black jurors were knocked out for "cause," meaning the judge found they could not be impartial or serving would be a hardship.
Oliver said no conclusions should be drawn about how the largely white jury will view the case.
"All things being equal, you'd have to say that a black juror is better for Bill Cosby, but things are never equal," he said.
"People are more complicated than their skin color or their gender."