As embattled comedy legend Bill Cosby enters the legal fight of his life, his attorneys have begun to invoke the concept of "racial bias" playing a role in the case being made against him.
The 79-year-old actor is scheduled to go on trial next summer for drugging and molesting Andrea Constand, then an employee of his alma mater Temple University, in his home in 2004. Cosby has denied any wrongdoing in the case — which he had previously settled in 2006 — and has maintained that their encounter was consensual.
On Tuesday, following a hearing where prosecutors sought to make testimony of 13 other Cosby accusers admissible, his attorneys went on offense — calling out attorney Gloria Allred, who represents several of his alleged victims, for her role in the case.
"The time has come to shine a spotlight on the trampling of Mr. Cosby's civil rights," Cosby's lawyers wrote in a statement. "Her campaign against Mr. Cosby builds on racial bias and prejudice that can pollute the court of public opinion."
For her part, Allred dismissed the notion that race motivated her actions.
"He complains about racial bias, but what about the African-American women whom I represent who accuse him of sexual assault or rape and who refuse to remain silent about what they say they have suffered?," she countered.
Although allegations of drugging and sexual assault against Cosby have been swirling for decades, the sheer volume of accusers in the past two years, coupled with unearthed 2005 deposition testimony from the comedian himself — in which he admitted to drugging women for sexual purposes (albeit with their consent) — has undoubtedly taken a significant toll on his reputation.
After enjoying approval numbers in 90s back in the 1990s, as recently as last summer, polls showed a dramatic drop in his standing, with the majority of Americans believing the allegations against him. By August of 2015, Cosby was ranked as one of the "most disliked" celebrities in America by Q Scores, after having registered one of the most positive ratings in their history during his "Cosby Show" peak in the 1980s.
Related: Kanye West Appears to Declare Bill Cosby Innocent
Cosby has enjoyed his most consistent support from one segment of the population — the African-American community — their numbers were split evenly at the time. Although many of his accusers — including former supermodel Beverly Johnson — are black women, many African-Americans, including a handful of celebrities, have expressed skepticism and, in some cases, outright derision towards his alleged victims.
It appears that Cosby has long been aware of who his most ardent supporters are.
In one of his only interviews in which he directly addressed allegations against him, Cosby told the New York Post in December of 2014: "I only expect the black media to uphold the standards of excellence in journalism, and when you do that, you have to go in with a neutral mind."
As accusers continued to come forward in droves in the following months, Cosby largely only communicated about the case through his attorneys, but via his social media account or his representatives he offered thanks to the predominately black celebrities who have either defended him or deliberately chosen not to engage in public rebukes of him.
When African-American attorney Monica Pressley was briefly the face of Cosby's legal team, that too invited speculation about a racial undercurrent to the comedian's defense ... at least in the court of public opinion. According to NPR, Cosby sought Pressley's services after her analysis of his case on the African-American skewing "Tom Joyner Morning Show" caught the attention of one of his "loyal supporters."
"Her gender and her race matter, because Bill Cosby is being charged with sexual assault of several women. A large number of those women are white women. I think there's a certain extent to which the idea of racial solidarity plays in here. The idea that if an intelligent, well-spoken black woman stands with Bill Cosby on this, then perhaps some of those people who accuse Bill Cosby are lying," Lolita Buckner Inniss, a former prosecutor and professor at Cleveland-Marshall College of Law at Cleveland State University, told NPR earlier this year.
Related: Museum's Plan Raises Questions on Honoring Bill Cosby's Career
"When we all heard that Bill Cosby had hired a young, attractive, black woman to be his lawyer, his dissenters and supporters alike all raised a brow. Not because a sister can't do the job, but because it was such an obvious attempt to counteract the ugly allegations against him," wrote a skeptical Blue Telusma in a January column for the African-American news website theGrio. "Who better to question a woman's claims of sexual assault than another woman?"
And yet, in that same piece Telusma conceded that she considered Pressley a "a real life Shonda Rhimes heroine," that she couldn't help but admire.
In a way, many black Americans have similarly conflicted feelings about Cosby.
His contributions to pop culture, his philanthropy, and his historic, barrier-breaking success have made him an idealized and widely beloved figure for six decades. Now, at his lowest moment, he may be counting on the good will he's engendered with African-Americans to keep what's left of his career afloat.
The strategy has been employed by other prominent black men whose fate has been placed in the hands of the justice system. O.J. Simpson, R. Kelly, Chris Brown and even the late Michael Jackson all implicitly or explicitly appealed to racial anxieties and grievances either inside or outside of the courtroom to win their freedom or at least burnish their credentials with African-Americans.
Still, while the black community has been reliably supportive of its male icons in the past, their relationship with Cosby, who has spent several years castigating his fellow African-Americans for their dress and demeanor, may be more complicated.
Related: Chris Brown's 'Bad Boy' Image Has Helped Him -- Will That Change?
"I don't think someone who a decade ago, traveled the country and belittled the poorest of our community with a chorus of respectability politics, can now cite racial bias to undermine what seems to be rather damaging claims of sexual assault spanning decades," Michael Arceneaux, a columnist for Ebony magazine, told NBC News. "He didn't show love towards the most vulnerable of us, so don't cry prejudice now."
"This is the proverbial sword that cuts both ways," added Goldie Taylor an editor-at-large at The Daily Beast and the author of a controversial cover story on the Cosby legacy in the black community for Ebony. "There remains a chorus of support particularly among black men who continue to face specific systemic inequities and who see Cosby as prima facie evidence that wealth is not the great equalizer."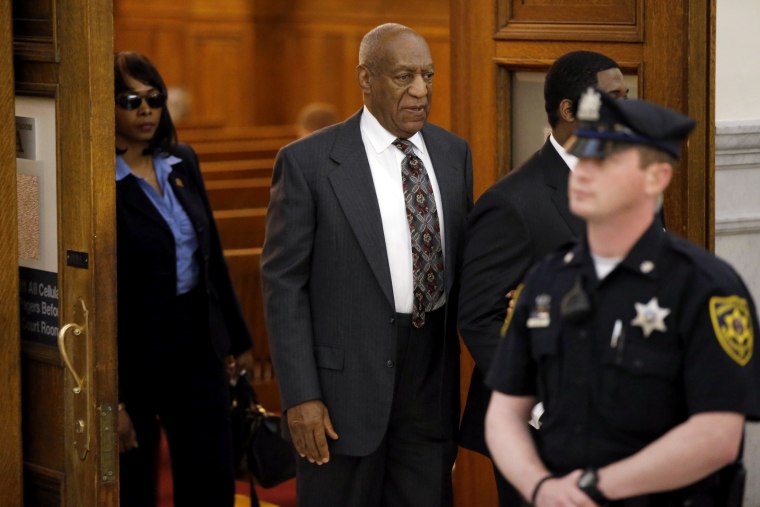 Still, Cosby's defense faces other cultural challenges and many black Americans haven't joined the chorus of Cosby defenders.
Part of that is a reflection of the awareness of rape culture which has arguably more thoroughly punctured the public's consciousness.
There is also the chance that his attorneys' decision to invoke race could be perceived as cynical, even by those who are inclined to support him.
"The risk for Cosby is that black America, writ large, will balk at being used in this way. Some will chastise him openly, while most others -- perhaps more crucial -- answer with their silence," said Taylor. "If Cosby is looking for a chorus of support, predicated on racial parity, he isn't likely to get it."