A former NBC employee has shown NBC News receipts for money orders that he says he sent to women at Bill Cosby's direction.
Frank Scotti, now 90, says he also regularly brought women to Cosby's dressing room. He told Kate Snow in an interview that aired on TODAY Monday that the job made him feel "like a pimp."
But one of the women whose name appears on several money orders says the gifts were purely the product of Cosby's "generosity" and were intended to help pay for her son's boarding school.
"It is a shame that Dr. William Cosby's generosity is being questioned and maligned," said Alva Chinn, a model and actress who appeared in several episodes of "The Cosby Show." "The source could have asked me first before releasing these money orders."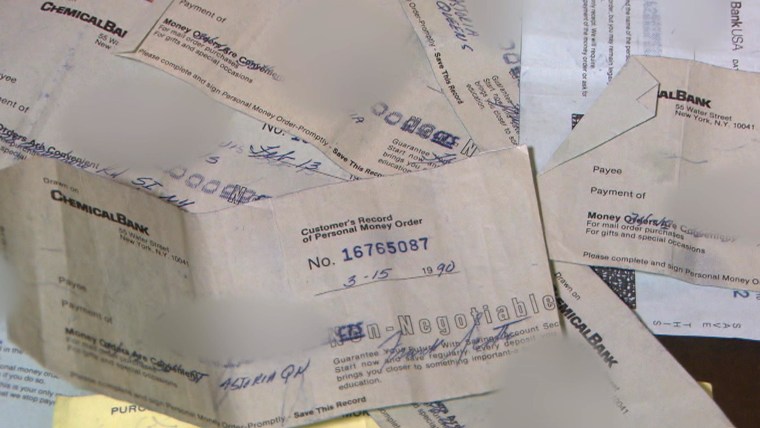 Scotti said that he left a job at NBC to work as a special assistant to Cosby during the taping of "The Cosby Show" in Brooklyn and Queens, New York. The show ran on NBC from 1984 to 1992.
According to Scotti, Cosby asked him to send money to various women, sometimes thousands of dollars a month. He showed NBC News receipts for eight money orders that he says he mailed to four women. The amounts range from $398 to $1000 and the money orders date from 1989 and 1990.
Three money orders are made out to Alva Chin (sic). Two are for $1,000 and the amount on the third is illegible.
Two money orders totaling $1400 are made out to "Angela Leslie," which is the name of a woman who alleges that Cosby sexually assaulted her in Las Vegas in 1992. Leslie, who said she had only met Cosby once before, told TODAY that Cosby put his hand "where it shouldn't have been" and she pushed him off. The money orders were dated August 13, 1990.
Leslie told NBC News she got two checks from Cosby and that the money was intended to fly her to see him at an awards show, and also included money for her to spend while there. She said she did not make the trip and returned the money.
Another is made out to Shawn Thompson. Shawn Thompson is the mother of Autumn Jackson, who was convicted in 1997 of trying to extort money from Cosby to keep her from telling the tabloids that he might be her father. During Jackson's trial, Cosby said he had had an affair with Shawn Thompson and had given her money. Autumn Jackson refused to take a paternity test.
Said Scotti, "All I know is that Bill Cosby told me that certain people, I want you to send this money out to them. He told me how much and I said fine and I went and got money orders." He said he never delivered the money but always sent it by mail, and never met the women to whom he sent money.
Scotti said he sent one of the women $2,000 a month. Scotti said he kept evidence of the money orders in case Cosby ever questioned him, because he didn't want Cosby to think he was stealing.
Follow NBC News Investigations on Twitter and Facebook.
He also said he stood guard outside Cosby's dressing room while women were inside. Said Scotti, "He said, , 'Frank, I want you to stand outside and don't let anyone in.' So I said fine and I did that." He said he suspected Cosby was having sex with the women but did not know.
Martin Singer, Cosby's attorney told NBC News that Scotti was seeking attention. "It appears that his story is pure speculation so that he can get his 15 minutes of fame,'' said Singer.
In a statement released Friday, Singer said, "It is completely illogical that so many people would have said nothing, done nothing and made no reports to law enforcement or asserted civil claims if they thought they had been assaulted over a span of so many years."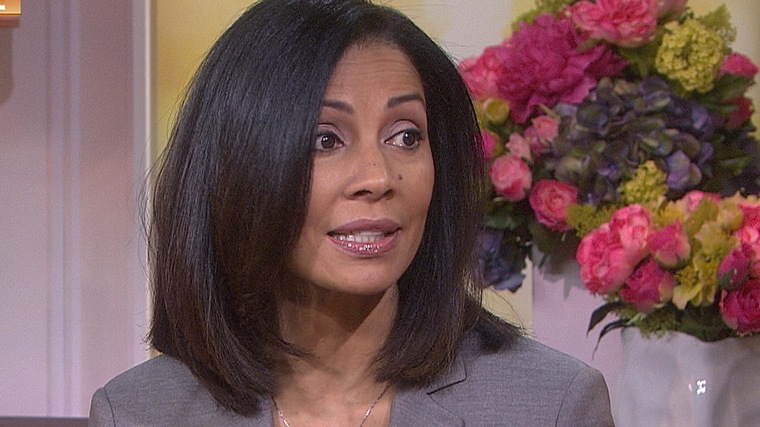 Cosby has never been charged with a crime, but 18 women have now publicly accused the comedy legend of sexual assault or attempted assault. The actor has always denied allegations of assault.
"I know people are tired of me not saying anything, but a guy doesn't have to answer to innuendos,'' Cosby told Florida Today after receiving a standing ovation at a comedy show on Saturday. "People should fact-check."