BLIZZARD '15: THE LATEST
New England was clobbered on Tuesday by a blizzard every bit as ferocious as forecasters feared — more than 2½ feet of snow, wind as strong as a hurricane and icy waves powerful enough to shake houses.
Boston had been socked with 23.3 inches of snow by Tuesday evening — almost triple its previous one-day record of 8.8 inches. All of Nantucket island lost power, and an 80-foot section of seawall collapsed in Marshfield, Massachusetts. Nurses and doctors hitched rides with police or put on skis and snowshoes to get to work.
What is believed to have been the first death blamed on the storm was that of Sean Urda, a 17-year-old New York boy, who died after being injured Monday night in a sledding accident on Long Island, police said Tuesday.
Police said Urda and two other 17-year-olds were taking turns snow tubing down Chester Court in Huntington about 10 p.m. when Urda took a running start, slid rapidly down the hill and struck a light pole at the bottom.
The blizzard actually set up farther east than forecasters had expected, and New York and Philadelphia got little more than an ordinary winter storm. Subways rolled back to life, and the governors of New York, New Jersey and Connecticut lifted driving bans.
It was enough of a miss that the National Weather Service felt compelled to explain itself on Facebook, and one meteorologist offered a public apology on Twitter. But in New England, the blizzard matched the direst fears.
The town of Auburn, Massachusetts, reported 35 inches of snow, and 30 or more inches was also recorded in Lunenburg, Framingham, Worcester and Westford. Thompson, Connecticut, came in at 30.5 inches. Litchfield and Nashua in New Hampshire both got 30 inches.
And "we're not done yet in New England," said Ari Sarsalari, a forecaster for The Weather Channel. Boston was expected to get 8 to 12 inches more by Wednesday morning, while Portland, Maine, could add as much as a foot and a half to the 20½ inches already on the ground.
"There is about 4 feet of water in the street in front of the house," Eric Murphy, a pest control worker, told NBC News from his home in Marshfield, Massachusetts. "We do get flooding here, but this is the worst I've seen in the 15 years I've lived here. My house is on stilts, but another few inches and we might be in trouble."
"We have a lot of damage from the high tide last night, a lot of high winds," said Marshfield fire Capt. Shaun Robinson, who went from house to house Tuesday inspecting the damage, told NBC station WHDH of Boston. "The pilings on the front of the buildings literally were snapped."
Gov. Charlie Baker said Boston transit would remain closed at least until Wednesday, and Mayor Marty Walsh said schools could be closed through Thursday. "We're still very much in the middle of this storm," he told reporters Tuesday afternoon.
A nuclear power plant in Plymouth shut down automatically when the power went out, but authorities said the public wasn't in danger.
The strongest gust from the blizzard was recorded on Nantucket — 78 mph, as powerful as a low-grade hurricane. Police Chief William Pittman told NBC News that even 911 service was out.
"We've also lost all communications, our phone systems are down, our cell phones are very spotty and our Internet is non-existent," Pittman said. "It was stated by one individual [that] we've had to revert to 1950s technology just to stay in touch."
In Rhode Island, gusts were as strong as 53 mph. A 110-foot replica of the 18th-century tall ship Providence blew over on its side in Newport Shipyard and broke its mast, the owner told New England Cable News.
Air travel was all but shut down across much of the Northeast. In all, more than 7,700 flights were wiped out Monday and Tuesday because of the blizzard. Stranded passengers were lined up on cots along a window at LaGuardia Airport in New York with no idea when they could fly.
"I started to read, and I dozed off," said Cynthia Maynard, who expected to be marooned for a second straight night as she tried to get home to Nassau, Bahamas. All nearby hotels were full.
The cots were fine, she told NBC News from the food court, but "you don't sleep soundly, no, by no stretch of the imagination."
And at John F. Kennedy Airport, passengers on at least one outbound Virgin Atlantic flight were stranded when their flight to London was canceled after six hours on the tarmac.
"There's nothing to drink, nothing to eat. It's a disaster," said Alexis Dehasse, a music producer who was aboard Virgin Atlantic Flight 4 to London, which was supposed to take off at 6:30 p.m. Monday but dumped passengers back at the gate after midnight after dealing with de-icing and a sick passenger.
The official snow total was 9.8 inches in Central Park. As late as Monday afternoon, the weather service had predicted 24 to 36 inches for parts of the city. Forecasters had to backpedal when the storm moved east.
"The science of forecasting storms, while continually improving, still can be subject to error, especially if we're on the edge of the heavy precipitation shield," the National Weather Service's New York office said on its Facebook page Tuesday. "Efforts, including research, are already underway to more easily communicate that forecast uncertainty."
The U.S. Postal Service said mail delivery would resume Wednesday in New York, Connecticut, Massachusetts and Rhode Island. Post offices will be open if you can get to them.
The storm turned out great for Lauren Piccolo of Manhattan, whose 1-year-old whippet, Burt, had been missing for five months. Fire Lt. Dave Kelly noticed him rummaging for food at the fire department's training facility at Randall's Island, NBC New York reported. After he trapped the dog Monday night, Kelly scoured social media for clues and found Piccolo, who'd been posting hundreds of fliers since August.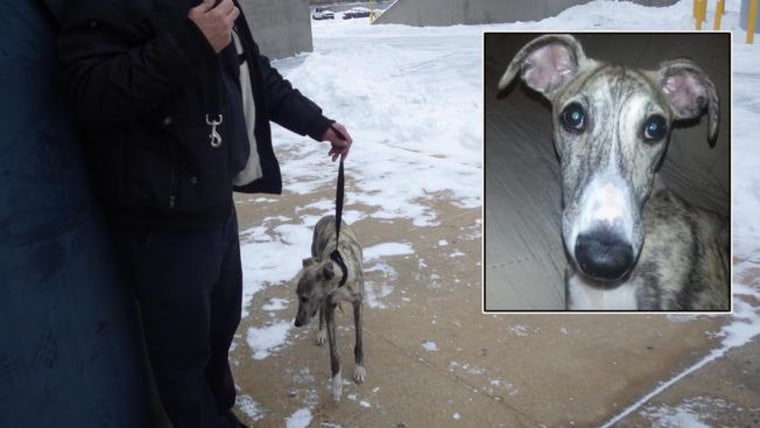 An ecstatic Piccolo called the fire department's efforts "incredible and timely," saying that while Burt's "a resilient dog, I don't think he would have survived such a fierce storm."
Tracy Connor, Tom Costello, Elisha Fieldstadt, Hasani Gittens, Alastair Jamieson, M. Alex Johnson, Andrew Rafferty, Michael Rubenstein, Jon Schuppe and Shamar Walters of NBC News contributed to this report.