BLIZZARD '15: THE LATEST
Massachusetts, New Jersey and New York have implemented overnight travel restrictions.
Seven states have made emergency declarations.
New York's LaGuardia Airport will shut down Tuesday.
—
BY ERIN McCLAM
Tens of millions of people in the Northeast hunkered down on Monday for a historic blizzard that was expected to drop more than 2 feet of snow, whipped around by winds approaching hurricane force — enough to bring New York, Boston and most of the northeast corridor to an eerie standstill.
More than 7,000 flights were scrapped, and the major airlines warned that practically nothing would take off or land in New York, Boston and Philadelphia as the worst of the storm sweeps in overnight and Tuesday morning.
Store shelves emptied, schools shut their doors, and authorities either pleaded with people to stay home or outright closed the roads to all but emergency vehicles.
The snow began to lighten up in New York around 8 p.m., but Mayor Bill de Blasio warned residents not to drop their vigilance. He cited forecasts for snow to fall at a rate of 2 to 4 inches per hour overnight, although meteorologists later predicted only about 1- 2 inches per hour in the city around midnight.
By 12:30 a.m. Tuesday, there was 5.5 inches on the ground in New York's Central Park, with forecasts for an additional 5 to 8 inches, according to The Weather Channel. Boston's Logan Airport had 2.3 inches after midnight with 15-24" more expected, and Hartford, Conn., had 2 inches with another 10-16" on the way.
"This snow is going to come in very fast. There'll be fast accumulation, there'll be drifts, there'll be visibility problems, there'll be high winds," de Blasio said, adding that gusts in the city could surpass 60 mph. "That is a dangerous situation."
City subways and suburban commuter rails stopped running at 11 p.m. ET Monday under orders from New York Gov. Andrew Cuomo. A road travel restriction began at the same time, meaning that all cars other than emergency vehicles were banned in 13 counties, including those in New York City and Long Island.
"It's dangerous to be out there now. It's going to get more dangerous. And at one point it's irresponsible," Cuomo said.
A similar travel ban in New Jersey began at 11 p.m. ET, Gov. Chris Christie announced. The move excludes emergency and public safety personnel, utility companies and others assisting in storm recovery. It will be "subject to revocation at daybreak depending on conditions then," Christie said on Twitter.
Boston suspended all public transit for Tuesday and Massachusetts officials pleaded for people to go home and keep put. "The bottom line is it's going to be the kind of night where the best thing anyone can do is to stay inside," Massachusetts Gov. Charlie Baker said.
Amtrak suspended Tuesday service on many of its busiest lines, including the Northeast Regional and Acela Express between New York and Boston.
No flights will arrive at or depart from LaGuardia Airport in New York on Tuesday, while "minimal flight activity" is expected at the region's other airports, the Port Authority of New York and New Jersey said.
At John F. Kennedy Airport, passengers on at least one outbound Virgin Atlantic flight had to sit on the tarmac for about 6 hours before being stuck back at the terminal.
"There's nothing to drink, nothing to eat. It's a disaster," said Alexis Dehasse, a music producer who was aboard Flight VS4 to London, which was supposed to take off at 6:30 p.m. but dumped passengers back at the gate after midnight after dealing with de-icing and a sick passenger.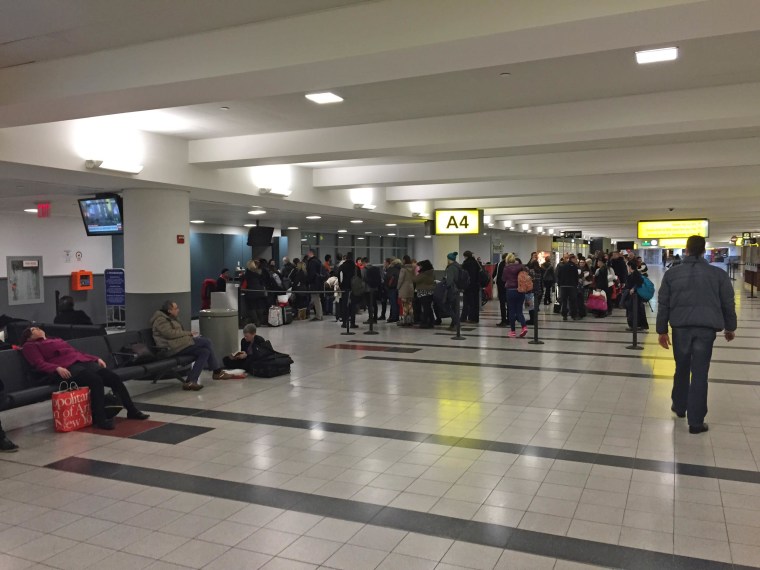 Dehasse said he had a friend in town he could stay with — but road closures meant there was no way to leave the airport. "I'm coming down with the flu," he told NBC News. "It's a nightmare."
Another passenger, Felix Kunze, 29, a Brooklyn photographer going to England for a visit, said the airline just handed out $15 vouchers for McDonald's, the only thing open.
"I can't even get back to Brooklyn. I have friends who will come get me but they can't because the roads are closed." Asked to sum up the experience he said, "It was hopeful, hopeful, hopeful right up until the last minute with the most crushing final defeat of horror."
Non-essential vehicles in New York, including cabs and delivery bicycles, were ordered off the streets at 11 p.m. ET. "This will most likely be one of the largest blizzards in the history of New York City," Mayor de Blasio said. "This is not a typical storm. It's going to pack a punch. What you're going to see in a few hours is something that hits very hard and very fast."
Related:
At least 60 million people were under a winter weather alert, and 28 million were in the possible path of blizzard conditions — heavy snow whipped around by ferocious wind. Seven states — Connecticut, Massachusetts, New Jersey, New York, Rhode Island, Pennsylvania and New Hampshire — declared emergencies.
Rush hour came early in many places, as commuters raced home before the brunt of the storm hit. New York's Penn Station was jammed with riders trying to board the day's last trains. Broadway went dark, and Central Park was closed. Banks branches shuttered early. Power crews from as far as Michigan traveled east to help deal with likely outages.
At least one town in Massachusetts turned off power preemptively, while at least 3000 customers in the Bay state and hundreds of people in Connecticut lost electricity overnight, utility officials said..
Forecast snow totals were changing quickly, but The Weather Channel said some places outside Boston and on Long Island, New York, could get more than 2 feet of snow. The Massachusetts coast and eastern Long Island could each see 30 inches, The Weather Channel reported.
Bill Karins, a meteorologist for NBC News, called for snow totals of 20 inches in Hartford, Connecticut, 18 inches in New York and 10 inches in Philadelphia.
The wind forecasts were nightmarish: The Weather Channel called for gusts of 65 mph in Plymouth, Massachusetts, just shy of hurricane force, 60 mph in Boston and 50 mph in New York.
The worst of it was expected Monday overnight and Tuesday morning. Blizzard warnings covered 250 miles of the Northeast while snow fell steadily for most of the day Monday across the region and authorities warned that it would get much heavier.
"Don't panic. Let's get this thing right," Mayor Marty Walsh of Boston told The Weather Channel. "Keep an eye on the news, keep an eye on the forecast."
It the snowstorm intensifies, it could threaten Boston's record — 27.6 inches, over two days in February 2003. It could also be among the biggest in history in New York, where the record is 26.9 inches, set in February 2006.
New York City Sanitation Commissioner Kathryn Garcia said that keeping people off the roads would help her crews clear them as efficiently as possible overnight. But she warned residents not to expect things to be in great condition in the early morning. "It will not be done when you wake up in the morning. It's going to keep going," Garcia said.
Along the low-lying coast, flooding was a major concern. The National Weather Service warned that the storm would be powerful enough not just to erode coastline and damage homes but to carve whole new inlets along the beaches.
In New Jersey, Christie sent state workers home early and ordered state offices closed for Tuesday. He noted that people were already descending on grocery stores.
"Don't know why the rush on bread, but what the heck," he told reporters.
Travel was treacherous. Part of Interstate 81 was shut down near Harrisburg, Pennsylvania after a tractor-trailer jack-knifed and a beer truck crashed into the median. No injuries were reported.
Schools in Pennsylvania, New Jersey, New York and Connecticut announced they were closing early or altogether and Boston officials canceled school through Wednesday.
The state of Massachusetts had 250,000 tons of salt and 420,000 gallons of deicing liquid at the ready. Boston had 700 pieces of equipment to prepare the roads and plow them later.
"Very highly populated areas of the Northeast are going to get crushed with snow," said Tom Moore, coordinating meteorologist for The Weather Channel. "Everywhere ... you're going to get hit very hard by this storm."
Coastal Massachusetts braced for wind gusts that could reach 75 mph, enough when paired with the snow to create whiteout conditions.
With a big sendoff from the city of Boston, the Super Bowl-bound New England Patriots got out of town just before the storm arrived. The team was headed for Phoenix, where the temperature will reach the high 60s.
The blizzard threat came after millions of Americans across the Northeast awoke Saturday to a blanket of snow that was later doused with rain, leaving New York, New Jersey and Pennsylvania a sloppy mess.
Scott Flath, general manager of Long Island Hardware in Bohemia, New York, said his store is well-stocked but that many of his customers are making their first winter supply runs of the season.
He said they're telling him, "I have no idea where my shovel for last year is."
Elisha Fieldstadt, M. Alex Johnson, Jon Schuppe, Tracy Connor and Hasani Gittens of NBC News contributed to this report.