Snow socked the Northeast again on Monday, crippling major airports and hindering the recovery from the blizzard last week. Forecasters warned that brutal cold would follow, raising the threat of a flash freeze and an icy mess on Tuesday.
In New England, the snow on Monday fell as fast as 3 inches an hour. By early afternoon, Lunenberg, Massachusetts, had more than 13 inches — and that was on top of what still had to be cleared from the blizzard.
New York got a mix of snow and freezing rain, complicating the commute. The Federal Aviation Administration briefly stopped flights from landing at LaGuardia Airport.
In all, more than 3,400 flights were canceled across the country. That included half the flights scheduled to take off and land at Newark Liberty International Airport in New Jersey.
Forecasters said temperatures would take a deep drive on Monday night. By 7 a.m. Tuesday, The Weather Channel called for readings of 18 degrees in Philadelphia, 14 in New York, 5 in Boston and 4 below zero in Burlington, Vermont.
In Boston, Mayor Marty Walsh said the city would go ahead anyway with a Tuesday parade to honor the Super Bowl champion New England Patriots.
"I think it's going to be a pretty significant undertaking, but I think our Boston authorities can take care of it, especially for the Pats," Keya Rahnemoon told NBC News on Boylston Street, where snow was piled waist-high along the sidewalks.
The storm was blamed for at least five deaths — a Massachusetts woman who was struck and killed by a snowplow on Monday; two people who were killed in storm-related car crashes in Nebraska on Sunday; and two people who were killed in a serious crash on Interstate 95 in New York.
The winter storm had already caused huge problems in the Midwest.
Chicago O'Hare reported 19.3 inches of snow from the storm, making it the fifth-heaviest on record there. Detroit reported 16.7 inches, the third-highest on record and the most since 1974. Detroit and Milwaukee both set single-day snowfall records on Sunday.
Three of the four southbound lanes of I-294 in Chicago were closed after a crash involving several cars tractor-trailers, NBC Chicago reported.
New York is expecting 3 to 5 inches of snow by the end of Monday, while Boston should see 8 to 12, said Kevin Roth, a forecaster for The Weather Channel, but the totals were hard to predict.
"It's a bit like the issue we had last week with New York City being right on the fence about how much snowfall they will get as opposed to just rain," Roth said. "Only this time the city on the fence is Boston."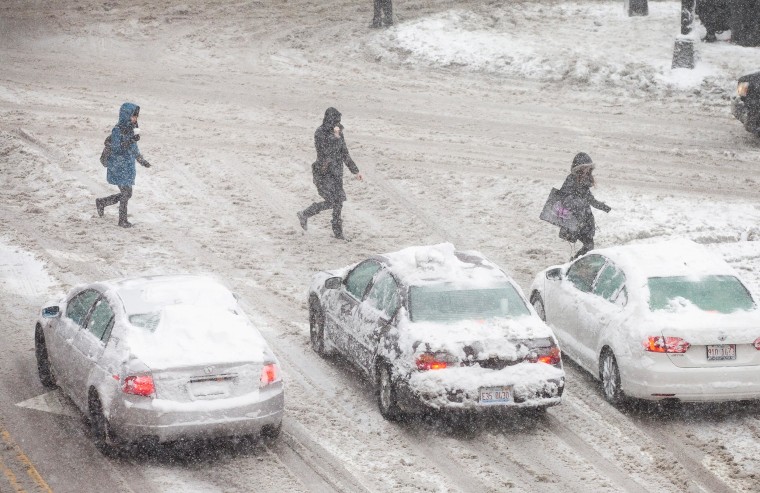 In Chicago, more than 350 city vehicles were out trying to clear main roads, officials said, including more than 150 pieces of heavy equipment "that will focus on clearing streets and removing snow piles resulting from plowing, and addressing snow around vital public safety sites like hospitals, police and fire stations, and schools."
— Alastair Jamieson, Erin McClam, Tracy Jarrett and John Brecher