NEW YORK — With over 7,000 flights delayed and cancelled throughout the Northeast because of blizzard conditions, some hardship was expected. But at John F. Kennedy Airport, passengers on at least one outbound Virgin Atlantic flight had to sit on the tarmac for about six hours before being stuck back at the terminal — with absolutely nowhere to go.
"There's nothing to drink, nothing to eat. It's a disaster," said Alexis Dehasse, a music producer who was aboard Flight VS4 to London, which was supposed to take off at 6:30 p.m. but dumped passengers back at the gate past midnight after dealing with de-icing and a sick passenger.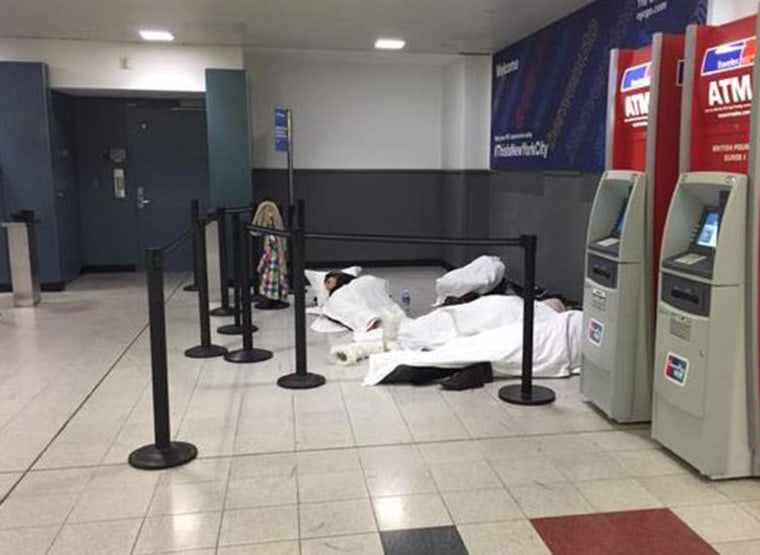 Dehasse said he had a friend in town he could stay with — but mandated road closures meant there was no way to leave the airport.
"I'm coming down with the flu," he told NBC News. "It's a nightmare."
Another passenger, Felix Kunze, 29, a Brooklyn photographer going to England for a visit, said the airline just handed out $15 vouchers for McDonald's, the only thing open.
"I can't even get back to Brooklyn. I have friends who will come get me but they can't because the roads are closed." Asked to sum up the experience he said, "It was hopeful, hopeful, hopeful right up until the last minute with the most crushing final defeat of horror."
Non-essential vehicles in New York, including cabs and even delivery bicycles, were ordered off the streets at 11 p.m. ET and public transportation was also shut down — meaning that where ever you were at 11 p.m. is pretty much where you'd have to stay for the night, unless you wanted to hike through half a foot of snow.
Helena Shackleton of Yorkshire, England, was trying to fly home from a bachelorette weekend in the Big Apple with eight friends. She said when pilot finally announced they weren't going, a groan went up from the passengers.
"People were really frustrated," Shackleton told NBC News. "Our luggage is still on there because they said there is no one qualified to take it off. It's a complete disaster."
Virgin Atlantic said staff were "doing everything we can to ensure passenger comfort during this time." In a statement, the airline added: "The aircraft was due to depart when a passenger required urgent medical attention and returned to the terminal. Subsequently we de-iced the aircraft again and unfortunately it then developed a minor technical issue. Once this issue had been rectified, unfortunately the bad weather combined with the cabin crew running out of hours meant the aircraft was unable to take off. Due to the severe weather in the region, there is a road travel ban and therefore customers are unable to leave the airport."
NBC News' Shamar Walters contributed to this report.