RICHMOND, Texas – Rebekah Gregory emerged from a beauty salon one March day with her eyes red.
"I've been crying at the drop of a hat, thinking about everything," said Gregory, 26, who suffered extensive injuries to her left leg in the Boston Marathon bombings last April and has since endured 16 surgeries in an effort to save the limb and repair other wounds.
Days before her salon appointment, Gregory had spoken with her doctor about possibly removing the lower part of her wounded leg and had fought with her health insurance company over reinstating her coverage, which she said had been cancelled inexplicably for the seventh time since the blast.
She was in the final rush of preparations for her April 4 wedding, including testing a special leg crutch hidden under her dress that would allow her to walk down the aisle without using walking crutches or a wheelchair.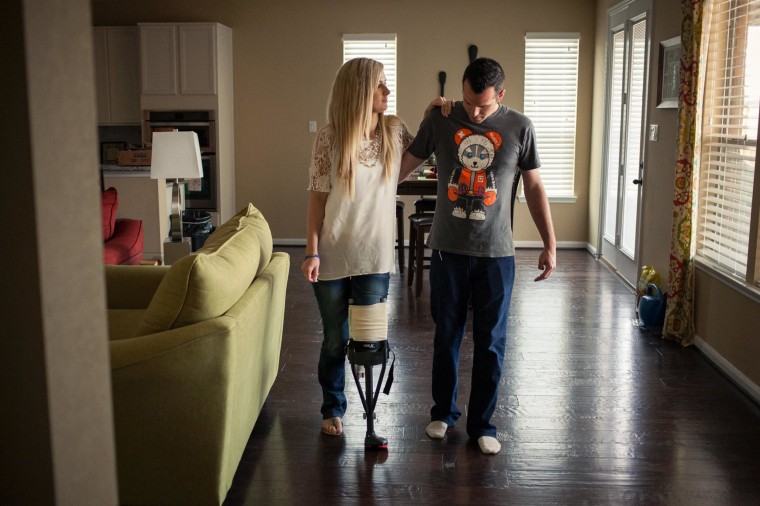 Also heavy on her mind were two fast-approaching dates: April 15, the anniversary of the day when a pair of homemade bombs exploded at the marathon's finish line, wounding her then-boyfriend Pete DiMartino and her son, Noah; and April 21, when this year's marathon will be run.
Rebekah (now DiMartino) and Pete have achieved many milestones since the attack. They bought a home. They got engaged and married. And they've tried to turn their trauma into something positive, lending support to other survivors.
But nearly one year after the bombings that killed three people and injured 275, they're still grappling with lingering emotional and physical wounds. "It's going to take a lot longer than a year to heal and to come to terms with what happened," Rebekah said.
Some survivors of the attack will join a tribute in Boston planned for the anniversary and participate in this year's marathon, including some amputees. But the DiMartinos haven't finalized their plans for either event. Up until last Friday, when they wed, much of their focus was on their upcoming nuptials at a 19th-century estate in North Carolina.
"The marathon is not going to give us closure, and I don't know if we're ever going to have that," Rebekah said in late March. "I don't know if it would hurt or help going back right now. The closer it gets, the more I don't want to go."
The DiMartinos were at the finish line waiting for Pete's mother to cross when the bombs detonated.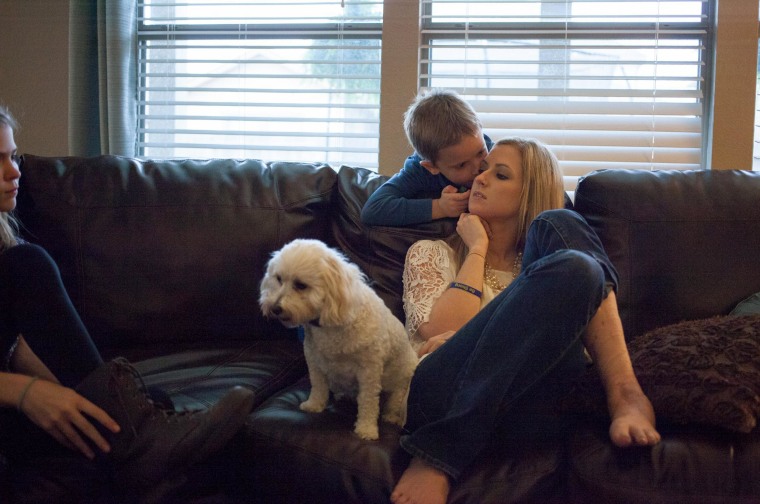 Rebekah could hear her son Noah, then 5, crying for her, but she couldn't move her body to reach him. Her left leg was badly damaged: she lost flesh all the way down the limb, as well as some bones, nerves and tendons in her foot. The blast blew off Pete's left shoe and destroyed most of his right Achilles tendon.
Pete has had five operations to repair his ankle, tendon and one of his burst eardrums, and still has some difficulty walking after months of physical therapy, while Noah has scars from being struck by shrapnel in the back of his head and on his right leg.
Rebekah, who is believed to have been the last patient connected to the explosions to be discharged after spending 56 days in hospitals in Boston and Houston, has undergone operations – mostly to the left side of her body – on her hand, leg, foot and ankle. She also was treated for months for a serious bone infection.
Despite it all, the couple has mixed feelings about what happened that day. "It's still the best and worst day of our lives," Rebekah said.
The best, she said, because it made the couple -- then dating long distance for less than a year -- realize the depth of their love, sparking Pete's proposal to Rebekah, his move from upstate New York to Texas, and his forming a close relationship with Noah, who now calls him "pops."
"I feel like we have been given a gift, a second chance to be the best people that we can be," said Pete, 29.
Still, that day left lasting damage.
Noah is now afraid to do things he used to enjoy, such as riding a bike. If he gets hurt doing something new, "he just will refuse to do it again," Pete said.
"It's like he has to re-learn everything," he said, with Rebekah adding that "he's just scared something is going to happen."
Rebekah has faced new fears, too: She has freaked out over loud noises and the smell of fireworks and has recurring nightmares about the three of them being killed. Two months ago, Pete woke her up after she began screaming during one of the dreams.
"The more time that goes by, the more wounds get opened up," Rebekah said. "You'd think it would be the opposite."
After the busy month of April, Rebekah said, they'll seek out therapy for the first time. "That's the only thing we can't do on our own," she said of the emotional healing. "We've tried."
Therapy has become more important with the possible amputation, which may happen this summer. Noah recently asked if Rebekah was going to get a "metal leg," and when she told him probably, he cried.
"It broke my heart because I know that this is the best thing for me," Rebekah said. "I just want Noah to understand that it's OK, everything is OK, but he is having a really hard time."
"I feel like we have been given a gift, a second chance to be the best people that we can be."
Doctors have had successes and setbacks with Rebekah's recovery. Right before Christmas, they got her left foot to turn into a more neutral position – instead of a pointed one - so she could put pressure on it for the first time since the bombings. But when she tried to stand on the foot, it felt as if her bones were shattering -- the same sensation she experienced the day of the blast.
Her physician, Dr. Bill McGarvey, said he believes Rebekah's leg could be functional without amputation, except for the constant, nagging pain she experiences, her inability to put full weight on her foot and her missing tendons that would ultimately affect her walking skills.
But her leg is "probably not going to be normal in the best case scenario," said McGarvey, an orthopedic surgeon at Memorial Hermann-Texas Medical Center. They were approaching a "crossroads" over whether to amputate, he added.
Rebekah said she has made up her mind about the amputation, which would remove her leg below the knee. "It just doesn't make sense to keep trying to save something that doesn't want to be saved," she said. "My leg is physically attached to my body but it hasn't been mine since April of last year."
For Rebekah, removing the lower leg and getting a prosthesis will let her be more independent. "And I can be a mom again," she said, noting she can't do ordinary activities like the laundry or drive. "I feel like I am a burden to my family, and I don't want to feel like that."
So far, Rebekah, who was an account executive at a corporate housing relocation firm until the bombings, has amassed medical bills totaling more than $1 million. Charitable donations and the One Fund set up by Massachusetts authorities haven't provided enough funds to cover the expenses.
But the couple has tried to turn the tragedy into something good -- by sharing their story publicly, for example.
Rebekah writes a blog and maintains a Facebook page where she chronicles her daily highs and lows, and she has given some motivational speeches, a career she'd like to pursue. Rebekah said it has helped her "just knowing that I'm making a difference to someone."
"I feel like we're here to hopefully encourage and inspire other people to keep pushing forward with their own trials, because I don't feel like ours were any worse than anyone else's," she said.
One of those she has aided is Kylee Cubine, a 15-year-old Texas girl recovering from a serious ATV accident. Rebekah encouraged her to try a less invasive medical procedure to save her right leg, and it has worked.
"She helped me to not give up," said Cubine, who traveled with her parents to join the couple's wedding. Sporting crutches decorated in the blue and yellow colors of the Boston Marathon, Cubine said she came "to support (Rebekah) like she supported me."
Rebekah's father, Tim Gregory, noted how his daughter had grown in the aftermath of the tragedy. "It's an incredible thing to see your children bloom and become the person you've tried to prepare them" to be, he said.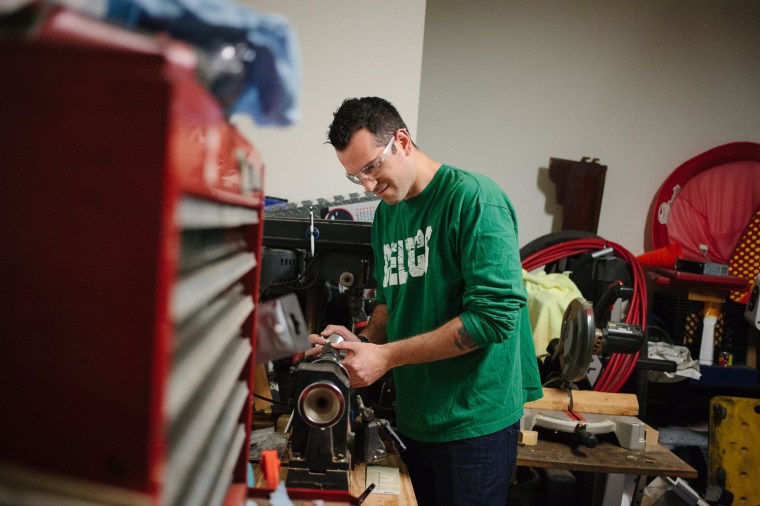 Gregory has watched Pete, who was a DJ and bartender before the bombings, step into the role of father and husband, forming a tight bond with Noah, taking care of his wife's daily medical needs and overseeing their busy household. "I think their future's brighter than it's ever been," Gregory said.
One of the next steps for Pete will be finding a job, but in the meantime he has added touches to the couple's house that he said will turn it "into our home": Noah has a Boston Red Sox-themed bedroom, and Pete has put together his "beat laboratory" to compose music -- an ability that is not affected by his burst eardrums -- and has converted one room into a home movie theater.
Noah seems happier, Rebekah said. "He's very excited for us to be a family and to have a house because he hasn't had 'normal' in a long time," she said.
Despite the difficulties, it has still been an "incredible year" for the new family, surrounded by loved ones who "have been so instrumental in our recovery," Pete said.
"I feel like it is getting better as time goes on," he said. "(We) try to encourage each other and build each other up."
Added Rebekah: "We still have quite a long road ahead of us. But we're going to enjoy it as best as we can."