More than a year after the Boston Marathon bombing, the first trial is about to get underway.
Opening statements are expected Monday in the trial of Azamat Tazhayakov, a 20-year-old friend of the accused suspects who is charged with obstruction.
Prosecutors say he and another friend, Dias Kadyrbayev, took a backpack containing fireworks from surviving bombing suspect Dzhokhar Tsarnaev's dorm room at the University of Massachusetts-Dartmouth after seeing his picture on the news.
Prosecutors have been building a case against Tsarnaev, who is accused with his older brother, Tamerlan, of plotting and carrying out the April 15, 2013, bombing. Two pressure cookers loaded with shrapnel and explosives blew up near the marathon finish line, killing three people and injuring more than 260. Tamerlan died in a manhunt after the attack.
Sign up for breaking news alerts from NBC News
Dzhokhar Tsarnaev's backpack was later recovered in a landfill. Kadyrbayev's trial on similar charges is scheduled to begin in September.
In the Tazhayakov case, the trial is expected to last about three weeks. He could get 25 years in prison if convicted. Pre-trial documents have been sealed, and the judge has admonished the attorneys for speaking to the media in the past.
Arkady Bukh, the lead defense attorney, told NBC News on Thursday that his client "loved Boston."
"My client has great respect for the people of Boston. Even after the arrest, he had a lot of respect," Bukh said. "He is really sorry for the people who suffered, who died. He loved Boston, and the people of Boston. He never had the intent to hurt anyone."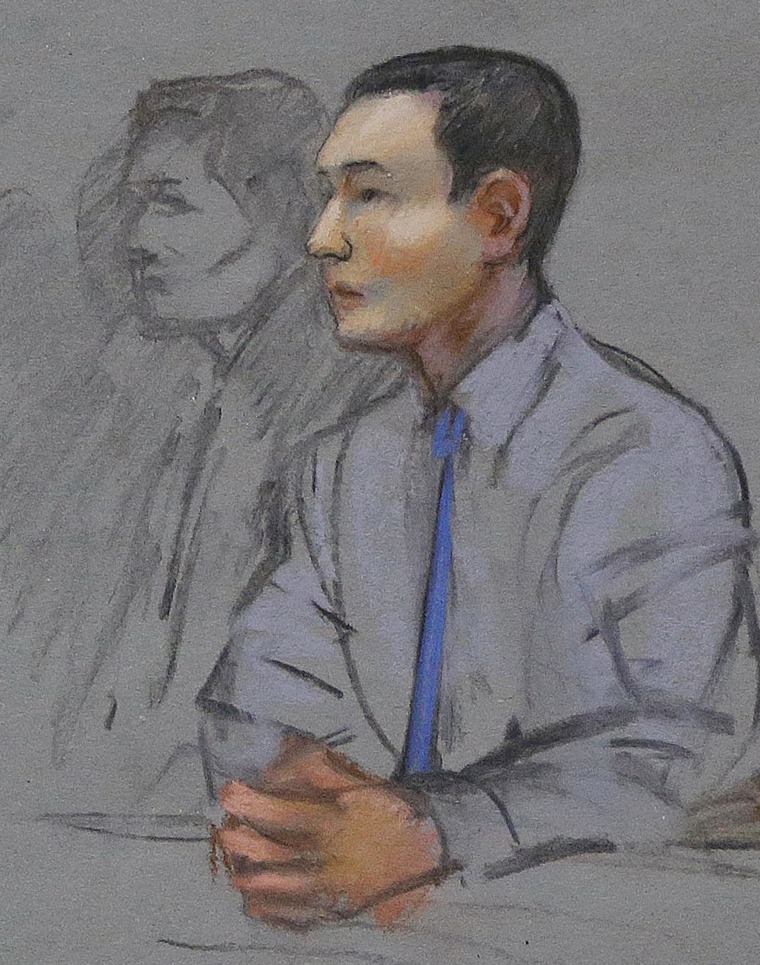 During a pre-trial hearing, another of Tazhayakov's lawyers, Matthew Meyers, said that prosecutors had offered his client a deal if he agreed to plea to lesser charges, but he rejected it.
"He's confident," Meyers said. "He knows he's not guilty."
Meyers refused to disclose the terms of the deal, and prosecutors would not confirm it.
Meyers said that his client was being punished simply for having a friendship with Tsarnaev.
"Even the average juror in Boston will be shocked by the lack of evidence," he said.
Tsarnaev's trial: What's next?
Justice is moving more slowly in the main bombing case. Dzhokhar Tsarnaev is scheduled for trial in November. Federal prosecutors have said they will seek the death penalty.
Just last week, Tsarnaev's lawyers clashed with prosecutors over the defense's desire to move the trial to a more neutral venue. Defense lawyers have said a survey conducted in May showed "an overwhelming presumption of guilt" and a view that the death penalty should be imposed on the surviving brother.
They also said a high number of people in the potential jury pool attended or participated in the Boston Marathon last year or know someone who did.
But federal prosecutors countered that the defense has submitted only "unreliable, unexplained poll results" alleging juror bias. At the least, prosecutors said, a potential jury pool should be examined using questionnaires to see whether an impartial jury can be assembled.
It took little more than two days to pick a jury for the Tazhayakov trial.
His father, Amir Ismagulov, told NBC News on Thursday night that he had moved to the United States from Kazakhstan on April 25, 2013, to be closer to his son after his involvement with the case. His wife followed that June.
"My son is hundred percent innocent," he said in Russian. "There is no doubt about it."
Konstantin Shuknov contributed to this report.