A college student who was badly wounded during the Boston Marathon bombing — and whose gutsy determination to get better inspired other survivors — was killed along with a classmate in car crash in Dubai.
The deaths of bombing survivor Victoria McGrath and fellow student Priscilla Perez Torres were confirmed Monday by McGrath's mother and Northeastern University in Boston.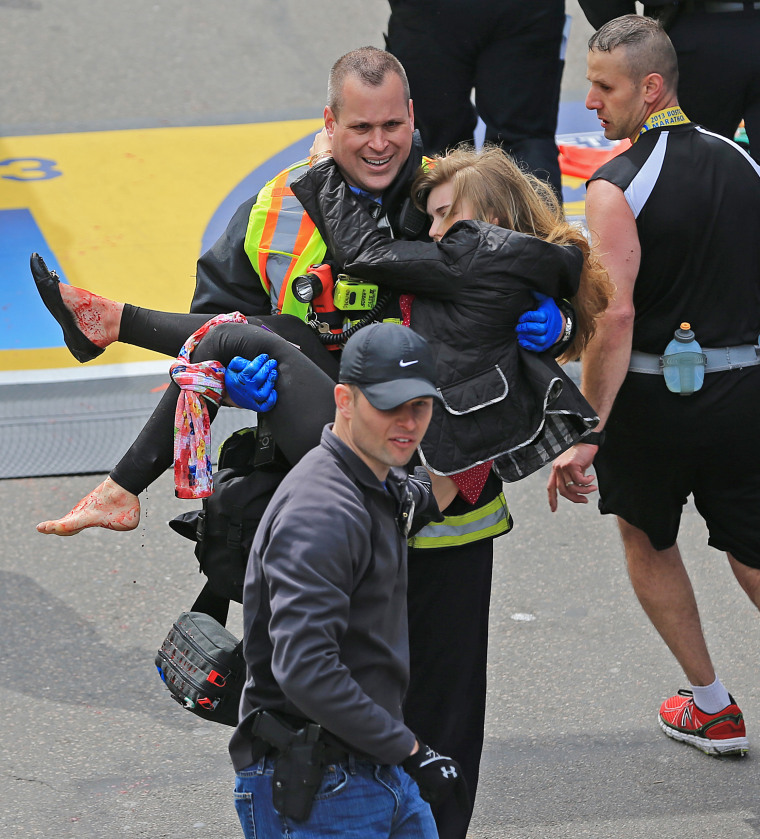 "We are stunned, shocked and heartbroken," Jill McGrath wrote in an email to NBC News.
In its statement, Northeastern extended condolences to the families of the two women, both of whom were were supposed to graduate this year — McGrath from the business school and Torres from the college of science. But the school divulged no details about Sunday's deadly accident.
"Victoria and Priscilla were vibrant, beloved members of our community, and their passing leaves a grievous absence in our community and in our hearts," the university said. "Each were kind, talented young women, with exceptional futures before them."
McGrath, 23, who hailed from Weston, Connecticut, became an iconic symbol of the tragedy when a photo of the young student being carried to safety by a Boston firefighter rocketed around the world.
The then 20-year-old McGrath was standing five feet away from where the first bomb exploded on April 15, 2013 at the finish line. An inch-long piece of shrapnel pierced one of her legs and sent her sprawling on the pavement, screaming in pain.
McGrath suffered nerve damage to her left leg and spent weeks recovering at Tufts Medical Center. Later, she was reunited with firefighter Jimmy Plourde and the three other strangers who helped saved her life.
"I'm so thankful," a tearful McGrath said from her room at Tufts Medical Center in a segment that aired on TODAY. "You guys are so brave."
Plourde, in a statement, said he and his family were "devastated."
"It's been said that I helped to save her life, but the truth is Victoria saved my life after the marathon as her love, support and friendship helped myself and my family deal with the acts of 4/15/13," he wrote.
Torres was McGrath's roommate. She was from Guaynabo, Puerto RIco and was "passionate about travel and working on issues related to nutrition and women's health," the university said. "Victoria and Priscilla touched many of our lives, and we will miss them terribly."