One of the first things David Henneberry did after authorities lifted a lockdown during the April 19, 2013, search for Boston Marathon bombing suspect Dzhokhar Tsarnaev was to go check on his boat.
What he found there brought the dragnet to a bloody, frantic end.
Earlier that day, Tsarnaev had sped away from a pre-dawn shootout with police that left his older brother, Tamerlan, dead. That showdown, four days after twin blasts had rocked the marathon's finish line, happened less than a mile from Henneberry's home in Watertown, Massachusetts.
Police in SWAT gear had swarmed into the small suburb, searching houses and combing yards while the rest of the Boston area came to a halt. The streets of the state capital were lifeless; Red Sox and Bruins games were canceled as television broadcast nonstop coverage.
In the early evening, as the search came up empty, Gov. Deval Patrick rescinded his "shelter in place" order and told people to resume their normal lives — but with added vigilance.
And so Henneberry stepped outside. A retired telephone company technician, he had noticed from an upstairs window that something looked amiss about his boat, a 1981 Sea Bird parked in his backyard. Two pieces of protective equipment known as chafe guards were on the ground, and "the shrink-wrap itself looked a little loose," Henneberry testified Tuesday at Tsarnaev's terror trial.
Speaking in a gentle and deliberate manner, Henneberry told the jury he got a ladder and climbed onto the boat. On the deck he saw blood. Lots of it. He lingered on the sight. Then he looked around.
"My eyes looked on the other side of the boat and there was a body," Henneberry recalled. Asked by a prosecutor whether the body moved, Henneberry answered, "No movement at all."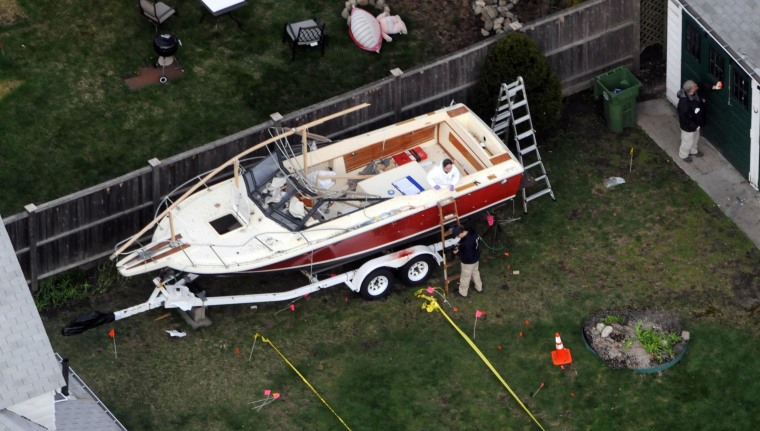 Henneberry said he "took it in for a split second, and I got off the ladder pretty quick." His wife called 911.
That call unleashed a swarm of SWAT cops onto Franklin Street. A State Police helicopter hovered, taking thermal images of the boat to see whether the body was moving. Countless guns were aimed at the boat. If it was Tsarnaev, he could be heavily armed, or could have booby-trapped the boat with bombs.
Soon, they'd confirm that their search was over.
After drilling the boat full of bullets, authorities dragged Tsarnaev from the vessel, seriously wounded. Inside, investigators found a short screed, written in pencil on the boat and carved into wooden slats — all of which Henneberry said had not been there before. FBI Agent Michael Nealon testified that it read, in part: "Stop killing our innocent people and we will stop."
Another FBI agent, Jessica Ulmer, recalled tracing a path of blood through the neighborhood, including inside a house, to the boat. Along the way, she found smashed cellphones and a credit card belonging to the Chinese immigrant whom the Tsarnaev brothers had allegedly carjacked the night before.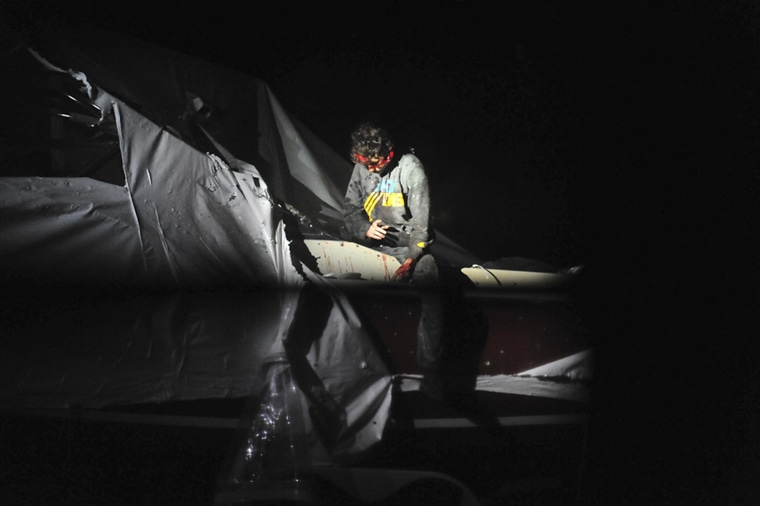 The trial briefly pivoted from that scene Tuesday afternoon, when prosecutors questioned a childhood friend of Dzhokhar Tsarnaev's who has been charged with possessing the gun that authorities say was used to kill MIT police officer Sean Collier on the post-bombing manhunt's third day.
Appearing as a government witness as part of a plea deal, Stephen Silva told the jury that he graduated from Cambridge Rindge and Latin School with the younger Tsarnaev in 2011. Silva, wearing a light gray prison jumpsuit, said he became a large-scale pot dealer, and smoked a lot of weed with Tsarnaev.
In the fall of 2011, Silva said, he borrowed an associate's P95 Ruger handgun, which he said he kept in his apartment. Tsarnaev knew about it, and mentioned using it to rob people, Silva said. In January 2013, Silva lent the gun to Tsarnaev, along with some ammunition. Not long after, Silva said, the person who gave him the gun asked for it back. But Tsarnaev kept making excuses for not being able to return it.
Silva said he last saw Tsarnaev in person in early April 2013, when he sold Tsarnaev pot, and last communicated with him via Twitter the weekend before the bombings. Three days after the attack, on April 18, Silva said he saw his friend's picture in gas station surveillance photos shared by authorities searching for the bombing suspects. "I was in a stage of shock and disbelief and paranoia," Silva said.
Defense lawyer Miriam Conrad cross-examined Silva in an apparent attempt to get his help portraying Tsarnaev as susceptible to influence from others, whether it was from his friends who smoked pot, or from his older brother, Tamerlan, a strict Muslim. Tsarnaev's defense team has all but conceded his guilt in the bombings, but has sought to paint him as in the thrall of Tamerlan.
Conrad asked Silva whether he was shocked that his friend could be responsible for the bombings. Silva responded, "Yes." Silva added later, "I've never seen him violent."
Conrad asked Silva, "Would you have loaned him the gun if he told you it was for his brother?"
"No," Silva replied.
This story will be updated as the day's proceedings continue. Please check back for updates.