BOSTON — The final showdown began after midnight.
Brothers Tamerlan and Dzhokhar Tsarnaev, suspects in the Boston Marathon bombing, were driving a stolen Mercedes SUV through the dim, narrow streets of Watertown, Massachusetts, in the early minutes of April 19, 2013. It was their fourth day on the run, and they hadn't made it more than a few miles from the scene of the twin blasts that killed three and injured dozens more.
Led by the car's security system, police tracked its location to Dexter Avenue. The first to respond was Watertown Police Officer Joseph Reynolds, who was nearby when the call went out.
It was about 12:30 a.m. The hunt for the men believed responsible for the most notorious terror attack on American soil since 9/11 was about to reach its endgame. It would conclude 20 hours later, after a daylong lockdown of Boston, in a blood-spattered boat parked behind a house several blocks away.
Just one of the brothers, Dzhokhar Tsarnaev, survived. He is now on trial in a federal courthouse in Boston, accused of detonating one of two pressure-cooker bombs at the race's finish line. Before Monday's testimony, jurors visited the boat, now stored in a pier in South Boston.
In court, Reynolds said he arrived on Dexter Avenue and found the Mercedes SUV driving in his direction, very slowly. Reynolds slowed to get a good look at the license plate. He caught a glimpse of the driver, who turned out to be Tamerlan, the older brother.
"We locked eyes at each other," Reynolds recalled.
Reynolds turned around and followed the Mercedes. A supervisor told him over the radio to wait for backup. Reynolds did so, staying about two car lengths behind the SUV as it turned left onto Laurel Street. It stopped in the middle of the street, behind a green Honda Civic, the same model seen leaving the scene of the fatal shooting of an MIT police officer hours earlier. The Mercedes' door opened.
"Tamerlan got out and began shooting at my cruiser," Reynolds said.
The officer ducked under his dashboard and threw his cruiser, a Ford SUV, into reverse. He hollered into his radio: "Shots fired!"
Then, using his door as cover, Reynolds said, he fired back. The gunfire exploded too rapidly for him to remember, nearly two years later, how many times the driver shot at him.
"It was nonstop," he testified.
Backup arrived quickly. Watertown Police Sgt. John MacLellan pulled up in a Ford Expedition. Immediately after he turned onto Laurel Street, a bullet crashed through his windshield. Testifying after Reynolds, MacLellan said he joined the firefight while driving toward the gunmen to create a diversion.
The officers recalled seeing a second suspect, whom authorities later identified as Dzhokhar Tsarnaev. The brothers began throwing bombs. The first ones seemed relatively small, like fireworks, MacLellan said.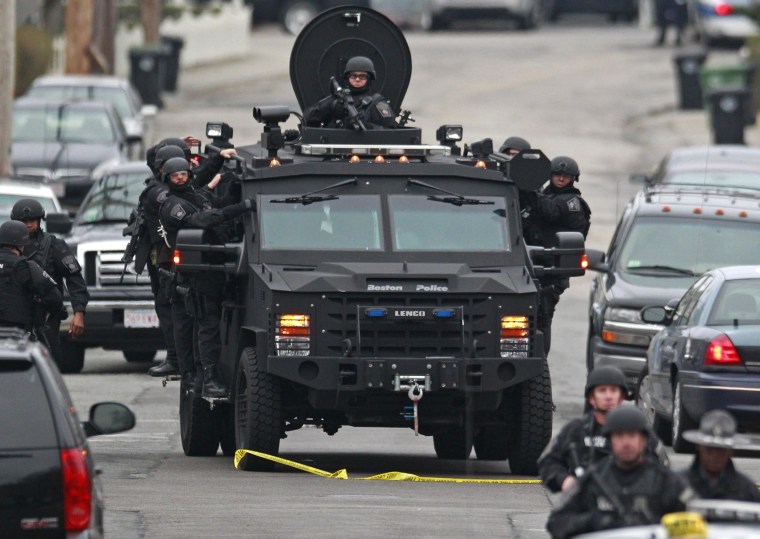 Reynolds and MacLellan took cover near a house. Then they saw the second suspect throw a much larger bomb, the size and shape of a cooking pot. 'I said, 'Run, Sarge, run, run run," Reynolds told the jury.
It went off.
"The blast shook me to my knees. My ears were ringing. I could hear all the car alarms going off," Reynolds said. "I could feel all the debris landing on me."
MacLellan added: "My eyes were shaking violently in my head. I couldn't see straight. I was afraid I was going to get killed."
In one of the houses on the block, James Floyd was awakened by the gunfire. He testified Monday that he grabbed his infant son and fled to the back with his wife, away from the street. He heard people screaming. He peeked out the second floor window and saw the suspects shooting and lighting fuses. He saw the big bomb explode, followed by a "blinding light." Pictures fell off his wall.
Next door, Andrew Kitzenberg was working and watching a hockey game when the gunfire erupted. He testified that he ran to his third-floor window and saw the suspects moving back and forth between the Mercedes SUV and the Honda Civic, pulling things out of backpacks. He took photos, which the jury examined. The large bomb, he said, "shook the room."
More officers arrived. Tamerlan Tsarnaev came out from behind the Mercedes SUV and was in a driveway, shooting at Sgt. Jeffrey Pugliese, who'd approached from the other side and was firing at him. "I thought I was hitting my target, but it didn't seem to have any effect," Pugliese told the jury Monday.
They exchanged fire. Tamerlan Tsarnaev struggled with his pistol, then threw it at Pugliese, hitting him in the left arm.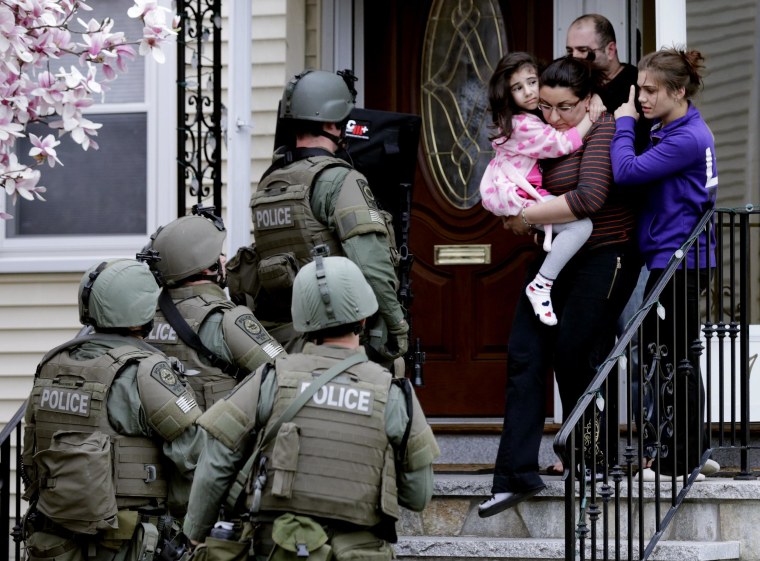 Reynolds said Tamerlan Tsarnaev then began to run toward him. Pugliese tackled him from behind. "He was bleeding," Pugliese said. "He was continuing to resist."
The other officers jumped on him, tried to handcuff him. They heard the roar of a car engine. The officers all testified that they looked up and saw the Mercedes SUV coming right at them, driven by Dzhokhar Tsarnaev. Reynolds fired at it as Pugliese tried to pull Tamerlan Tsarnaev out of the way. Just as the Mercedes was about to hit them, the officers rolled out of its path. The Mercedes hit Tamerlan Tsarnaev with such force that his body was pulled into the wheel well, Reynolds said. Pugliese recalled seeing the body dragged about 25 feet.
The Mercedes slammed into Reynolds' cruiser, about 10 or 15 yards away. Reynolds fired at it again. Dzhokhar Tsarnaev finally pulled the Mercedes free, and sped off.
The officers returned to Tamerlan Tsarnaev, who was dead. They saw a backup officer doing CPR on another, transit police Officer Dic Donohue, who'd been shot. "I kept telling him, 'You're gonna be fine, you're gonna be fine,'" Reynolds recalled. An ambulance came. Reynolds feared Donohue was dead.
He was taken to Mount Auburn Hospital in Cambridge, where emergency room doctor Heather Studley found him with a bullet wound in a leg. He was "unresponsive, not breathing," she testified Monday. He'd nearly lost all his blood. "He was essentially dead," Studley said. The staff inserted a breathing tube, started a blood transfusion, gave him ephinephrine to restart his heart and performed CPR. After 30 minutes, he came back to life.
Meanwhile, the search was on for Dzhokhar Tsarnaev, who'd abandoned the Mercedes a short distance from the shootout. Police and federal agents swarmed the neighborhood, as Watertown and much of the Boston region were locked down.
That night, Watertown police got a 911 call from a man on Franklin Street. who complained about noise in the boat behind his house. Police closed off the street and dozens of officers from a myriad of agencies converged on the boat, State Police Major Frances Hughes testified as Monday's last witness.
Inside was Dzhokhar Tsarnaev.
— with Pete Williams