A bullet-ridden, blood-stained religious manifesto allegedly written by accused Boston Marathon bomber Dzokhar Tsarnaev in the hours before he was captured took center stage in his terror trial Tuesday, as the public got its first intimate glimpse inside his last hiding spot.
The writings — scrawled in pencil inside a boat parked behind a Watertown, Massachusetts home — seem to reflect a young man trying to articulate to the rest of the world some motivation behind the attacks, and coming to terms with the loss of his brother, who'd recently died in a shootout with police.
"I do not mourn because his soul is very much alive," the message said, according to photographs and a transcript entered as evidence by the government. "God has a plan for each person. Mine was to hide in his boat and shed some light on our actions."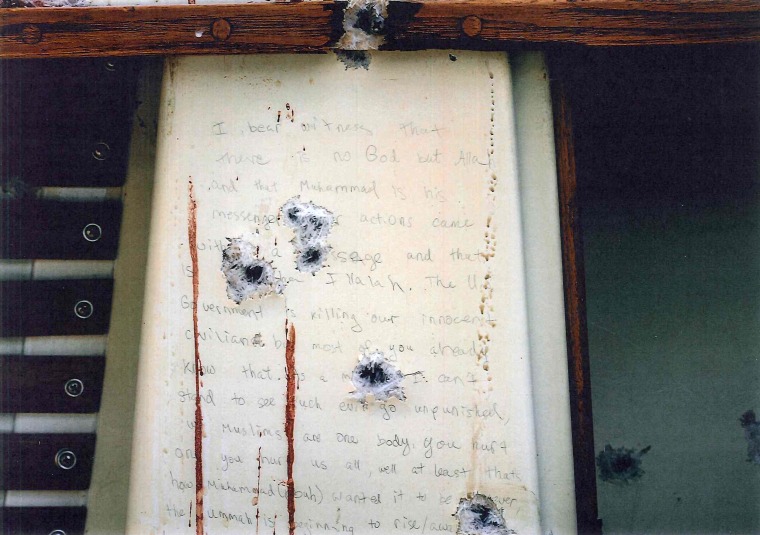 The writings continued with a vague tirade against the U.S. government for "killing our innocent civilians," presumably a reference to American military action in the Middle East. It went on, "I can't stand to see so much evil go unpunished, we Muslims are one body, you hurt one you hurt us all..."
Much of the screed was damaged by bullets shot by authorities as they closed in on Tsarnaev on April 19, 2013, four days after the bombings killed three and injured dozens at the finish line of the Boston Marathon.
Tsarnaev is charged with setting one of the bombs; his older brother, Tamerlan, allegedly set the other.
The images accompanied testimony from Todd Brown, a Boston Police Department explosives expert who was assigned to check the boat for weapons after Tsarnaev was taken away, bleeding from gunshot wounds.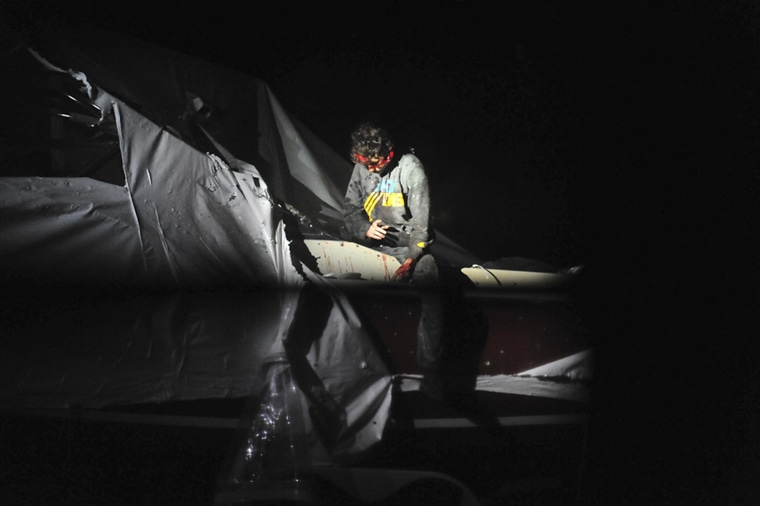 "I was to clear the boat," Brown said. "I entered the boat and started to sweep the boat for explosives, booby traps, or anything like that." During that process, he explained, "I noticed something written inside the boat."
As soon as he realized what the writings were, he alerted an FBI agent.
Brown's testimony ended there, but the boat still looms large in the trial, which began last week. After dismissing the jury early, Judge George O'Toole Jr. said he wanted to examine the boat to decide a pending motion that he did not detail. He said he planned to visit the boat Tuesday afternoon with a lawyer from each side.
Earlier on Tuesday, a defense lawyer and an FBI agent clashed over Tsarnaev's social media commentary in the weeks leading up to and immediately after the bombing.
The FBI agent, Steve Kimball, said he was assigned to examine Tsarnaev's social media activity, which led him to two Twitter accounts registered in Tsarnaev's name. Testifying for the prosecution on Monday, Kimball focused on several tweets that appeared to reflect Tsarnaev's destructive intentions and a blithe response to the bombings. One, from an account that seemed more geared toward his personal life, included a quote that "god hates dead people," while another stated "I'm a stress free kind of guy." Others, from an account created weeks before the bombing, were more religious in nature.
On Tuesday, defense attorney Miriam Conrad sought to expose Kimball's apparent misunderstanding of the context of many of Tsarnaev's messages, some of which she argued were pop culture references, including rap lyrics and sketch comedy. Conrad also got Kimball to acknowledge that some tweets were sent from one of the accounts after Tsarnaev had been arrested.
The arguments were the defense team's strongest challenge yet to the prosecution's version of events of April 15, 2013.