After a long, emotional day in court that included a surprising first apology from condemned Boston Marathon bomber Dzhokhar Tsarnaev, a few of his victims stopped outside the federal courthouse to share their reactions.
Two were unimpressed.
"I regret having ever wanted to hear him speak because what he said showed no remorse, no regret, and no empathy for what he's done to our lives," said Lynn Julian, who lives a block from the finish line where two bombs detonated on April 15, 2013, killing three and injuring more than 260.
Julian told reporters said she suffered a traumatic brain injury, back wounds and hearing loss and now suffers from post-traumatic stress disorder.
"A simple apology would have been nice. A simple, believable apology," she continued. "There was nothing simple about what he said, and nothing sincere."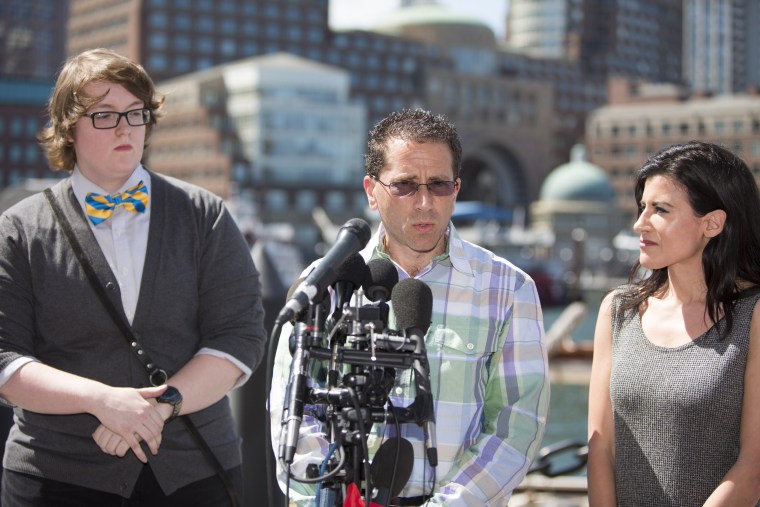 Tsarnaev, 21, appeared to get choked up at his sentencing on Wednesday, where he was formally condemned to death. His remarks, the first since his trial began more than three months ago, followed victims who described the trauma of being wounded or losing loved ones in the attacks.
"You told us just how unbearable it was, this thing I put you through," Tsarnaev said. "Now, I am sorry for the lives that I have taken."
Tsarnaev also spoke of "the strength, the patience, the dignity" of victims. "I am a Muslim. My religion is Islam. I pray to Allah to show his mercy to the deceased in this bombing," he said.
Julian said his references to Allah were "the last thing we wanted to hear."
Another survivor, Scott Weisberg, said he did not believe Tsarnaev's expressions of remorse. The Birmingham, Alabama, man said he suffered suffered hearing loss, traumatic brain injury and PTSD.
"It really does not change anything for me, because what he took from me I'm never going to be able to regain," Weisberg said.
But Henry Borgard, who was walking home from work when the bombs went off and suffered a concussion and PTSD, said he'd forgiven Tsarnaev.
"I have come to a place of peace, and I genuinely hope that he does as well," Borgard said. "For me to hear him say that he is sorry that is enough for me. And I hope — because I still do have faith in humanity, including in him — I hope that his words were genuine."
U.S. Attorney Carmen Ortiz, whose office prosecuted Tsarnaev, said she was "struck more by what he didn't say."
"He didn't renounce terrorism, he didn't renounce violent extremism, and he couched his comments in line with Allah and Allah's view, which gave it a religious tone, and there was nothing...about this crime that was Islam-associated."
Tsarnaev adhered to a radicalized version of Islam was not in line with the faith's "peaceful and loving" roots, Ortiz explained.
Ortiz also countered claims by Judy Clarke, Tsarnaev's lead defense attorney, that he'd offered to plead guilty to the bombing and write a letter of apology, but was rebuffed by the government.
Ortiz said Clarke's description of the discussions "was not completely accurate," and that the proposal "wasn't an apology."