A journalist who was embedded with Sgt. Bowe Bergdahl days before he disappeared in Afghanistan said Monday that the family "couldn't be more loyal and patriotic" and believe "it's their duty to express when they think something's wrong."
The journalist, Sean Smith, a staff photographer for the British newspaper The Guardian, was with the soldier in Afghanistan in 2009, little more than a week before he vanished from an outpost. Smith later spent time with Bergdahl's father in Idaho.
Bergdahl, 28, the only American prisoner of war from the Afghan conflict, was released over the weekend in exchange for five Taliban prisoners being held at Guantanamo Bay, Cuba.
U.S. military officials confirmed to NBC News that Bergdahl walked away from the outpost without his weapon, carrying only a compass and a bottle of water. Some soldiers have labeled him a deserter. A medic with Bergdahl's unit told NBC News that he "willfully left."
Some Republicans in Congress have expressed outrage at the trade, and have promised hearings.
Smith, the journalist, described Bergdahl as soft-spoken and thoughtful, and said he served with a group of reflective and intelligent young men. Some in the group questioned "what are we doing here" and thought that Afghans "just want to be left alone," he said.
Smith said he had no insight into the circumstances of Bergdahl's disappearance, but he said he didn't get the impression that anyone in the group was "manically depressed at all."
"Any sort of questioning of generally 'what are we doing here,' it wasn't a unique thing," Smith said by phone. "I felt pretty sure that they, and he in particular, would be able to come through the experience."
Over the weekend, The Guardian posted a 12-minute video, shot by Smith earlier this year, in which Bergdahl's father, Bob, talks about his complex feelings about the Afghan conflict.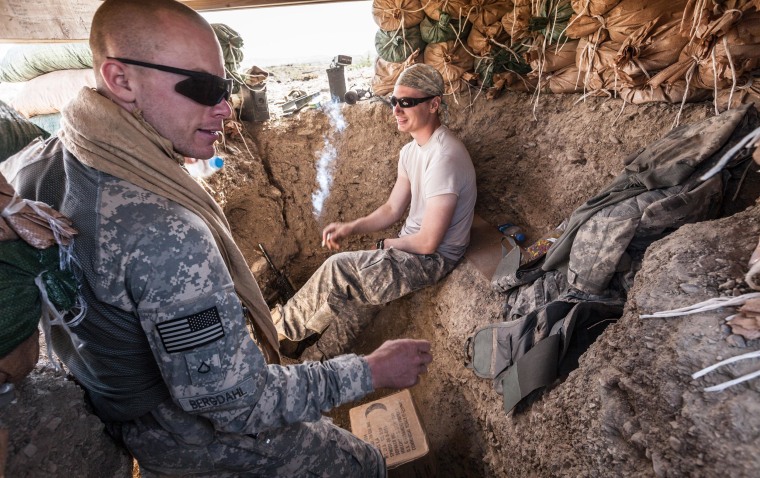 "I don't work for the military. I don't work for the government. I don't represent the American people," Bob Bergdahl says in the video. "I'm a father who wants his son back."
The video shows Bob Bergdahl wearing a long beard, which Smith said he began growing after his son disappeared. The father chops wood in the snowy Idaho wilderness and in one section talks from inside a primitive tent.
"This is what we used to do, still do," he says. "This is how Bowe grew up. And we set this up for him hoping he'd get home this winter. Maybe he'd need a place to stay and kind of recover."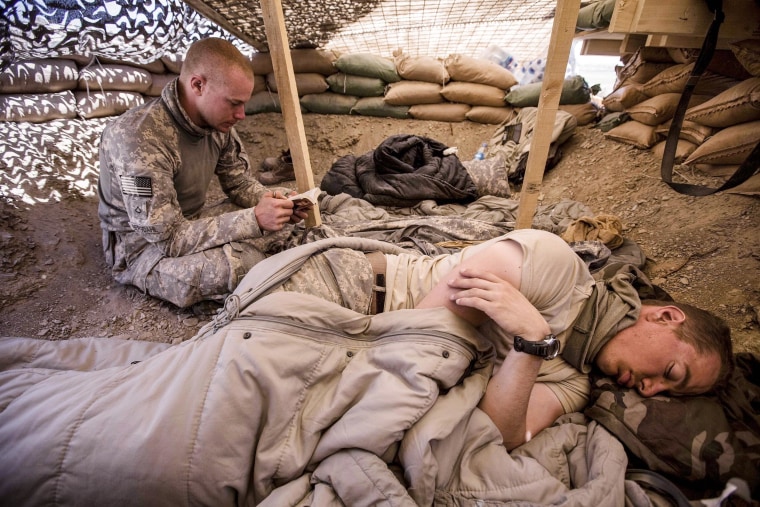 The father compares his son's imprisonment to the holding of prisoners at Guantanamo. He describes learning Pashto, and being made so angry by American policy that he spends hours each week researching Afghanistan and its people.
"How can we teach two generations of kids that we have zero tolerance for violence, but can occupy two countries in Asia for almost a decade? It's schizophrenic," Bob Bergdahl says in the video.
"No wonder this younger generation is struggling psychologically with the duplicity of this," he says. "The purpose of war is to destroy things. You can't use it to govern."
Smith said that he did not know Bob Bergdahl's politics but that "I don't think he had all the opinions at the beginning that he had at the end. I think his thinking has changed."
"He was trying to understand," Smith said. "It's not a question of agreeing with people. It's a question, from his point of view, of trying to understand where they may be coming from."
He added: "These are not people who are anti-American. It's the complete opposite. They couldn't be more loyal and patriotic and trying to fulfill what they see every citizen's role should be."