Who is Army Sgt. Bowe Bergdahl, and why does he matter?
The part-time barista, Buddhist and ballet dancer vaulted from Idaho's backwoods to the hands of the Taliban. But Bergdahl's strange saga only got stranger this week, following the Obama administration's decision to swap five Taliban militants for the 28-year-old soldier.
Now free of the Taliban, he's caught in a pitched national debate over who, exactly, he is and what he should be called, let alone whether President Barack Obama was right—and within legal bounds—to release prisoners from Guantanamo Bay, Cuba, in exchange for an apparently troubled dreamer.
While some critics—including former soldiers—say Bergdahl is a deserter who cost other Americans their lives, his father and hometown supporters call him a hero and patriot, who risked his life to help the Afghan people. Obama, for his part, defended his actions on Tuesday, citing a "sacred" obligation not to leave American soldiers behind, regardless of how they fell into enemy hands. But that's far from the last word on the subject.
House Speaker John Boehner on Tuesday called for congressional hearings into the circumstances surrounding Bergdahl's release. Meanwhile, military officials told NBC News that they are preparing a high-level inquiry into the personal conduct of Bergdahl and the details of his capture.
What do we know so far about this long-shot protagonist on the international stage? Here, answers to questions about Bergdahl the man—including his family life, his path to the Army, and his post-war future in America.
Where is Bergdahl from?
Born in March 1986, Bergdahl was brought up in Hailey, Idaho, a sleepy town of gravel roads and horse farms. Bergdahl's parents, Bob and Jani, moved to the area in 1980, drawn to the promise of jobs driven by the tourist industry in nearby Ketchum.
It was a Walden-esque household, a two-bedroom cabin on 40 acres of farmland; there was no phone but 5,000 books. His father, a dropped-out anthropology major from the University of California, Santa Barbara, worked odd jobs like waxing skis and pouring concrete, and ended up a driver for the United Parcel Service. He also devoted himself to family. As staunch Calvinists, the Bergdahl's home schooled their son, and later his sister, filling their minds with the work of religious thinkers like Thomas Aquinas and St. Augustine. Sunday was reserved for church.
He learned to shoot and ski, and took lessons in fencing and martial arts. In his late teens, he was lured into ballet by a girlfriend, landing the lead male role in The Nutcracker, according to a 2012 New York Times article. She also introduced him to Buddhism, according to a report by BBC News, and Bergdahl later spent time in a monastery in the Pacific Northwest.
After his release, residents—many of whom recall Bowe as a sensitive free-spirit and earnest patriot—announced plans to go ahead with a "Bowe Is Back" celebration June 28.
How did he end up in the Army?
By his teens, Bergdahl was itching for bigger adventures than those available in Hailey, friends say. At 20, he traveled to France, hoping to join the French Foreign Legion, whose members, according to the group's website, want "to start a new life." His application was denied.
But Bergdahl stayed committed to a rootless, wild-edged life. He returned to Hailey and started to drift. He joined construction jobs, mowed lawns, house sat, and worked part-time at a local shooting club. When he saved enough money, he was off again. On one trip he sailed through the Panama Canal.
On another he biked to California. By 2007, he was back in Hailey, whipping up lattes at a local coffee shop, and looking to refocus.
He considered going to Uganda as a missionary, then jettisoned the idea, enlisting in the Army instead in early 2008. He was reportedly drawn to the chance to help the Afghan people. "I'm thinking about joining the Army," he told in parents, according to a 2012 profile in Rolling Stone. "You're thinking about joining," his father asked. "Or you already signed on the dotted line?"
"Well, yeah," Bowe admitted.
What kind of soldier was he?
He was, by almost all accounts, an unusual soldier. While at infantry school in Fort Benning, Georgia, his comrades used their weekend passes to hit up local strip clubs, according to Rolling Stone. Bergdahl hung out at Barnes & Noble instead. After training, he was assigned to the 25th Infantry Division in Fort Richardson, Alaska, arriving in October of 2008, and quickly developing a reputation as both a marksman and an earnest student of military life. He was never far from his Ranger Handbook.
He also read Three Cups of Tea, about a humanitarian mission to educate girls in Afghanistan, and surrounded himself with the tracts of his youth, including the writings of Kant and Aristotle.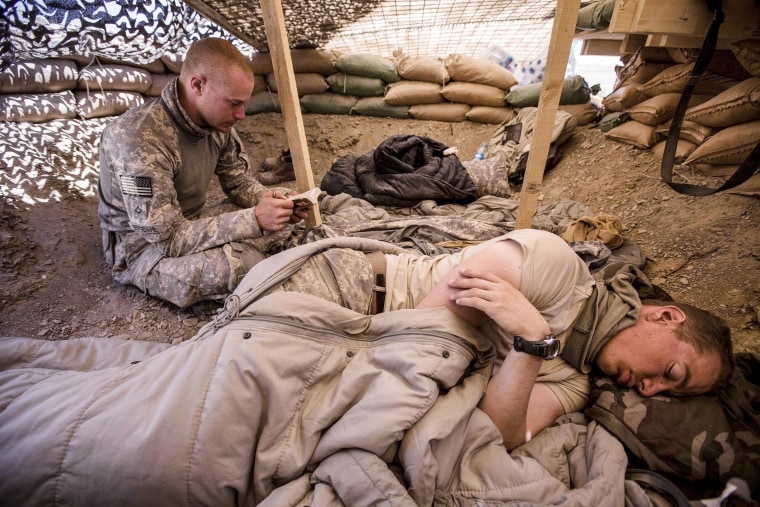 He deployed to Afghanistan in May 2009, where again he stood out. "He wouldn't drink beer or eat barbecue and hang out with the other 20-year-olds," Cody Full, a member of Bergdahl's platoon, said in an interview with the New York Times. "He was always in his bunk. He ordered Rosetta Stone for all the languages there, learning Dari and Arabic and Pashto."
Other soldiers say he used to gaze at the mountains around them, wonder aloud if he could get to China from there, and ask questions like whether he could leave camp alone with his gun and night vision goggles. Sgt. Josh Korder, who served in Bergdahl's platoon, told TODAY that Bergdahl became disillusioned with combat and "just wanted to go on an adventure and walk the mountains of Afghanistan and not have anybody to answer to." Still other platoon members said that Bergdahl wrote Jason Bourne-type novels in which he inserted himself as the lead character.
But National Security Advisor Susan Rice offered a startlingly favorable assessment of a soldier who served in Afghanistan for only six weeks before his disappearance. "He served the United States with honor and distinction," she said. "And we'll have the opportunity eventually to learn what has transpired in the past years."
How did he become a POW?
Over the years, the narratives have varied dramatically. U.S. military officials confirmed this week to NBC News that Bergdahl walked away from the outpost without his weapon, carrying only a compass and a bottle of water. In an interview with the New York Times, one former official claimed that Bergdahl left behind a note in his tent saying he had become disillusioned with the Army, did not support the American mission in Afghanistan and was leaving to start a new life. That tracks with the conclusion of a 2010 Pentagon report on the soldier's disappearance. But in a video released by the Taliban a month after his capture Bergdahl himself offered still another version of events, saying he lagged behind one day while on patrol.
What seems certain is that Bergdahl was upset with his life in the Army, and looking for a change.
"I am sorry for everything here," Bergdahl wrote to his parents in an email reported by Rolling Stone. "These people need help, yet what they get is the most conceited country in the world telling them that they are nothing and that they are stupid, that they have no idea how to live." He signed off with an ominous final message. "There are a few more boxes coming to you guys," he said, referring to his uniform and books, which he had already packed up and shipped off. "Feel free to open them, and use them."
Three days before his disappearance and capture, Bob Bergdahl, Bowe's father, responded with these words: "OBEY YOUR CONSCIENCE!"
Why are people calling him a deserter?
Former Army Spec. Joshua Cornelison, a medic with Bergdahl's unit told NBC News that he "willfully left," and many other current and former soldiers have called Bergdahl a deserter. "We all served together, and we were all in it together over there, and he broke that bond by leaving us," Sgt. Josh Korder, told TODAY. On Facebook, a Bowe Bergdahl is NOT a Hero! page was approaching 10,000 members. A petition on the White House website calling for Bergdahl to be punished for being AWOL had passed 5,000 signatures late Tuesday.
The Defense Department has "never confirmed such a narrative," Col. Steve Warren, a Pentagon spokesman, told NBC News. "There have been several looks into the circumstances surrounding his disappearance, but we've never publicly said anything, primarily because we haven't had a chance to speak with Sgt. Bergdahl himself," Warren said.
In interviews Sunday, Defense Secretary Chuck Hagel called Bergdahl a "prisoner of war." Susan Rice not only described him as "an American prisoner of war captured on the battlefield," but even said on ABC's "This Week" that "he served the United States with honor and distinction."
What do his parents think?
In the years since their son's capture, Bob and Jani Bergdahl have alternated between silent, behind the scenes advocacy work and very public activism.
A journalist who was embedded with Sgt. Bowe Bergdahl days before he disappeared in Afghanistan told NBC News that the family "couldn't be more loyal and patriotic" and believe "it's their duty to express when they think something's wrong." When negotiations stalled between the Obama administration and the Taliban, they turned to the media for the first time, hoping to publicize their son's case and jumpstart the talks. When that strategy stalled as well, Bob Bergdahl took matters into his own hands, contacting the Taliban directly. He even considered a trip to Pakistan to retrieve his son himself.
The Bergdhal family has unsettled some with open gratitude toward the men who took their son. "Strangely to some we must also thank those who have cared for our son for almost two years," Bergdahl said in the 2011 video message to the Taliban. "We know our son is a prisoner and at the same time a guest in your home." This week, Bob Bergdahl again veered toward the controversial in his first public remarks on the release of his son.
"Bowe, I love you," he said in a speech that used both Pashto and English. "I am so proud of how far you were willing to go to help the Afghan people, and I think you succeeded."
What now?
Bergdahl is in Landstuhl, Germany, where intelligence officers are debriefing him and psychologists are assessing his fitness to return to the United States. The Pentagon says he is in stable condition, but officials have offered no clue about when he might come back – and where he will report.
Gen. Martin Dempsey, the chairman of the Joint Chiefs of Staff, said in a Facebook post that the Army "will not look away from misconduct if it occurred." Bergdahl could face up to five years in prison if he is found to be a deserter.
Back in Hailey, Idaho, Bergdahl's friends and fellow residents are preparing for what could be an awkward homecoming.
"I mean, he's having problems speaking English," one patron of the Power House bar on Main Street, told the Washington Post. The building has a huge "Bowe is Free!" banner outside. But despite the jubilation in some quarters, there is caution in others. "I don't know what he will be like," a friend told the Post. "He's spent one-fifth of his life steeped in a completely different culture."
Meanwhile, officials from the Pentagon and the White House are emphasizing the positive and facing their own awkward stares. "This is a happy day," Hagel said while visiting troops in Afghanistan on the Sunday after Bergdahl's release. "We got back one of our own."