The release of five Taliban commanders in exchange for captured U.S. soldier Bowe Bergdahl has prompted critics to charge that those released could return to battle.
And one of the five Taliban commanders released last week has indeed pledged to return to Afghanistan and fight Americans, a fellow fighter and a relative told NBC News.
But how many of the more than 600 detainees transferred from Guantanamo Bay since 2002 have returned to lives of terrorism or crime is up for debate.
The Office of the Director of National Intelligence said in its most recent report that of 614 detainees released, 104, or 16.9 percent, are confirmed to have returned to terrorist or criminal activities and another 74 are suspected of doing so.
Kuwaiti Abdallah Saleh Ali al Ajmi, who was released from Guantanamo in 2007, returned to his native country and blew himself up in a suicide bombing a year later in Mosul, Iraq, killing several Iraqis in the process, according to the U.S. government.
Said Mohammed Alim Shah, left Guantanamo in 2004 and went on to direct a suicide bombing in Pakistan that killed 31 people three years later; he blew himself up rather than be apprehended by authorities there, the U.S. claimed in a report.
Ibrahim Shakaran and Mohammed bin Ahmad Mizouz, released to Morocco that same year, became recruiters for Iraqi al-Qaida in that country.
Mohammed Ismail returned to Afghanistan in 2004 and was captured four months later in an attack against U.S. troops, while Abdullah Ghulam Rasoul, who was released in 2007, is said to have taken on a Taliban military leadership role, according to Pentagon officials.
The government says it uses fingerprints, DNA, photographic evidence or "well-corroborated" evidence when labeling a released detainee as "confirmed" to have returned to terrorism — and that anti-American propaganda alone doesn't qualify as terrorism, according to a 2009 fact sheet.
One researcher says the government's count of the number of released Gitmo detainees who have returned to fight is flawed.
"They (the government) can't agree or decide what counts as returning to the fight," Mark P. Denbeaux, a professor at Seton Hall University School of Law who has represented Guantanamo detainees, told NBC News.
"They don't catch people, or kill people, or identify them. They deduce it from activity and conclude who it was without catching them … or identifying them."
Denbeaux co-authored a 2007 report that looked at cases where the Department of Defense claimed released detainees had returned to insurgency.
Among them were the "Tipton Three." Three years after their release from Guantanamo, Shafiq Rasul, Asif Iqbal and Ruhel Ahmed were attending the Muslim community center in Tipton, England, when they agreed to be interviewed for Michael Winterbottom's 2006 film, The Road to Guantanamo.
The Defense Department in a 2007 news release — since taken down — labeled the trio as among those who have returned to militancy, Denbeaux said in the report.
"The men's contributions to the film are not 'militant' in nature, and cannot constitute a return to the battlefield," Denbeaux wrote in 2007.
Others named in Denbeaux's report went on to lead peaceful lives after Gitmo: Murat Kurnaz, who was released in 2006, wrote a book about his detainment called "Five Years of My Life"; Taj Mohammed worked as translator with American troops in Afghanistan in 2010 after nearly four years in Guantanamo; and Martin Mubanga told The Guardian newspaper in 2005 when he was released that he wanted to record a record of his Guantanamo-inspired raps.
Still, Americans have hardly been comfortable with President Obama's push to close Guantanamo. A Pew Research Center poll conducted in 2012 found that nearly 70 percent of respondents favored keeping the facility open.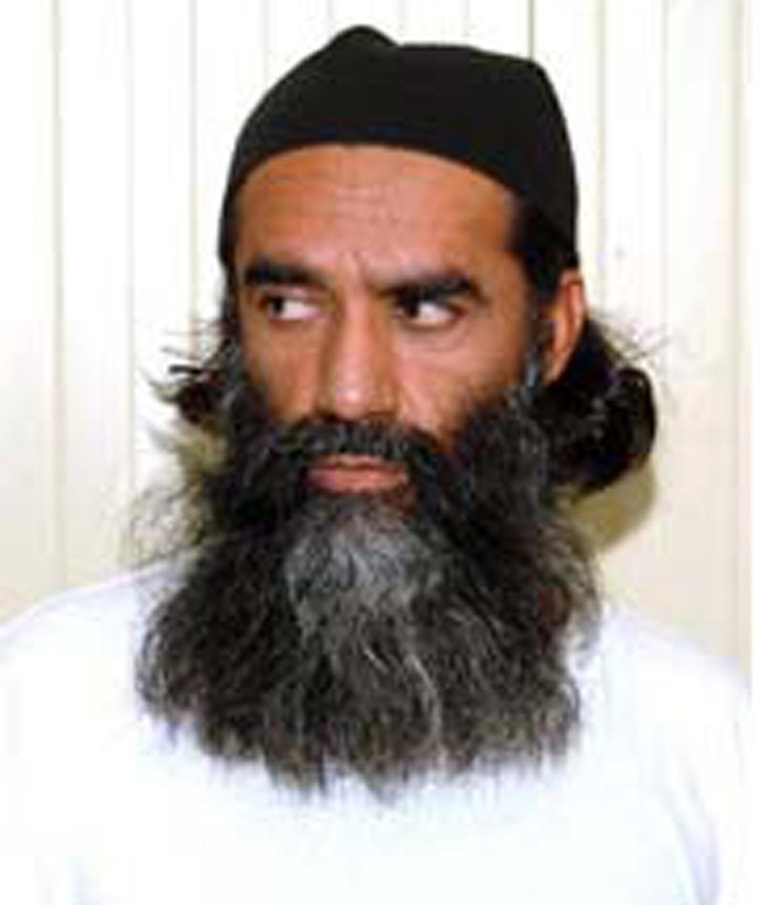 Detainees have helped stoke the fear of a future terrorist attack: one of the five Taliban commanders released in the swap for Bergdahl, Noorullah Noori, has vowed to continue the fight against Americans, NBC News reported this week.
"After arriving in Qatar, Noorullah Noori kept insisting he would go to Afghanistan and fight American forces there," a Taliban commander told NBC News via telephone from Afghanistan.
President Obama has defended the swap for Bergdahl. He told NBC News Friday that he would authorize the exchange again — even after an outcry over the soldier's conduct, criticism of the deal and an uproar over why Congress was kept in the dark.
The five Gitmo prisoners released last week — Mohammad Fazl, Mohammed Nabi, Khairullah Khairkhwa, Abdul Haq Wasiq and Noori — will remain under the control of the government of Qatar for one year and be subject to "restrictions on their movement and activities," including a one-year travel ban, a senior U.S. official told NBC News.
Mushtaq Yusufzai contributed to this report.