The man assigned to lead the Army's investigation into the 2009 disappearance and capture of Sgt. Bowe Bergdahl is a decorated officer who has spent two tours in Afghanistan himself.
Maj. Gen. Kenneth Dahl, a two-star general who is currently deputy commanding general of 1st Corps at Joint Base Lewis McChord in Washington state, has dedicated decades of his life to serving the U.S. Army. The husband and father of two met his wife, a lieutenant colonel, more than 30 years ago while the two were attending West Point.
Between the time he spent in Afghanistan and a deployment in Iraq, combined with his education — Dahl has two masters degrees, one in social psychology and the other in national security and strategic studies — he may be uniquely qualified to find out what really happened when Bergdahl vanished, colleagues say.
"He is an experienced combat leader and beyond that, an empathetic and fair-minded person. I think it's the right mix of skills for this task," said Michael O'Hanlon, a senior fellow at the non-profit public policy organization Brookings Institution and frequent visitor to Iraq and Afghanistan, where he spent time with Dahl. The two also know each other from Dahl's time at Brookings in 2007, when Dahl completed a fellowship there.
Peter Singer, the director of the program through which Dahl did his Brookings fellowship, added that Dahl is devoted to his work.
"I think very highly of him. He's very thoughtful, very honorable. I have a huge amount of admiration for him."
Dahl served as deputy commanding general of the 10th Mountain Division in southern Afghanistan from 2010 to 2012, returning later that year as a deputy commander of U.S. Forces Afghanistan, according to his Army biography. Before his second tour in June 2012, he was promoted from brigadier general to major general in a ceremony at his alma mater.
"I'm going to do the very best job I can do," Dahl said at the ceremony. "I am proud of what I do and who I do it with."
Sign up for breaking news alerts from NBC News
In a statement released Monday, Army officials said the purpose of the investigation that Dahl will head is to "ascertain facts" surrounding Bergdahl's departure from Combat Outpost Mest-Lalak in Afghanistan's Paktika province in June 2009. Some of Bergdahl's fellow soldiers have called the former detainee a deserter, whose voluntary departure from the base led to his capture.
"These types of investigations are not uncommon and serve to establish the facts on the ground following an incident," the statement said.
Dahl will not interview Bergdahl until the reintegration team allows it, officials said. The Army added that as part of his research, Dahl will have access to an investigation conducted in 2009 on Bergdahl, which has not been made public.
"He is appreciated and admired by his troops. That's the blend of talents one needs here: a firm commitment to the mission combined with an empathy for the soldier."
Dahl was deployed to Iraq from September 2005 to August 2006, where he worked in support of the United States Embassy and the Iraqi government, serving as the top military officer in Baghdad's Green Zone.
O'Hanlon called Dahl's combat experience "crucial," but said it's his ability to be a compassionate leader that will help him in this new job.
"He is appreciated and admired by his troops," O'Hanlon said. "That's the blend of talents one needs here: a firm commitment to the mission combined with an empathy for the soldier."
Dahl and his wife, Lt. Col. Celia FlorCruz, were interviewed last year in The New York Times after their 30th wedding anniversary.
"Kenny usually does the right thing, whether someone's watching or not," FlorCruz told the Times of her husband.
The two have a pair of college-age daughters, Allie and Madeline. His daughters were the ones to pin the new two-star rank on their father's shoulders during his promotion ceremony in 2012.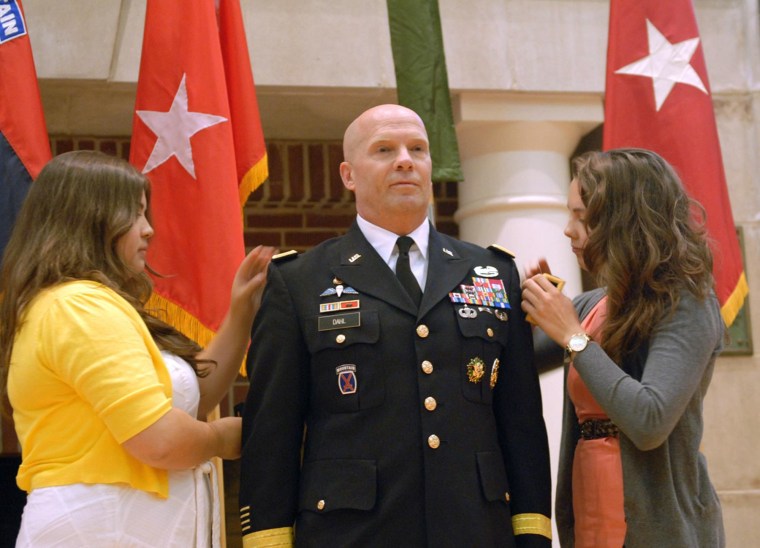 "I wanted to have my promotion at West Point so that all of my family and friends who have showed their support over my whole career could make it," Dahl said at the time, in front of supporters who had gathered from across the country at West Point. "I'm also glad my daughters could make it here to do the pinning."
Dahl had just eight months between his deployments to Afghanistan.
"My family asked me why I'm coming back so soon," he said before his second tour, reported military news organization Stars and Stripes. "I told them it's because the most important thing in war is how it ends."