U.S. Army Sgt. Bowe Bergdahl is eager to tell "his side of the story" — and hopes being featured on "Serial" will give him a chance to silence his loudest critics, his attorney said Thursday.
Bergdahl, who willingly walked away from his post in Afghanistan in 2009 and was held captive by the Taliban for nearly five years, is the subject of season two of the popular podcast, the series revealed Thursday morning.
The premiere episode was posted online, and gave the first public account from the soldier himself.
"Suddenly, it really starts to sink in that I really did something bad. Or, not bad, but I really did something serious," Bergdahl says.
Bergdahl's attorney, Eugene Fidell, told NBC News that he and his client have been "anxious for the American people to know the facts and circumstances."
"The more the people know, the better," Fidell said.
Bergdahl, 29, is the only U.S. service member ever to be held captive by enemy forces in Afghanistan. His release was negotiated after an exchange with five Taliban prisoners at Guantanamo Bay in a swap assailed by many Republicans.
Related: 'Serial' Season 2 Debuts With Bowe Bergdahl Telling 'Desertion' Story
Home safe in the U.S. now, he faces a court-martial and potential life sentence for leaving his base.
Fidell said he has repeatedly requested to have Bergdahl's interview with the Army's investigating officer, Lt. Gen. Kenneth Dahl, publicly released so Bergdahl's version of events could be shared with the public. But the requests have been denied, so Fidell said he was hopeful "Serial" would quiet some of Bergdahl's critics and detractors — including 2016 Republican front-runner Donald Trump.
"He's basically been a pincushion for everyone in the country."
"I'm sick and tired of Donald Trump calling Bergdahl a traitor," Fidell said.
Later Thursday on MSNBC, Fidell referred to Trump as "the defamer-in-chief," and said he should "really be ashamed of himself."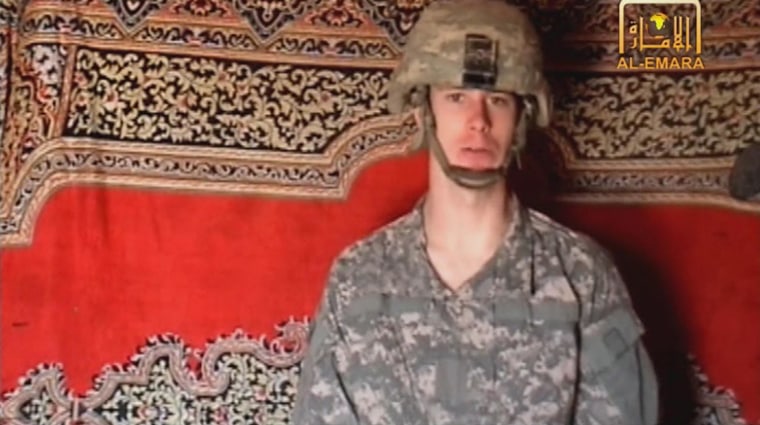 Bergdahl claims he left with the intention of hiking 18 miles to a larger command center to report poor leadership and conditions at his small outpost, only to realize after 20 minutes that he would be in trouble for abandoning his post.
"I'm going, 'Good grief, I'm in over my head,'" Bergdahl says in the podcast.
When asked on MSNBC how Bergdahl is doing now, Fidell said "it's clear he would be a very good candidate for continuing care."
"He's gone through an ordeal," Fidell said. "He's basically been a pincushion for everyone in the country."
Bergdahl, he added, "like everybody else is ready for this to be over so we can move onto other things."