Army Sgt. Bowe Bergdahl, who's charged with desertion after he left his post in Afghanistan in 2009 and was held captive by the Taliban for five years, has not been accused of sexual harassment, according to Army officials seeking to tamp down "false reports."
The officials told NBC News on Thursday that while a female specialist at Fort Sam Houston in Texas made an unofficial complaint in February that Bergdahl had harassed and stalked her, she never accused Bergdahl specifically of sexual harassment.
In an informal inquiry, the two soldiers' commanding officer found that the allegations weren't true, the officials said. The female soldier accepted the informal findings and didn't file a formal complaint, they said.
The woman also accused Bergdahl of "unwanted contact and stalking, including leaving origami at her barracks door and showing up at her door in a gorilla suit and hanging around her while she was on staff duty."
The informal inquiry found that Bergdahl would often leave origami for his fellow soldiers and at times would don a gorilla suit in the barracks.
In one instance, the Army specialist claimed Bergdahl was stalking her one evening and watching her through her office window at Fort Sam Houston. But the inquiry found that Bergdahl was actually at dinner off-base with soldiers who have been assigned as his escorts when he leaves the base.
Bergdahl had been assigned to administrative duties at Fort Sam Houston in, San Antonio, last summer after a reintegration process following his release by the Taliban.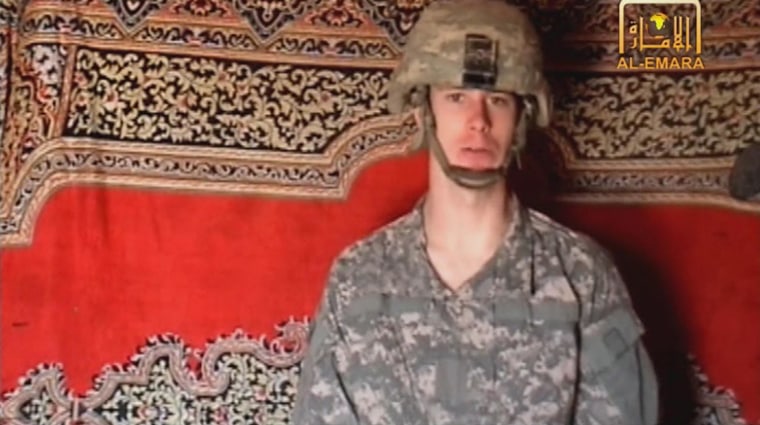 Bergdahl is scheduled to appear for an Article 32 hearing at the base on charges that he deserted his post in Afghanistan in June 2009. He was captured and held hostage by the Taliban and Haqqani terrorist network for five years before he was released in exchange for five high-ranking Taliban prisoners released from the U.S. detention center at Guantanamo Bay, Cuba, in May 2014.
RELATED: Travel Ban Lifts Soon on Taliban Leaders Swapped for Bowe Bergdahl
Army officials said they believe the "false reports" publicly circulated about Bergdahl's behavior at Fort Sam Houston are the result of his high public profile and the public's interest in his case.