LONDON — The United Kingdom's Brexit plans hit another major bump Friday when global aviation giant Airbus threatened to pull out of the country if the government leaves the European Union without a deal on future trading relations.
The aerospace company, which employs about 14,000 workers at 25 sites in the U.K., said it will "reconsider its long-term footprint in the country" if there is no deal — a scenario that looks increasingly likely as negotiations flounder.
Wings for Airbus planes, from the A320 to the superjumbo A380, are made in Britain for assembly in France and Germany.
It is the strongest warning yet from a major employer, coming after an industry study that suggests one in five manufacturers plans to lay off workers to cope with increased costs after Brexit.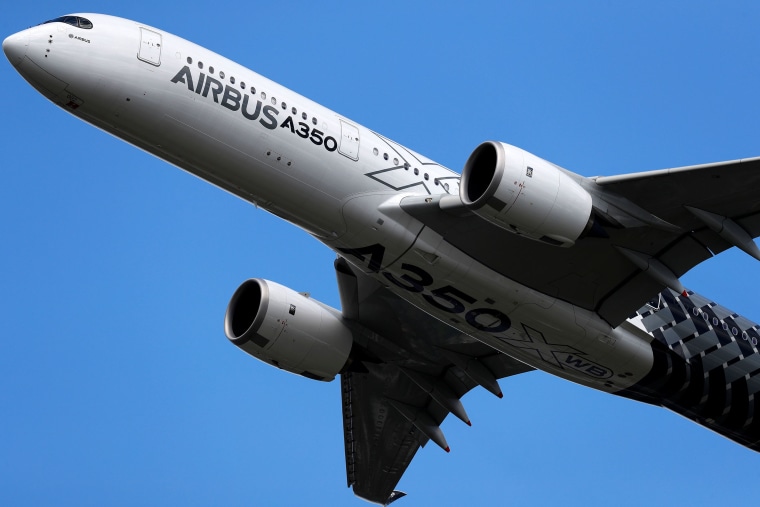 Some industries are already facing a brain-drain recruitment crisis as migrant workers from other E.U. countries prepare to leave, affecting everyone from fruit-pickers and factory workers to finance and health professionals.
With only months to go until Britain leaves the E.U., Prime Minister Theresa May has been buffeted by a series of storms as she steers legislation underpinning Brexit through the House of Commons.
She scored a rare victory on Wednesday, when the E.U. Withdrawal Bill was passed by only a handful of votes, but negotiations with the trading bloc have barely begun and major questions such as border controls and customs arrangements remain unanswered.
Airbus also said that the government's currently-proposed transition deal, which runs through December 2020, is too short for the company to reorganize its supply chain.
Tom Williams, chief operating officer of Airbus Commercial Aircraft, said in the company's Brexit risk assessment: "In any scenario, Brexit has severe negative consequences for the U.K. aerospace industry and Airbus in particular. Therefore, immediate mitigation measures would need to be accelerated."
He also dismissed the view that pessimistic forecasts were motivated by political opposition to Brexit, a phenomenon described by pro-Brexit campaigners as "Project Fear."
"Far from 'Project Fear,' this is a dawning reality for Airbus," Williams said: "Put simply, a no-deal scenario directly threatens Airbus' future in the U.K."
Steve Turner, assistant general secretary of Unite, Britain's biggest labor union, said: "People voted to leave the European Union, but didn't back leave to lose their jobs and see their livelihoods smashed on the cliff face of a hard Brexit."