LONDON — Former London mayor Boris Johnson shocked Britain Thursday by announcing that he will not run to be the next leader of the country's ruling Conservative party — and prime minister.
The New York-born politician was among the most prominent campaigners for the U.K. to leave the European Union. He was also considered the favorite to become the country's leader. Prime Minister David Cameron announced Friday that he would step down after losing the country's Brexit referendum.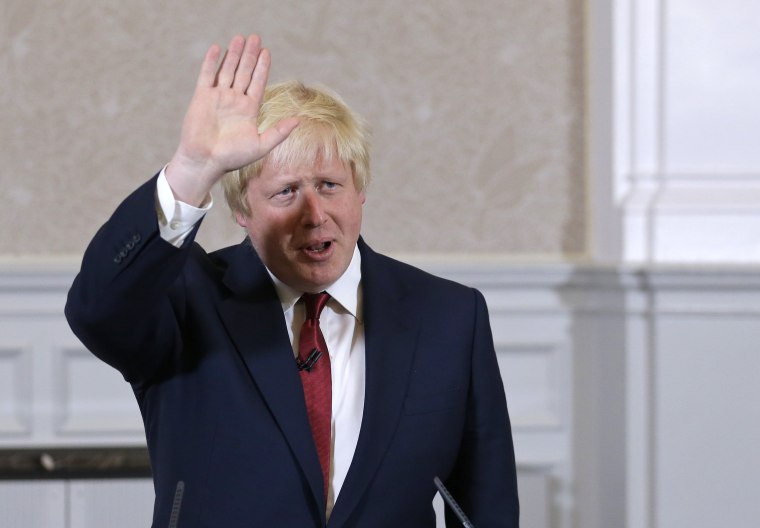 "I must tell you, my friends, you who have waited faithfully for the punchline of this speech, that having consulted colleagues and in view of the circumstances in parliament, I have concluded that person cannot be me," Johnson told reporters just as the window for nominations was about to close.
Johnson's announcement came hours after his closest pro-Brexit ally — Justice Secretary Michael Gove — made the surprise decision to stand against him in the race to become Conservative leader.
Gove was widely expected to back Johnson's leadership campaign but said in a statement earlier Thursday: "I have come, reluctantly, to the conclusion that Boris cannot provide the leadership or build the team for the task ahead."
Related: Could Brexit Be Canceled? Here's How Vote Might Be Reversed
The justice secretary has repeatedly said he does not want the leadership but said in his statement that events since the referendum's result "have weighed heavily with me."
Johnson's withdrawal left Home Secretary Theresa May as clear favorite to become the next leader of the country. Also running are Work and Pensions Secretary Stephen Crabb, Energy Minister Andrea Leadsom, and former Defense Secretary Liam Fox.
Less than two months ago, Johnson was completing his second term as mayor of London. By last Friday, he was the bookmakers' favorite to replace Cameron. He has never made a secret of his desire to lead the country.
As the unofficial head of the bi-partisan "Leave" movement, he brought his trademark self-deprecation and quick intellect to the campaign.
Full name Alexander Boris de Pfeffel Johnson, he is the great, great, great, great, great, great, great, great grandson of Britain's King George II.
Like Cameron, the 52-year-old attended Eton College, an exclusive $50,000-per-year boarding school that counts Prince William, Prince Harry and actors Hugh Laurie, Damian Lewis and Tom Hiddleston among its prestigious list of alumni.
He and Cameron were friends at Oxford University, where they were both members of the Bullingdon Club. This all-male dining society was founded more than 200 years ago and gained notoriety for smashing up restaurants and paying for the damage.
British Chancellor George Osborne is also a former member and the club has become a reviled symbol of the British upper classes.
After graduating, Johnson became a trainee reporter with The Times (of London) newspaper but was fired within one year for falsifying a quote from his godfather. In November 2004, after he entered into politics, he was fired again, this time from the shadow Cabinet of then Conservative leader Michael Howard, who said Johnson had lied about his private life.
Nevertheless he is arguably the most popular personality in modern British politics. His flamboyant yet combative style and impressive vocabulary have made him one of the only public figures instantly recognizable by their first name.
Among other colorful moments, he was once caught on camera dangling from a broken zip-wire during the London Olympics.