TURNBERRY, Scotland — Over the horizon of President Donald Trump's oldest Scottish golf resort, a constitutional storm is brewing, fanned by the fallout from Brexit.
Scotland is readying for a second bid for independence less than three years after it narrowly rejected separation from the United Kingdom in a nationwide referendum.
The success of its latest attempt at self-rule could hinge on the outcome of Thursday's U.K.-wide general election.
While Britain as a whole voted to leave the EU, Scotland overwhelmingly chose to remain. Scotland's nationalist government hopes to capitalize on this divergence to sell the idea of it as an independent country within the 28-nation bloc.
Nicola Sturgeon, the first minister and leader of the pro-independence Scottish National Party, wants to hold another referendum in late 2018 or early 2019.
Trump, who is half-Scottish, landed at his resort in Turnberry just hours after last year's June 23 Brexit referendum and declared the surprise result a "great thing" — apparently unaware that dismayed Scots had in fact voted to remain.
It was also here that King Robert the Bruce landed in 1307 after returning from exile in Ireland, launching the First Scottish War of Independence against England. (Scotland's independence finally ended in 1707).
The SNP dominates Scotland's political landscape and won a record-setting 56 out of 59 electoral districts in the last U.K. general election. A similar performance on Thursday would make a second independence vote inevitable.
But voters have additional worries — the recent surge in deadly terrorism, Brexit, Scotland's struggling education system and a deep dive in its oil industry — that could sap the nationalists' strength.
"They've got to sort out more urgent problems like the schools and hospitals before they worry about independence," said John McIsaac, 76, a retired factory worker living in Maidens, a well-kept village on the northern boundary of the Trump Turnberry golf resort on Scotland's west coast.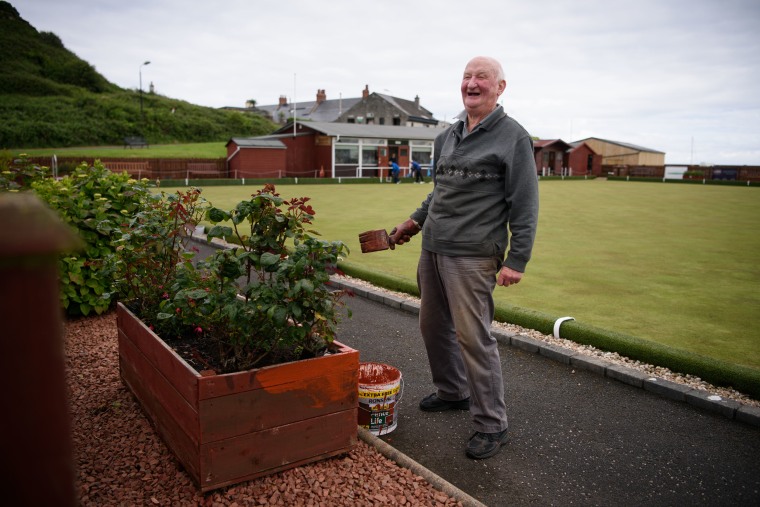 "[Sturgeon] talks about independence all the time but people have their mind on other things like jobs and the health service," said McIsaac, who was painting at an outdoor bowls club that doubles as the village polling station.
Workers at Trump's resort help keep the club's lawn immaculate by lending grass-cutting and drainage equipment normally used on Turnberry's world-class golf courses.
Ray MacGill, 72, is pro-independence but isn't sure whether Brexit will help or hinder the cause.
"It could go either way, we'll have to see what happens on Thursday," he told NBC News as he walked his terrier, Charlie, along the village shoreline. "Obviously people are angry about Brexit so they might go more towards the 'Yes' side for independence, but not everyone who is against Brexit will support it. We just don't know."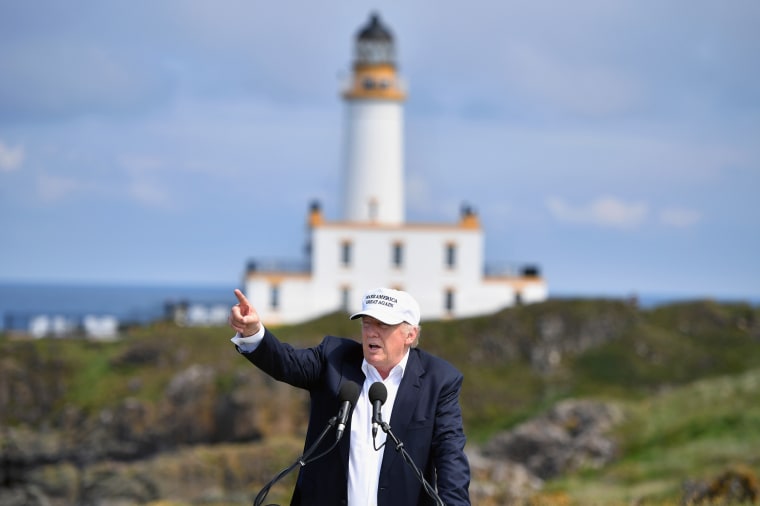 A sluggish performance in Thursday's poll could weaken Sturgeon's case for independence, which is staunchly opposed by Conservative Prime Minister Theresa May — the pollsters' favorite to win the largest number of seats in the British parliament.
Polling expert John Curtice, a professor of politics at Strathclyde University in Glasgow, believes Scotland remains evenly split on the issue.
"As many as 47 percent think that 'Scotland is an integral part of the U.K. and so should accept the U.K.-wide vote to leave the EU', while just slightly more, 51 percent, believe that 'Scotland is a nation and so should not have to leave the EU when a majority of Scots voted to stay'," he observes on his website, What Scotland Thinks.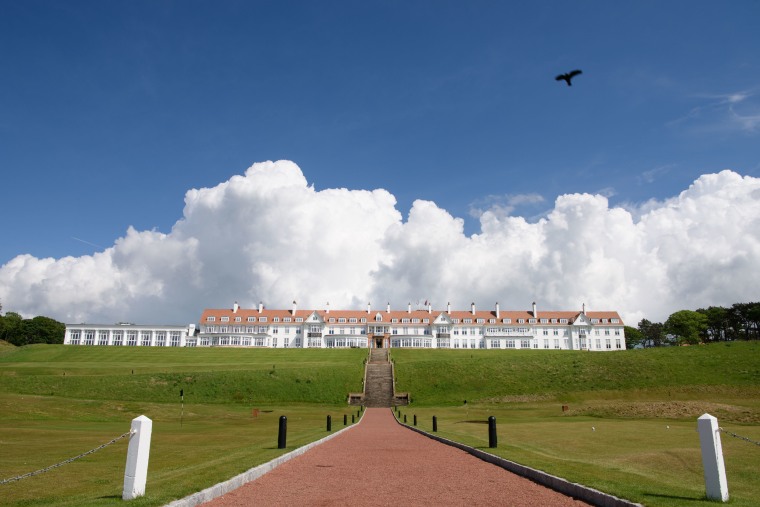 The most recent poll on the independence question put "Yes" at 37 percent compared to "No" at 37 percent, suggesting public opinion has barely changed since the 2014 referendum which "No" won by 55 percent against 45 percent for "Yes."
"People in England and elsewhere think everybody in Scotland is a raving nationalist and it's just not true," said local farmer Rosemary Clare, 68. "They say, 'Oh, you all want to leave the U.K.' and I have to explain that not everybody does."
"We've just gone through so many elections and referendums now and I think people are just tired of it all"
Trump himself has been uncharacteristically muted about Scottish independence, despite being pro-Brexit. The weakened British pound is certainly boosting visitor numbers at Turnberry, which on Monday was busy with golfers.
He conducted a long feud with Sturgeon's predecessor about offshore wind energy turbines which he said ruined the view from his newly built resort on the east coast at Menie, Aberdeenshire.
His only direct comment is that Scotland would be "crazy" to go through another bruising and bitter independence campaign. "I don't know how they can do that — go through all that again," he told the Press and Journal newspaper.
On that score, Scots share Trump's fear.
"We've just gone through so many elections and referendums now and I think people are just tired of it all," said Greta King, 70, as she tended her garden in Maidens.
Turnberry sits in South Ayrshire, a quiet agricultural country that is fractionally more conservative than the Scottish average. It voted 59 percent to remain in the EU, against the Scotland-wide figure of 62 percent, and in 2014 only 42 percent voted for independence, compared to 45 percent nationwide.
However, nationalists in the area remain buoyant about their prospects and are convinced PM May's austerity agenda, and her determination to pursue Brexit, will harden support for independence.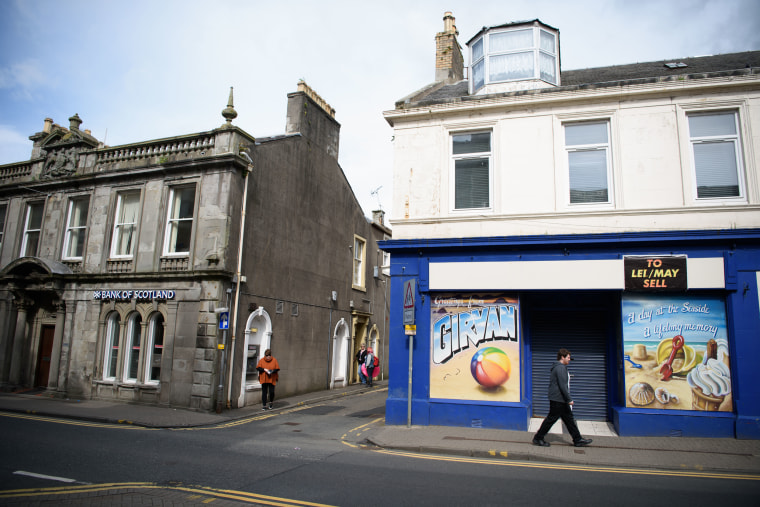 Just south of Trump's resort lies the seaside town of Girvan, a faded spot once popular with weekend vacationers from Glasgow.
On its beach, dog walkers gaze across the Firth of Clyde towards Ailsa Craig, the rocky island whose granite is used to make Olympic curling stones.
"I do think there will be a different result next time round," said Lydnsey Manor, 37. "People didn't want Brexit, they didn't want these spending cuts and the only what they are going to get a government they want is through independence."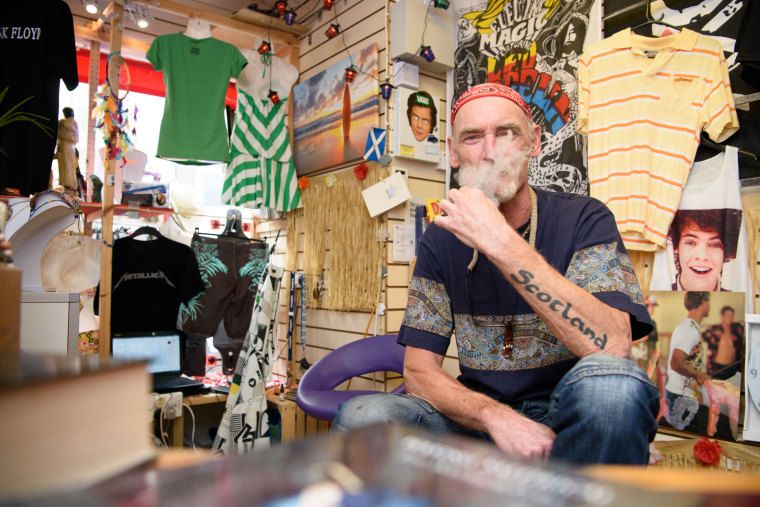 In the eclectic Surfing Buddha Emporium, owner Charlie McAulay Robertson, 64, believes Sturgeon will cement her support, despite an attempt by resurgent Conservatives to target key SNP figures.
"There was a rally the other day attended by tens of thousands of people," he said. "The media likes to hammer Sturgeon but she is popular."
That's a view shared by younger voters, including Baillie Mackenzie, a pupil at the local Girvan Academy.
The 17-year-old voted in last month's local Scottish elections but cannot do so on Thursday because the voting age is lower in Scotland (16) than for U.K.-wide elections (18).
"I think older people do have concerns about what would happen to Scotland's economy if there was independence, saying that we would all be worse off, but I think younger people are not as frightened of the idea," she said.