LONDON — British Prime Minister Theresa May was fighting to save her Brexit deal — and her job — Thursday after a chaotic day of government resignations and demands for her to stand down.
She said her proposal was the only feasible divorce agreement with Europe and pledged to defend it despite a chorus of opposition from across the political spectrum.
The latest turmoil sent the British pound plunging on currency markets.
"Am I going to see this through? Yes," May said. "I believe with every fiber of my being that the course I have set out is the right one for our country."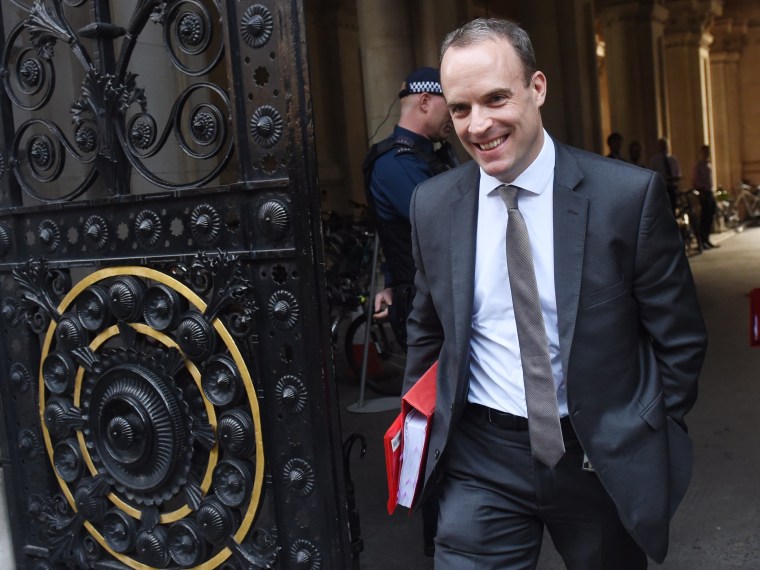 However, she may not have a choice in the matter. Lawmakers on Thursday called for a leadership contest that could topple her as head of the ruling Conservative party and as Prime Minister.
With only 134 days left until Brexit, time is running out to reach some kind of customs agreement with the E.U., which remains Britain's biggest trade partner. Without any deal, the U.K. faces chaos at borders and ports — a scenario that has already prompted the stockpiling of food and medicines.
May's proposal was finally published late Wednesday after 20 months of painfully slow negotiations.
Hours later, a string of her own ministers resigned in protest including Dominic Raab, the Brexit Secretary, who warned the plan could lead to the constitutional breakup of the United Kingdom.
May said her agreement was the only way to avoid "a path of deep and grave uncertainty," adding: "Nobody has produced any alternative proposal."
But an increasing number of lawmakers now believe that crashing out of the E.U. without any agreement — a so-called "no-deal" scenario — would be better than May's proposal.
"We're in the Brexs**t," read Thursday's front page in The Sun, Britain's bestselling tabloid newspaper.
Can the Brexit deal survive?
Getting any deal through Parliament was always going to be difficult for May, who needs the votes of about 320 of the 650 lawmakers to support the agreement. The Conservatives are a minority government that is propped up by members of Northern Ireland's Democratic Unionist Party (DUP).
But the DUP will not back any deal that treats the British province differently from the rest of the United Kingdom, and the main opposition Labour Party said Thursday it would also vote against the plan.
A former minister, Iain Duncan Smith, said Raab's departure would likely kill the deal and could even lead to May's ouster in a party leadership challenge.
"The very man who was effectively her main negotiator — for him to resign I think is devastating," he said. "He's been aware of all these things and has clearly been raising the alarm, and it sounds like he has been ignored. The reality is that the deal looks very dodgy."
May could still salvage her deal if she can sell it to the House of Commons, and appears determined to stick around.
"She is a fighter, to put it mildly," said Robert Peston, political editor of NBC News' British partner ITV News. He said May's party was "at war with itself beyond anything I've ever witnessed."
What are the sticking points in the deal?
At the heart of the current stalemate is the state of the post-Brexit border between Ireland — an E.U. member — and Northern Ireland, one of the four nations that make up the U.K. The border region has been the focus of deadly violence in the past, and, after the March 29 Brexit deadline, it will be the only land border between the E.U. and Britain.
All sides agree there should be no customs checks or other infrastructure on the border — a key condition of a 1998 peace deal — but there is no agreement on how and where those checks should take place.
Another sticking point in talks has been Britain's insistence that any E.U.-aligned customs arrangement must be temporary. The E.U. says that, in order to guarantee an open border, it can't have a time limit.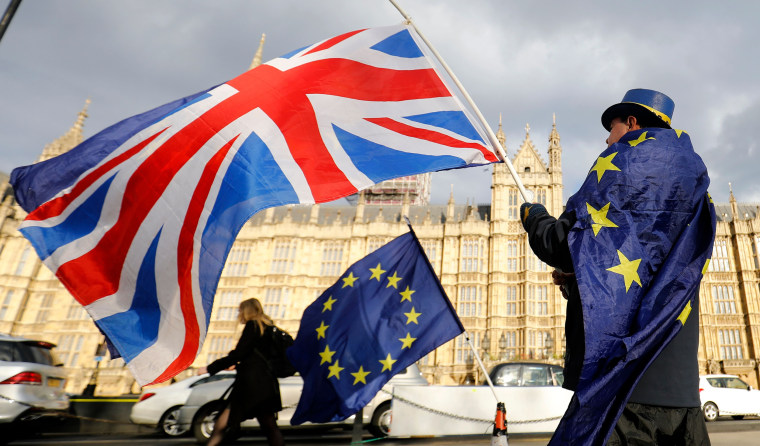 May's draft plan reportedly involves a "swimming pool" solution in which there would be no hard border but Northern Ireland would face deeper levels of regulation in order to allow frictionless trade with Ireland.
It means Northern Ireland will remain bound by E.U. laws on sales tax, farm subsidies and state aid — something unacceptable to many Conservatives.
Shailesh Vara, who was the first minister to quit Thursday, said: "It is a sad day when we are reduced to obeying rules made by other countries who have shown they do not have our best interests at heart. We can and must do better than this."
What else is in the deal?
The draft deal seeks a smooth divorce from the rest of the E.U. Without it, Britain would have to restore full border controls at its ports facing France, with the likelihood of huge delays in the supply along key trading routes.
The deal proposes an emergency fix to ensure no return of a hard border on Ireland, and keeps the status quo until the end of 2020, with an option to extend it once.
Access to fisheries would be renegotiated separately, and there would be some checks on goods crossing from mainland Britain to Northern Ireland to ensure compliance with E.U. standards.
The E.U.'s top court, the European Court of Justice, would remain the ultimate arbiter for issues specified in a finalized deal.
What happens next?
May hopes to calm the anger and press ahead. She told lawmakers that her plan was "in the national interest" and, more important, was likely the only feasible deal.
"The choice is clear: We can choose to leave with no deal, we can risk no Brexit at all, or we can choose to unite and support the best deal that can be negotiated," she said.
The deal requires the consent of the European and British parliaments, and E.U. chief negotiator Michel Barnier was set to travel to Strasbourg, France, to win over legislators there. The European Parliament's chief Brexit official, Guy Verhofstadt, has already welcomed the draft withdrawal agreement.
E.U. leaders will also meet Nov. 25 to endorse the deal.
"If nothing extraordinary happens, we will hold a European Council meeting in order to finalize and formalize the Brexit agreement," European Council President Donald Tusk said.