LONDON — There is a very real possibility the United Kingdom will get its second female leader before the United States gets its first.
After losing last week's Brexit referendum, Prime Minister David Cameron announced he would stand down this fall. His successor will take the helm of his right-of-center Conservative party, and with it control of Britain's government.
The favorite to replace Cameron was widely seen as former London mayor Boris Johnson, until the face of the "Leave" campaign made the shock decision to withdraw from the race on Thursday.
This left one clear favorite — Home Secretary Theresa May.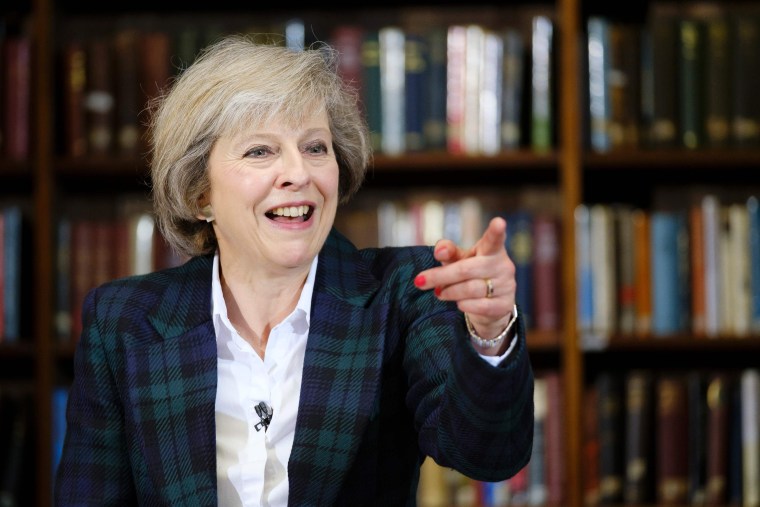 Although the 59-year-old was on the losing side of the bi-partisan referendum, she kept a far lower profile than many of her pro-"Remain" colleagues.
Announcing her leadership Thursday, May set out how she would unite a wounded party that seemed close to tearing itself apart over Brexit.
"Following last week's referendum, our country needs strong, proven leadership to steer us through this period of economic and political uncertainty," she told reporters. "And to negotiate the best possible terms as we leave the European Union."
May became favorite for the leadership earlier on Thursday, after Johnson's key pro-Brexit ally — Justice Minister Michael Gove — announced he would run against his collaborator.
This saw several senior Conservative lawmakers defect from supporting Johnson to Gove's camp, precipitating Johnson's decision to withdraw hours later.
The odds on May replacing Cameron were immediately slashed to 4/7 by bookmakers.
She would be the second woman to become Britain's prime minister. Margaret Thatcher stood down in 1990 after 11 years in power.
The contest is set to be concluded in September, less than two months before Hillary Clinton will try to make history for the Democrats on the other side of the Atlantic.
Related: Could the U.K. Wriggle Out of Brexit? Kerry Thinks So
May's closet challenger is Gove, a man who man who once told the BBC: "I could not be prime minister, I'm not equipped to be prime minister, I don't want to be prime minister." That was just one of several occasions Gove assured the public he did not want the top job.
He admitted as such when he announced his leadership bid, but said events since the referendum "have weighed heavily with me" and changed his mind.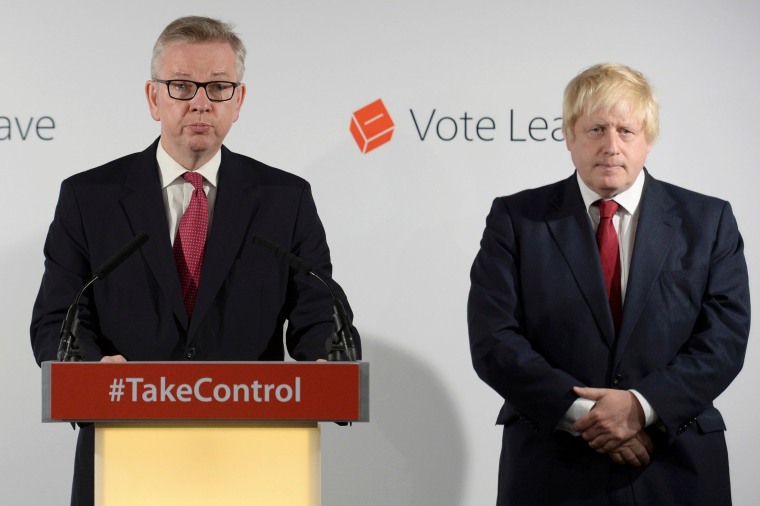 A former journalist, he was appointed justice secretary in May 2015. He has previously served as secretary of state for education, a job that appears to have earned him widespread contempt from British teachers after he pushed through a series of dizzying reforms.
He was demoted to chief whip before heading to the justice department.
While May has ruled out any possibility of reversing the Brexit result were she to win, Gove would be the leading Euroskeptic voice on the leadership ballot.
"We can make this country stronger and fairer," he said Thursday, announcing his candidacy. "We have a unique chance to heal divisions, give everyone a stake in the future and set an example as the most creative, innovative and progressive country in the world."
Work and Pensions Secretary Stephen Crabb, Energy Minister Andrea Leadsom, and former Defense Secretary Liam Fox are also running.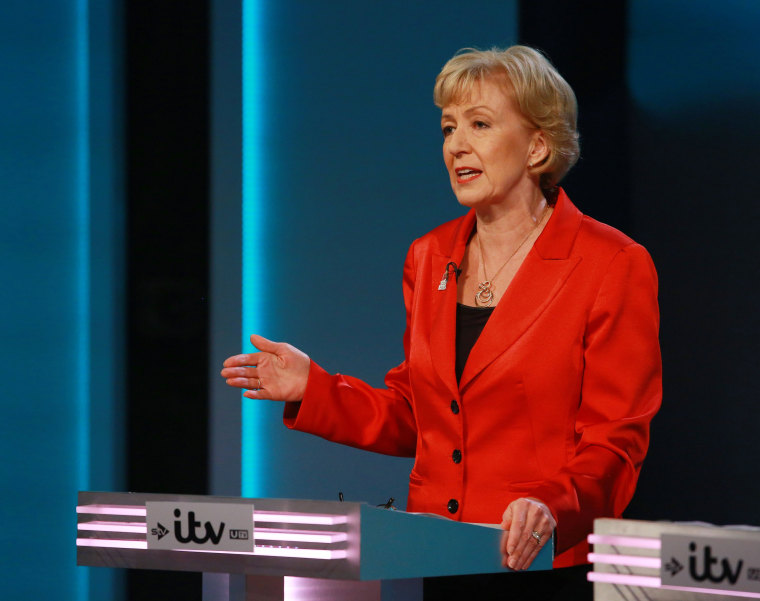 Over the next few weeks, their fellow lawmakers will narrow this list of five down to a final two — May and Gove appear to have the most support — before the Conservative party's 150,000 members will be asked to elect a winner.
May's father was a Church of England clergyman, and she was educated at state schools before studying at Oxford. She was elected to Parliament in 1997 and became the Conservatives first ever female chairman in 2002.
As well gaining a reputation as a rising political star, May became known for her collection of footwear — including a pair of leopard-print kitten heels.
For the past six years May been Britain's home secretary, a Cabinet position whose responsibilities range from crime and counterterrorism to border control and immigration.
Given that these areas attract criticism and controversy, the Home Office is often seen as something of a poisoned chalice. But May has held it for longer than anyone in more than a century.
She has had a combustible relationship with Britain's police over spending cuts and her attempts to force reforms.
A speech she gave in 2014 to the U.K.'s Police Federation was so hardline that it was met with near total silence as May left the stage. She criticized some officers for displaying "contempt for the public" in their handling of sensitive cases and warned them that "if you do not change of your own accord, we will impose change on you."
One leading member of the Police Federation, which represents more than 12,000 officers, said the reaction was one of "shock and bewilderment."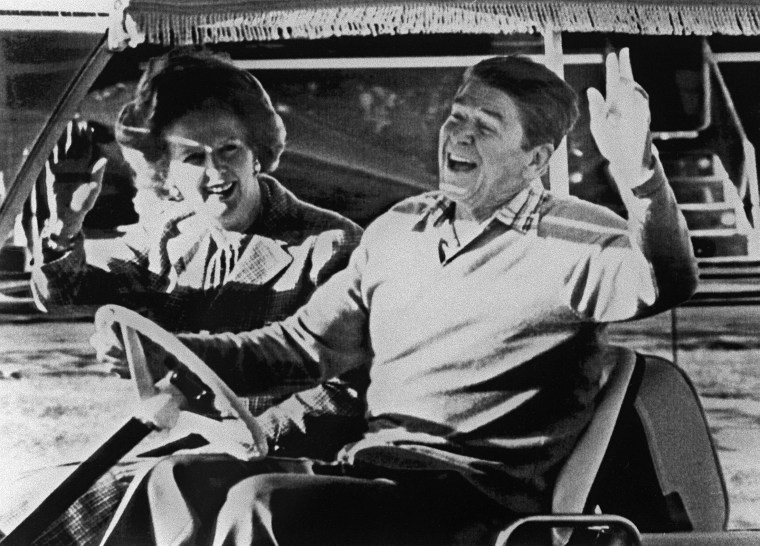 Another officer in attendance, Constable Ken Davies, stood up May and gave his own frank assessment.
"In 21 years of front-line service I've faced everything including being attacked, hospitalized and saved lives," he told May. "But I've never had such an attack and a personal kicking as came out in your comments."
May has also enjoyed several high-profile successes.
She ordered an inquiry that vindicated 96 soccer fans who were blamed by police after being crushed to death in 1989's Hillsborough stadium disaster.
She blocked the extradition of British computer hacker Gary McKinnon to the U.S. on charges he caused more than $700,000 of damage to military systems. She argued there was a high risk he could commit suicide.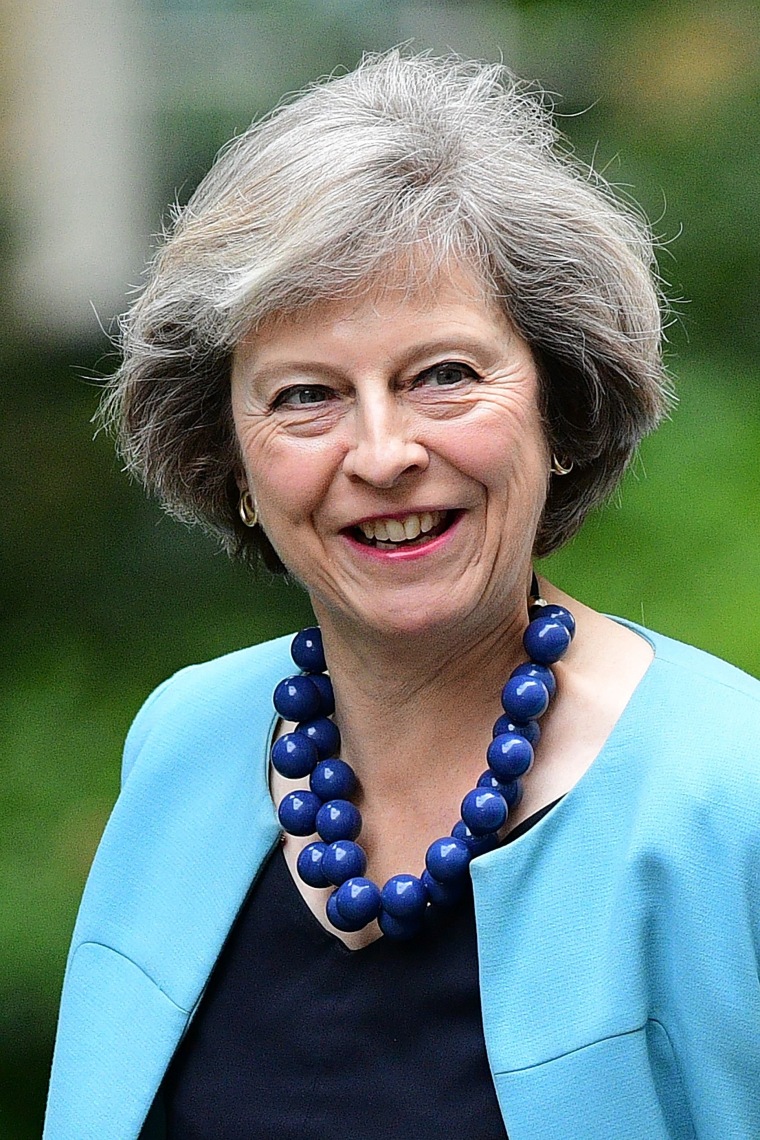 The home secretary also oversaw the deportation of terror suspect Abu Qatada, although he was later acquitted by a Jordanian court.
In the past she has warned her Conservative colleagues that some people saw them as "the nasty party" — a result of their tough economic policies and historically conservative social values.
Announcing her leadership bid, she reiterated her support for "One Nation Conservatism," a doctrine dating back to the 1870s that says the rich have an obligation to help the poor.
"I know some politicians seek high office because they're driven by ideological fervor, and I know others seek it for reasons of ambition or glory," she said. "But my reasons are much simpler. I grew up the daughter of a local vicar and the granddaughter of a regimental sergeant major. Public service has been a part of who I am for as long as I can remember."