LONDON — Stock markets crashed, oil prices tumbled and the pound fell to a 31-year low on Friday as Britain's unprecedented vote to leave the European Union shocked investors and dragged the region, the world's largest economic bloc, into a new era of uncertainty.
Investors rushed to dump European shares as soon as markets opened, following earlier drops in Asia, and Wall Street was set to fall sharply amid concerns about the economic consequences of the vote. The move could drain confidence among companies and business in Britain and the wider EU.
Related: Britain's Prime Minister to Step Down After 'Brexit' Vote
Britain's FTSE 100 plunged about 8 percent but recovered slightly for a 5 percent loss. The German index tanked 10 percent, which would be its biggest one-day decline ever, and France's index tumbled about 7 percent. Wall Street opened sharply lower, with the Dow Jones plummeting 500 points and the S&P down 2.6 percent — its worst opening since 1986.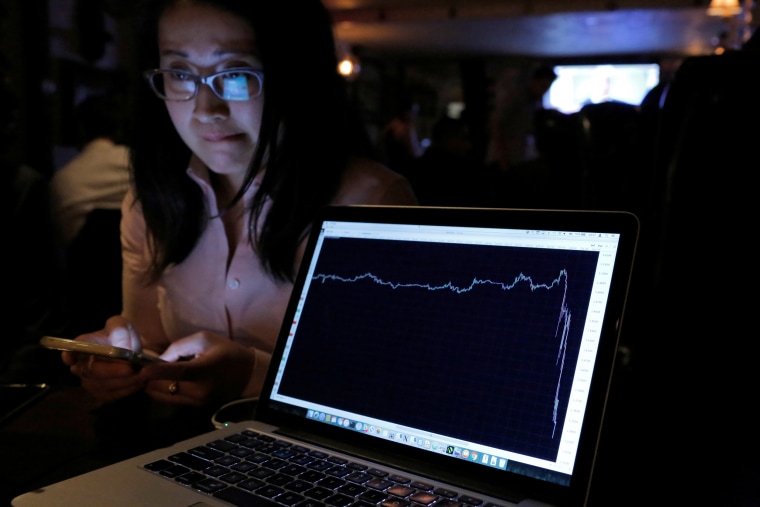 The pound hit its lowest level since 1985, diving as much as 11 percent before recovering slightly to trade 6 percent lower at $1.3917. Oil prices crashed, with the U.S. benchmark diving $1.95 to $48.16 a barrel. The Nikkei 225 plummeted about 8 percent, its biggest fall since 2008.
The result of the vote, which trickled in when Asian markets were trading, caught investors by surprise. Markets had rallied on Thursday on hopes for a "remain" vote and bookies had given such an outcome a high probability of success.
"You can see people are running for cover," said Ken Courtis, chairman of Starfort Investment Holdings in Tokyo. Investors were betting on a victory for the "remain" side, but "what you're seeing now in markets is an adjustment in the other direction, as everyone tries to get through a tiny door at the same time," he said.
Related: What Other Countries Might Follow U.K.'s Lead?
Britain's decision to leave the EU launches what will be years of negotiations over trade, business and political links with the EU, which will shrink to a 27-nation bloc. Above all, it creates uncertainty, which is toxic to businesses looking to making investments or consumers looking to make purchases.
It could also threaten London's position as one of the world's pre-eminent financial centers as professionals could lose the right to work across the EU. The U.K. hosts more headquarters of non-EU firms than Germany, France, Switzerland and the Netherlands put together.
The Bank of England said it had made contingency plans for a "leave" vote and promised to take action to maintain stability. It noted that it has 250 billion pounds ($342 billion) in liquidity available for banks. "We are well prepared for this," the bank's governor, Mark Carney, said in a televised statement.
That seemed to help confidence somewhat, particularly in financial stocks, which were among the hardest hit. Shares in Barclays bank in London had tanked as much as 30 percent before settling for a 14 percent drop.
Banks have the most to lose in Britain's departure from the EU as they do a lot of cross-border activity, which is facilitated in the EU, which has no borders, tariffs, or limits on the movement money and people.
Japan's Nikkei 225 finished the wild day at 14,952.02 down 7.9 percent while South Korea's Kospi sank 3.1 percent to 1,925.24, its biggest fall in four years. Hong Kong's Hang Seng index tumbled 4.4 percent to 19,942.90 and Australia's S&P/ASX 200 fell 3.2 percent to 5,113.20. Stocks in Shanghai, Taiwan, Sydney, Mumbai and Southeast Asian countries were sharply lower.
In other currencies, the dollar fell to 102.98 yen from 104.80 yen while the euro weakened to $1.1123 from $1.1320.