LONDON — Scotland's leader has indicated a new vote on independence from Britain could be held next year in response to Brexit — and polls suggest support for secession is rising.
First Minister Nicola Sturgeon says a ballot is "highly likely" after British voters opted to leave the European Union. Scotland voted against Brexit, but the U.K. overall backed it (52 percent to 48 percent) on June 23.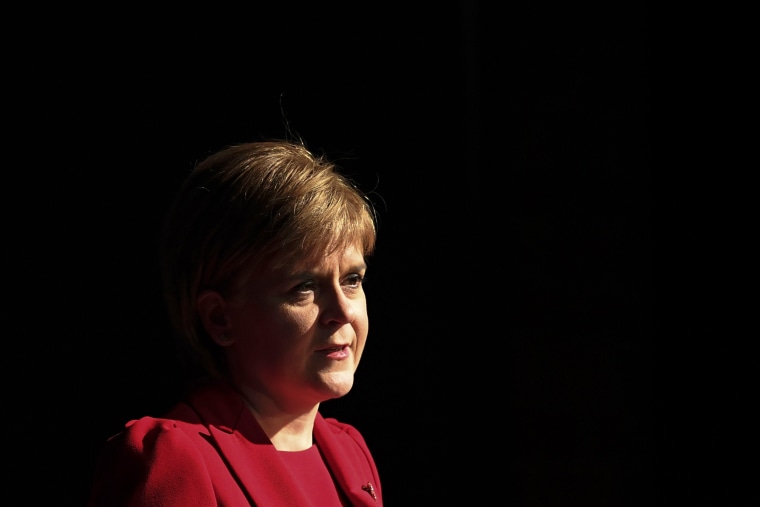 The prospect of Scottish independence means Britain's looming divorce from the EU could also see the break-up of the United Kingdom.
It also raises the pressure on Prime Minister Theresa May as she prepares to trigger formal exit negotiations later this month with the other 27 members of the EU.
Those talks are estimated to take up to two years. The fall of 2018 would therefore be a "common sense" date for a Scottish independence referendum, Sturgeon said in a BBC interview on Thursday.
Hasn't Scotland Decided This Already?
Yes. A referendum on independence — abbreviated to "indyref" — was held in September 2014 and the idea was defeated by 55 percent to 45 percent as voters shied away from ending 300 years of ties to London.
Sturgeon's predecessor had acknowledged that the 2014 poll was a "once in a generation opportunity" for Scotland. However, the 2016 Brexit vote has brought the issue back into play.
What Changed?
The Brexit result swiftly reopened Britain's constitutional wounds. A majority of voters in England and Wales voted to leave the EU but Scotland and Northern Ireland voted to stay.
Sturgeon says Scots face being forced out of the European single market and customs union against their will because the U.K. as a whole voted to leave, and that Brexit has dramatically changed the political circumstances.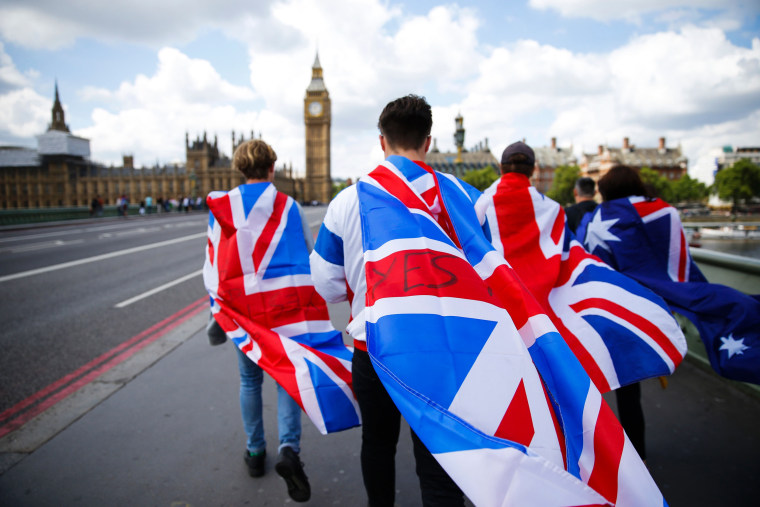 Her pro-independence Scottish National Party senses an opportunity to turn public opinion in favor of separation by capitalizing on anger over Brexit.
Does Scotland Have the Power to Hold Another Referendum?
No, but that's not seen as a major issue. Control of education, health care and a slew of other matters is devolved from London's Westminster to the Scottish parliament in Edinburgh. But a special authority — known as a "section 30 order" — would be needed in order to hold another referendum.
May is firmly opposed to Scottish independence but hasn't given a clear answer on whether she would veto any request for a referendum. However, doing so would likely be self-defeating since it would play directly into the hands of Scottish nationalists.
What Happens Next?
May and Sturgeon have been performing a political dance in recent weeks. Sturgeon reportedly believes May's official notification of withdrawal from the EU — promised sometime before the end of March — is a key milestone, and that no decision on a referendum would be made until then.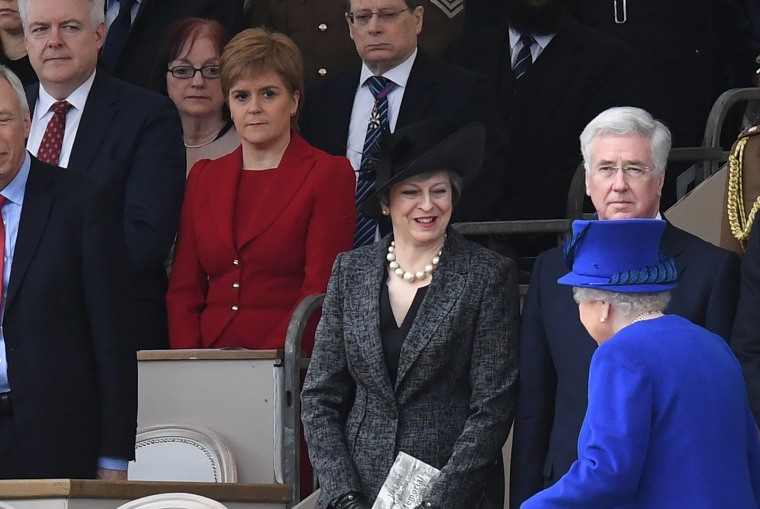 However, Sturgeon must address her party conference next weekend and could use that moment as a launch pad for what is already being termed "indyref2."
What Do Polls Say?
Most polls show support for independence in Scotland has barely shifted since the 2014 vote and that most Scots do not relish another bruising national debate.
However, a poll by Ipsos MORI published Thursday showed that, among those likely to vote, support for independence had risen to 50 percent, neck and neck with those who want to remain in the United Kingdom.
That was a two point increase in support for independence compared to Ipsos MORI's last poll. They surveyed 1,029 people by telephone between Feb. 24 and March 6.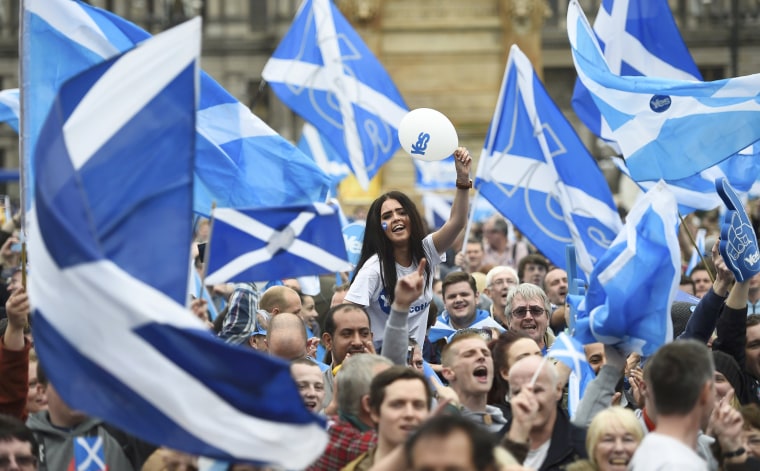 In February, a survey by BMG for the Herald newspaper also found the gap had narrowed to 51 percent in favor of remaining in the U.K. versus 49 percent supporting secession.
Nevertheless the margins are narrow and the polls are not yet consistent enough to paint a clear picture.
Scottish politics and polling expert John Curtice wrote last week: "The broader truth is that, in a country that is still so divided on the merits of independence, it is difficult for either side to claim clear majority support in any aspect of the surrounding debate — and that includes the debate on holding a second ballot."
It's the Economy
While Scots expressed a preference for access to the single market and cross-border movement, they might be less persuaded on the economic case for Scottish independence — a subject of intense debate during the 2014 referendum.
Scotland has a population of around 5.3 million, according to the most recent census, slightly more than 8 percent of the United Kingdom's population as a whole.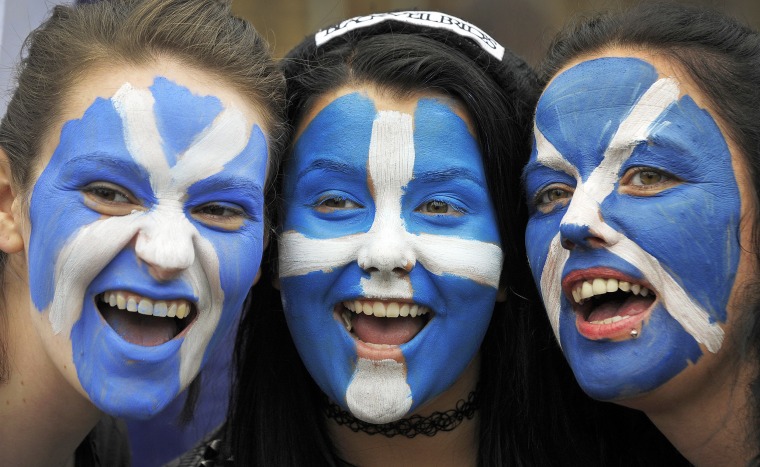 Nationalists say Scotland stands to benefit from remaining on better terms with the rest of Europe amid anger at Britain's decision to leave.
However, pro-Union parties say the global fall in oil prices, and subsequent collapse in revenues from North Sea oil, means the prospects for an economically successful independent Scotland have weakened significantly since 2014.