LONDON — Brexit will be easy. Britain can leave the European Union and nothing will change. Countries will be lining up to strike trade deals with the U.K.
These were the promises made by the politicians who campaigned for Britain to quit the 28-country bloc. But two-and-a-half years after the June 2016 referendum vote, Brexit has turned out to be anything but simple.
Prime Minister Theresa May is now battling to convince lawmakers to accept the withdrawal agreement she negotiated with the E.U., which is opposed by politicians across the political spectrum — including many within her own party.
A week of debate got underway in Parliament Tuesday that will culminate in a vote in the House of Commons on Dec. 11.
But just 115 days from March 29 — the scheduled day of the looming divorce — no one really knows what the future holds if May can't win enough support for her plan from fellow lawmakers.
"I can't remember this degree of uncertainty in U.K. politics in my political lifetime, when so many serious, informed analysts genuinely don't know what's going to happen," said Brigid Fowler, senior researcher with the Hansard Society, a research and educational charity focused on Parliament.
May has acknowledged that her Brexit deal is not perfect, but says it delivers on voters' decision to leave the E.U.
"This is like if you made a cake and you want to take the egg back out. You can say you'll do it, but that doesn't make it easy."
Brexiteers don't like it because it keeps the U.K. closely tied to the E.U., and pro-E.U. politicians feel it erects barriers between the U.K. and its biggest trading partner.
While May's deal looks unlikely to earn enough votes in Parliament next week, the other options available to lawmakers look just as unlikely to garner a majority.
Part of what has made the Brexit process so difficult is the lack of precedent. E.U. law and policy influences a large part of life in Britain, from trade to fishing to workplace regulations.
"Usually when a country leaves an international organization, they pay a bit of money and take their leave. This is not anything like that," said Simon Usherwood, the deputy director of the U.K. in a Changing Europe think tank who is also a politics researcher at the University of Surrey. "This is like if you made a cake and you want to take the egg back out. You can say you'll do it, but that doesn't make it easy."
Complicating Brexit even further is the fact that it cuts across party lines. Some members of both the ruling Conservatives and the opposition Labour Party back the divorce — but there is no consensus on what that should look like.
"The reason that this is such a difficult process is that people are fairly clear about what they don't like but not clear about what they do like," Usherwood added.
Prime Minister May and Labour leader Jeremy Corbyn both support a negotiated agreement of some kind with the E.U., but some hardliners believe a clean break with as few links as possible to the bloc is a better option.
According to Usherwood, what happens next depends on whether May loses next week's vote — and if so, how badly. If it's by a tight margin, she could try to push the deal through on a second vote.
The one scenario that appears to have widespread backing in Parliament is the desire to prevent a chaotic exit from the E.U. without a deal.
That likely easier said than done. The U.K. fired the Brexit starting gun by triggering something called Article 50 last year. That means unless lawmakers do something — either backing May's deal or taking another form of evasive action — the country will crash out of the E.U. on March 29 by default.
This "no-deal" Brexit would likely result in chaos at Britain's borders and ports — a scenario that has already prompted the stockpiling of food and medicines.
Most experts agree any kind of Brexit will have grim implications for the British economy. The government's own assessment last week said it could be 3.9 percent smaller after 15 years under May's plan than if it stayed in the E.U.
If the country leaves with no deal, the U.K. economy could be 9.3 percent smaller than if it remained.
Brexit supporters say leaving will have other benefits, like regaining sovereignty and control of Britain's borders.
The political gridlock has led to an increase in calls for another referendum on whether Brexit should happen, which has become known as a "People's Vote."
"The government's Brexit 'deal' satisfies no-one and solves nothing," opposition lawmaker Stephen Doughty said in an email. "It shows that what was promised in the referendum in 2016 can't be delivered, so it's no surprise that Parliament is gridlocked."
He added, "The final decision should now be handed back to the public through a People's Vote, because only the people of the United Kingdom can sort this out."
But that option also has too little support to get off the ground at the moment.
Another scenario that appears to have too few votes to get through Parliament is a snap election, currently touted by the Labour Party as its preferred option if lawmakers reject May's Brexit deal.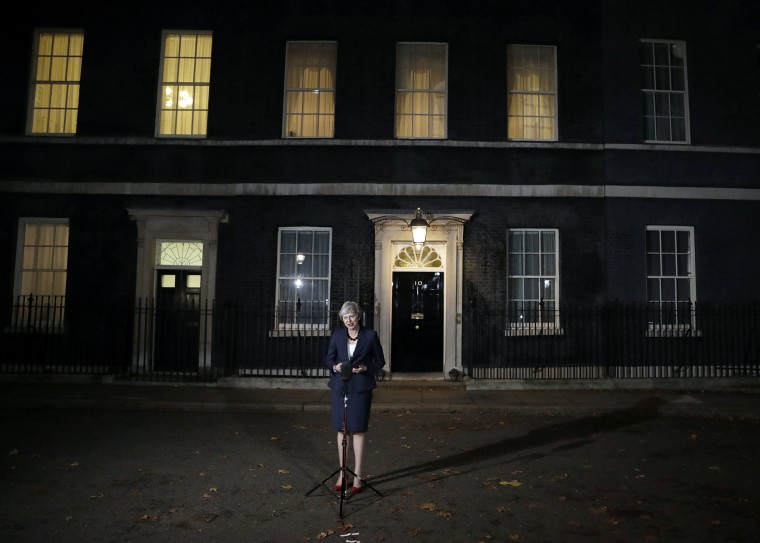 Meanwhile, the E.U. has said that it won't renegotiate the deal it struck with May.
"If this deal is rejected in the House of Commons, we are left with an alternative: no deal, or no Brexit it all," European Council President Donald Tusk said last week. "The European Union is prepared for every scenario."
The Hansard Society's Fowler also pointed out that there remains the chance that May could win over lawmakers and push her deal through.
"It doesn't feel like long, but the speed with which things are moving, another week is a long time," she said.