LONDON — While there is still a great deal of uncertainty about Britain's exit from the European Union, many ordinary Londoners and officials are confident about the city's prospects — despite the doom and gloom predicted by many experts.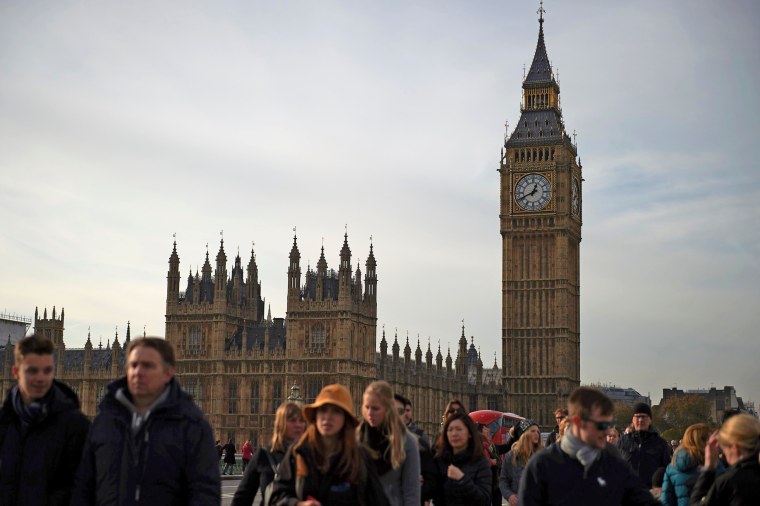 Some Londoners believe the city of almost 9 million people isn't about to be knocked off its perch as a key financial hub and one of the world's great urban centers just yet. They argue that London is simply too big, too entrenched, too diverse and too innovative to lie down and die.
"Look, I think London has been a great city for more than 1,000 years. Why? Because we've been open to trade, people and ideas. That's not going to change," London Mayor Sadiq Khan told NBC News.
The mayor's office has responded to Brexit with a colorful campaign under the slogan "London is Open," including a commercial featuring a series of businesses opening their doors to a jaunty tune.
Many residents are no less confident about the city's resilience.
"It's just a hoo-ha that will die down," said Prakash Shah, 63, dismissing post-Brexit fears with a wave of his hand as he served customers at a greeting card shop. "London's got history. The whole world speaks English, not German or French. Top medicine, science, education is still in English. There's just going to be some upheaval for one or two years."
All that said, Brexit is beginning to have an impact. The value of the pound has fallen by about 18 percent against the dollar and the euro since the vote and retailers are beginning to pass those costs onto customers.
And there are still a number of potential pitfalls the city has to navigate.
Britain's push to restrict immigration and mounting protectionist sentiment could yet prove to be a poison pill for a top-tier global metropolis that has for centuries thrived on attracting workers and investment from all over the world.
Brexit threatens to cast Britain out of the EU's crucial single market for goods and services, as well as EU trade deals with countries further afield, risking London's viability as a commercial hub and a springboard for business across Europe.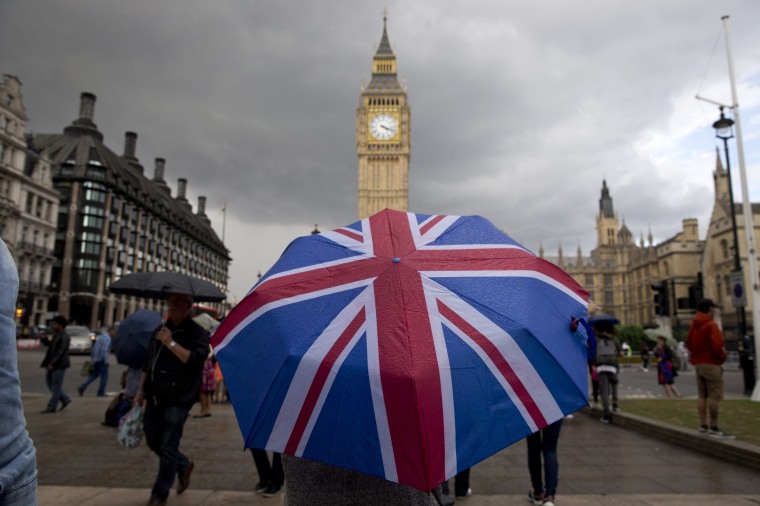 "Brexit was a vote against London, globalization and multiculturalism as much as a vote against Europe," wrote Craig Calhoun, the then-director of the London School of Economics, shortly after the vote.
Arguably the greatest threat to London's prosperity is an exodus of the banking and financial services firms that make it one of the world's foremost commercial centers.
Bankers have warned that thousands of jobs could disappear and whole banks relocate abroad if they lose their right to provide services across the EU — so-called "financial passporting."
Most international banks are "quivering over the relocate button" wrote the head of the British Bankers' Association Anthony Browne last month.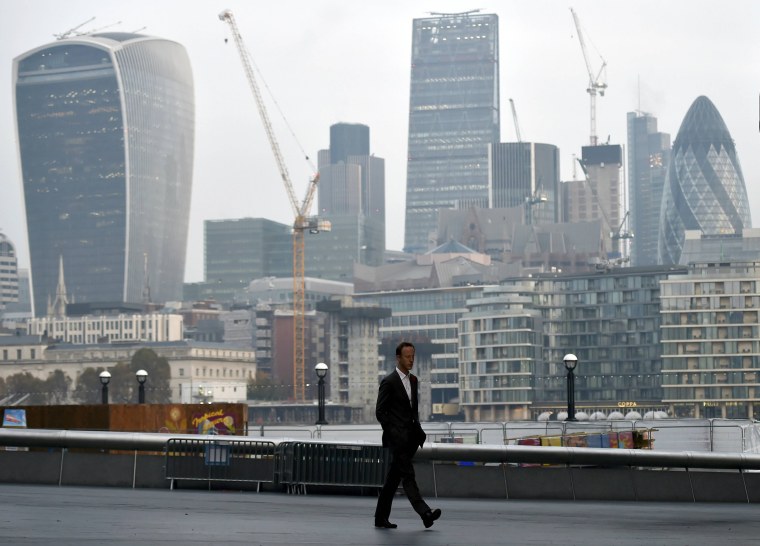 But Mark Boleat, policy chief at the Corporation of the City of London, which oversees the city's financial and commercial district, downplayed the danger.
"Businesses are currently, as we speak, looking at workarounds as to how they can continue doing as much business as they can. In some cases, if passporting is lost, they would need to set up something in other countries of the EU, but the bulk of their business could still continue from London," he told NBC News.
"There's no way you can relocate a center the size of London, even if there was a willing country to take it," he added.
The referendum was in large part a vote to curtail the right of citizens of the EU's other 27 member states to live and work in Britain, throwing the status of London's one million-strong EU residents in turmoil and emboldening right-wing sentiment.
Immediately after the June 23 vote, racist and xenophobic crimes spiked across the country, including in London.
But for some immigrants the city, where around one in three residents is foreign-born and almost 60 percent of the city's voters chose to remain in the EU, is still more welcoming than elsewhere in Europe.
"People will always consider London a better place to stay then other places in the EU. We have so many nationalities, people are more friendly, you're more accepted," said Patrycja Bahia, a 30-year-old nursery worker speaking at a Polish community center.
London's large Polish community was shocked to see the community center daubed in racist graffiti shortly after the referendum, but during a recent visit many at the center still expressed enthusiasm for their adopted city.
"My friend who lives in Windsor [about 25 miles west of London], someone told her in the street 'Go back home.' I don't hear this in London," said Kate Ziolkowska, a 35-year-old secretary at the center. "Maybe in London it's special because here it's so many cultures, people don't really think about that too much."
Chirayush Patel, a 48-year-old teacher, expressed concern about how London would cope in an "an interconnected world."
He added: "The economy in London is geared towards finance — why would an international financial institution come to London unless London offers them something others can't? Yes, the government will say that all these companies are going to stay, but what are they saying to them, what are they promising them?"
While some of the confidence in London's future could be dismissed as hometown chauvinism, some studies tout the city's strong business and transport infrastructure, its robust legal system and its top class cultural and educational institutions as reasons for the city's resilience.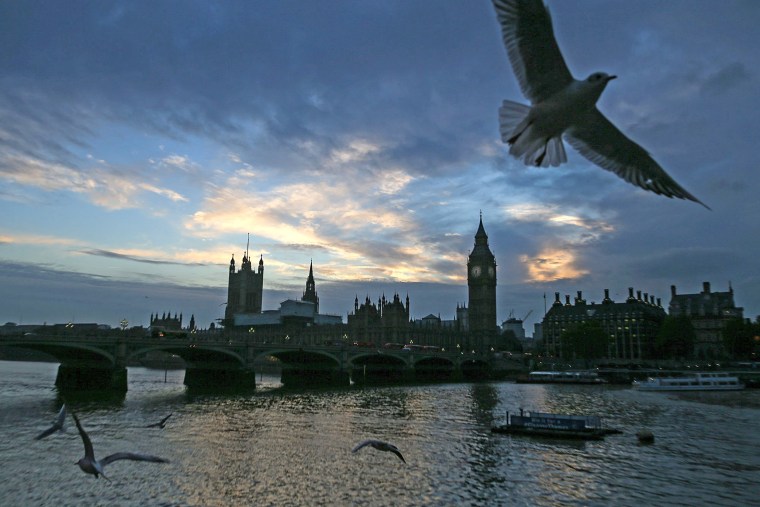 London was ranked number one in a "Cities of Opportunity" analysis of 30 global cities by the consultancy PwC in September. The city won the top spot for business, culture and finance for the second year running, with PwC concluding that its report "reinforces many reasons why London should be optimistic about its future" despite Brexit.
Museum of London historian Alex Werner pointed to London's relatively quick comeback after past shocks, including the Great Fire of London in 1666 and after its devastation by German bombs during World War II.
"I'm still very, very confident in London. It's just such a culturally rich city, very innovative, still very much an open city," he said.
"If there is this turning inwards, I think London will not accept that because we're not that kind of a city … there'll be something that allows London to continue to express itself as it always has done. I don't think it will be confined by Brexit at all."