DOVER, England — A medieval stronghold where Winston Churchill's troops guarded Britain from a feared Nazi onslaught is facing a new potential challenge from the continent: gridlock linked to Brexit.
For centuries, the town of Dover has served as Britain's gateway to mainland Europe, a landmark immortalized in song as a symbol of wartime heroism.
Thousands of vehicles board ferries here for the 90-minute trip to France each day. Around 2.6 million trucks pass through its port annually, carrying $155 billion of goods — or one-sixth of all trade between U.K. and the European Union.
But with barely six months left until the U.K. leaves the 28-country bloc, there is no plan for how border checks will be reintroduced.
Inside the E.U. single market, customs inspections are not required. The sudden reintroduction of such checks on March 29, 2019, would cause huge traffic jams on freeways approaching ports both sides of the English Channel, authorities say.
The British government has even warned there could be shortages of food or medicines if trucks get stuck at the border or in miles of traffic.
"There will be total gridlock unless they can negotiate some kind of a deal," said Mark Yates, the managing director of Active Transport, a Dover-based shipping company. "It will be a case of who blinks first."
Military precision
Below the 300-foot chalk cliffs named after the town, dozens of roll-on, roll-off ships a day slide in and out of Europe's busiest ferry port.
France is only 20 miles away. On a clear day, it can be seen across the water. Cellphones can also detect French networks.
That proximity has given the town strategic importance dating back thousands of years to the early settlers of the Bronze Age and the Romans.
But Dover is not just a port, it is part of England's psyche.
It has been a fortress town since 1066, when William the Conqueror built the first garrisoned Dover Castle on the highest point overlooking the sea.
During World War II, the Dunkirk evacuations of May 1940 were masterminded from Dover, with over 200,000 troops brought ashore amid German aerial bombardment.
Churchill, Britain's prime minister during the World War II, ordered the construction of a labyrinth of tunnels inside the cliffs to protect against German warplanes overhead.
And singer Vera Lynn's sanguine chorus, "There'll be bluebirds over / the White Cliffs of Dover," became emblematic of the country's wartime spirit.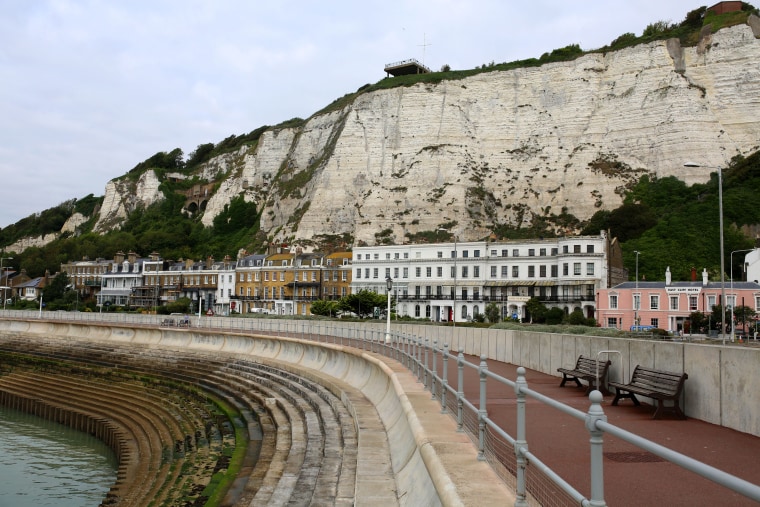 But military precision is still needed at the port.
It is here that the modern consumer dream of one-click online ordering and abundant fresh food meets physical reality. On a busy day, 10,000 trucks pass through Dover.
A ferry can be unloaded and reloaded in 45 minutes, providing a round-the-clock shuttle schedule to the French ports of Calais and Dunkirk.
The slightest delays are a headache for freight companies, many of which are making just-in-time deliveries of fresh cargo such as fruit and flowers.
"About 50 percent of Britain's food is imported, mostly perishables from the rest of the E.U. — salad tomatoes, citrus fruits and so on," said Heidi Skinner, the policy manager with the Freight Transport Association lobby group.
Dover currently boasts "frictionless" border controls: Drivers carry electronic paperwork and frontier formalities take less than two minutes per truck.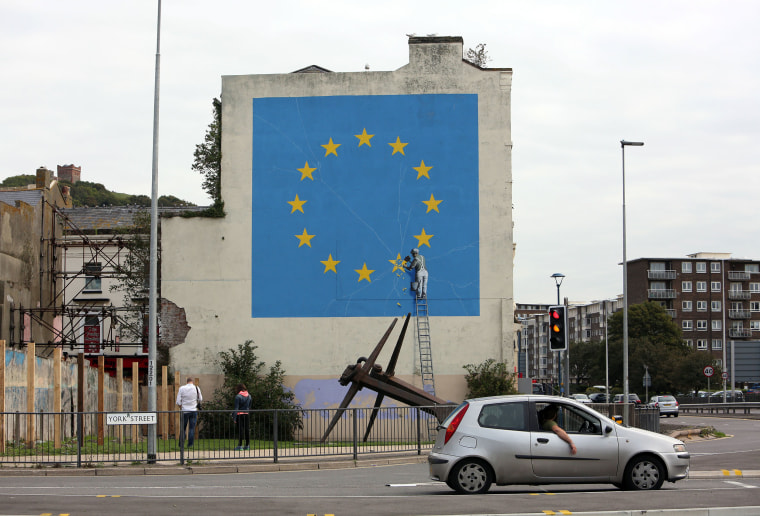 "Most of them drive straight off the ferry and thunder on up the M20 or the A2 [highways] without stopping," said Paul Wells, director of Channel Ports, which checks imports on behalf of Britain's HMRC tax agency. "If we need an officer to check something, we'll call them. Otherwise it goes on through."
Clearance is required for only the 3 percent of trucks arriving annually at Dover with non-E.U. goods, mostly from Switzerland or Turkey.
But when the U.K. leaves the E.U. and the single market, it will have to impose controls on all vehicles unless it can negotiate a special exemption — something to which exasperated officials in Brussels are in no mood to agree.
"Britain absolutely needs a trade deal to ensure fluidity," Skinner said. Even slight increases in checks could cripple Britain's motorways, packing them with stationary trucks.
Impact assessments seen by the FTA suggest that two-minute delays on every truck at Dover would would cause a 17-mile traffic jam. Four minutes would result in it stretching to Maidstone, which is 40 miles away.
"Based on the evidence we have heard, we do not believe the U.K.'s ports and airports will be able to cope with the additional workload," a committee of British lawmakers concluded.
Ministers have issued a series of "worst-case scenario" warnings about life after March 29, even as they express optimism that an agreement can be reached to avert chaos.
There are "potential issues around the border," Brexit Secretary Dominic Raab admitted earlier this month, adding, "I'm still confident a good deal is within our sights."
It is a dangerous game of brinkmanship, based on the belief that exporters to the U.K. will be just as fearful of delays on the French side of the border.
"Their businesses don't want it any more than we do," said Yates, the transport company executive. "If new requirements were imposed on us, they would need to get the same paperwork to come here and nobody needs the hassle."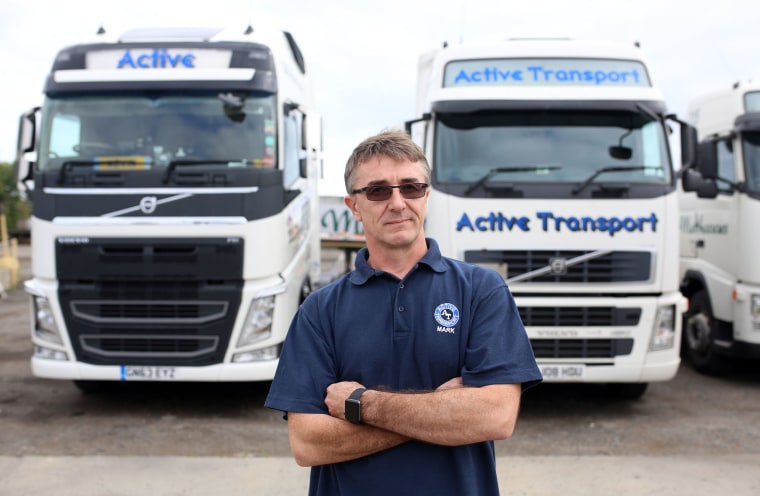 His fleet of 14 trucks, which carry mostly aircraft engine parts, could be among those stuck in a quagmire of customs delays if neither side backs down.
Yates doesn't know whether his business will be better or worse off, but his customers will likely have to wait longer for their goods.
He shrugged. "If the politicians and people in charge don't know what's going to happen in six months' time, why should we?"
A Vatican City-sized parking lot?
In recent months, Britain's government has shifted focus from deciding what kind of deal it can strike with the E.U. to planning for the growing likelihood of no deal at all.
This summer, officials have begun to reveal no-deal contingency plans that have already cost taxpayers $4.8 billion.
Local lawmaker Charlie Elphicke says the government should speed up construction on a planned $300 million parking lot for 3,600 trucks a few miles up the M20 from Dover
"Bigger than the Vatican City in size, this will be the second-largest park of its kind in the world," he noted in a report. "This project is urgently required."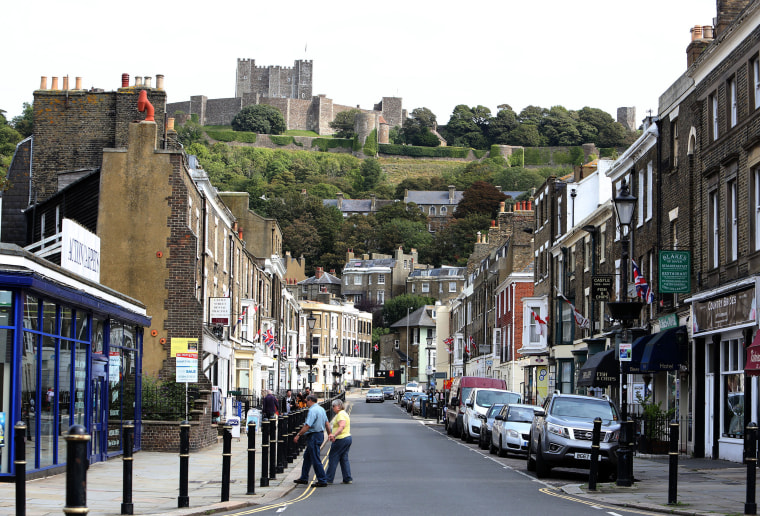 In July, British Health Minister Matt Hancock warned drug companies that they should seek an additional six-week supply to protect against post-Brexit port disruption.
However, he urged family doctors and hospitals not to stockpile medicines because "the government has plans in place to ensure a continued supply."
HMRC says it has upgraded its Customs Declaration Service computer system to cope with the extra traffic, and hired 1,113 extra border personnel out of a possible 5,000.
British companies are also hunkering down for no-deal Brexit, which the IMF says could cost $300 billion in lost output.
Heathrow Airport has set aside $1.5 billion to cover any losses in case flights are grounded by wrinkles over air route freedoms or the licensing of aircraft parts.
Gavin Darby, chief executive of Premier Foods, said some companies were stockpiling. "Smart companies will have worked out where the pinch points are with ingredients and be building up inventory," he told The Financial Times.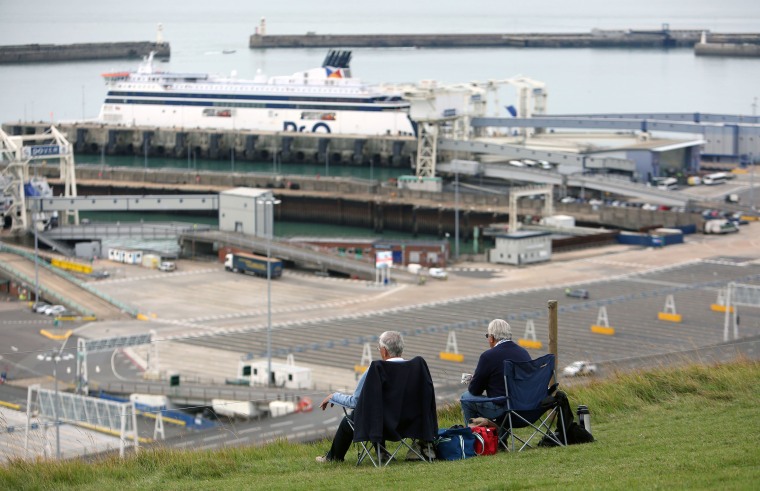 Adrian Gee Turner, development manager for a pharmaceutical company in Ashford, 20 miles from Dover, says his supply chain has been made Brexit-proof by switching to alternative ports of entry.
"Most large organizations have contingency plans for major disruptions such as natural disasters or a pandemic and this is no different," he said.
London Mayor Sadiq Khan has asked the London Resilience Forum, which assesses the impact of terrorist attacks and disasters, to consider the effect of Brexit on law and order.
There is also alarm in France, which similarly relies on smooth cross-Channel trade for economic stability. Some are calling for renewed London-Paris cooperation even if the E.U. does not reach a Brexit deal.
"The period of collective stupefaction must end," said Xavier Bertrand, the president of the Regional Council of Hauts-de-France, where the port of Calais is.
Predictions of doom
Like many of Britain's coastal towns, Dover has seen its prosperity fade.
Where hotels once were thronged with vacationers, cars and motorhomes now rumble through on their way to more exotic resorts in France and Spain.
Even the ferries are a double-edged sword, bringing visitors and some employment but also traffic congestion and asylum-seekers who jump from trucks after entering Britain illegally.
"It is a very transient town," said Jill Sarjeant, administrator for five local church parishes.
Groups of migrants, mostly from Romania, regularly congregate in Dover's main square. And the Eight Bells pub, run by pro-Brexit chain J.D. Wetherspoon, is busy with drinkers as early as 10:45 a.m.
All of which might explain why the town is pro-Brexit, despite its symbiotic reliance on nearby Europe for trade. Dover voted 62.1 percent to leave the E.U., well above the U.K. average of 51.9 percent.
"A lot of people voted that way because of immigration," said Nigel Collor, a local politician involved in Dover's Brexit preparations.
A former port worker, he voted to remain in the E.U. but believes Brexit must go ahead. "We voted and that's what the country wanted."
The prospect of empty supermarket shelves and higher prices has led to calls for a second referendum in which voters could change their mind, although opinion polls are inconclusive.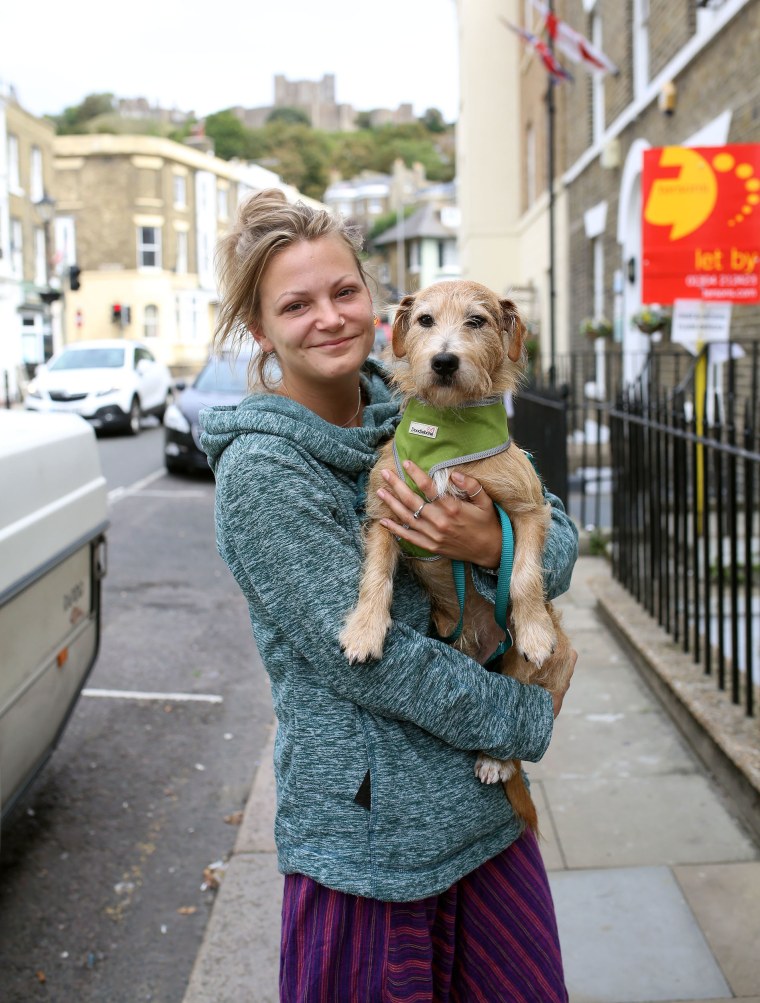 Darcy Tilney, 27, works for a freight logistics company. She thinks Brexit is "ridiculously bad."
"People don't want immigration, but Brexit won't reduce that and in any case borders are man-made," Tilney said. "I sometimes feel like I'm the only person here who doesn't think Brexit is a good thing."
Luigi Del Duca, 67, opened the Castle Fish and Chip Shop in 1980 and fears border chaos will mean fewer vacationers, and fewer customers.
"The town has been declining for years," he said. "It will be sad if there are even less people around."
Others are suspicious that the predictions of doom are inflated by the media or by lawmakers trying to soften voters for an unpopular deal.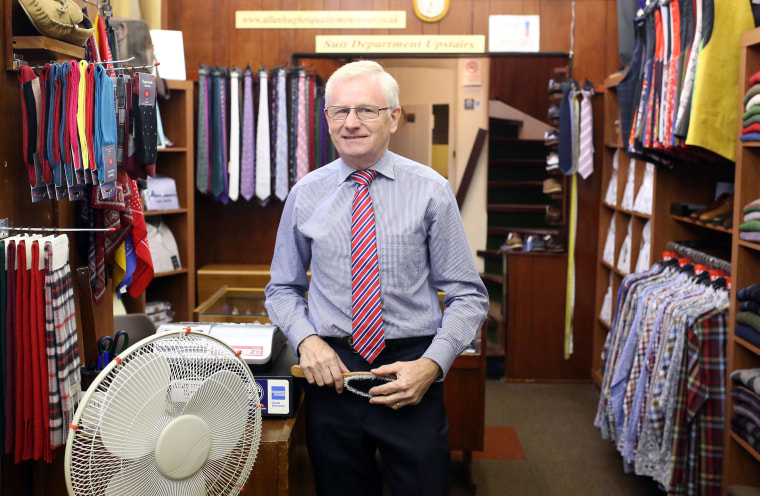 "Every time a politician is asked about it, they get torn apart," said Arthur Salisbury, 70, who has run the town's traditional menswear store, Allan Hughes, for two decades.
His customers include cruise ship passengers looking for smart outfits for onboard dinners.
"I suspect it won't be as bad as everyone seems to think," Salisbury said.