British Prime Minister Theresa May has signed a letter invoking Article 50, which will formally start the process for the country's exit from the European Union.
May's office announced the letter had been signed and released a photo showing May signing the Article 50 letter Tuesday night.
"The PM has signed the letter which will trigger Article 50 tomorrow, starting negotiations for the UK to leave the EU," May's office said.
It will be delivered to the European Council in Brussels at 12:30 p.m. Wednesday local time (6:30 a.m. Wednesday ET), NBC News' British partner ITV News reported.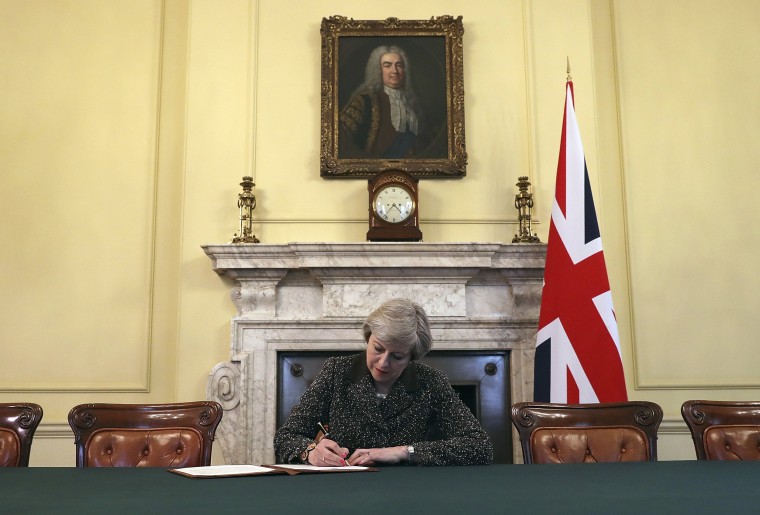 Voters in June approved a referendum to leave the European Union. Invoking Article 50 of the Lisbon Treaty formally starts that process. Talks could last up to two years.
British voters chose in June to leave by 52 percent against 48 percent voting to remain. May is expected to make a statement Wednesday in which she will pledge: "It is my fierce determination to get the right deal for every single person in this country," ITV reported.
"For, as we face the opportunities ahead of us on this momentous journey, our shared values, interests and ambitions can, and must, bring us together," she is expected to say.
Immigration was a leading concern among those who chose to leave, especially among blue-collar workers. The United Kingdom never was a part of the euro currency zone nor the border-free Schengen zone that allows travel without a passport.
May, who came to power after the referendum result prompted the resignation of her predecessor David Cameron, said earlier this year that she will seek a so-called "hard Brexit." That means the U.K. would quit the EU completely and also withdraw from the single market for goods.
Invoking Article 50 sets Britain down a path of no return. The process cannot be reversed or abandoned without the unanimous agreement of newly-antagonized EU states.
Also Tuesday, Scotland's parliament approved a bid to hold a new independence referendum in 2018 or 2019, in part over Brexit, but the British government rejected the proposal.
Last week, the British government set the date for the invoking of Article 50 for Wednesday. The minister in charge of Brexit negotiations, David Davis, at the time called the upcoming talks "the most important negotiation for this country for a generation."
"The Government is clear in its aims: a deal that works for every nation and region of the UK and indeed for all of Europe — a new, positive partnership between the UK and our friends and allies in the European Union," he said.
The value of the British currency the sterling took a hit on markets. The sterling wallowed at one-week lows, down 0.4 percent at $1.2403 as investors braced for May's move later on Wednesday to formally file paperwork to leave the EU, Reuters reported.