OLDHAM, England — When things got really bad, Lara Butterworth would work six days a week and skip meals to ensure that her son had enough to eat.
But even that wasn't enough. Butterworth, 29, was forced to rely on handouts from the food bank before moving back to her mother's house where she now shares a bunk bed with her teenage sister.
Her inability to succeed was not for lack of trying. "I was doing the best I could," said Butterworth, whose son, Tyler, is 6.
"Even if I can't give Tyler everything he wants, I make sure he knows he's got everything he needs," she added. "He's loved and cared for."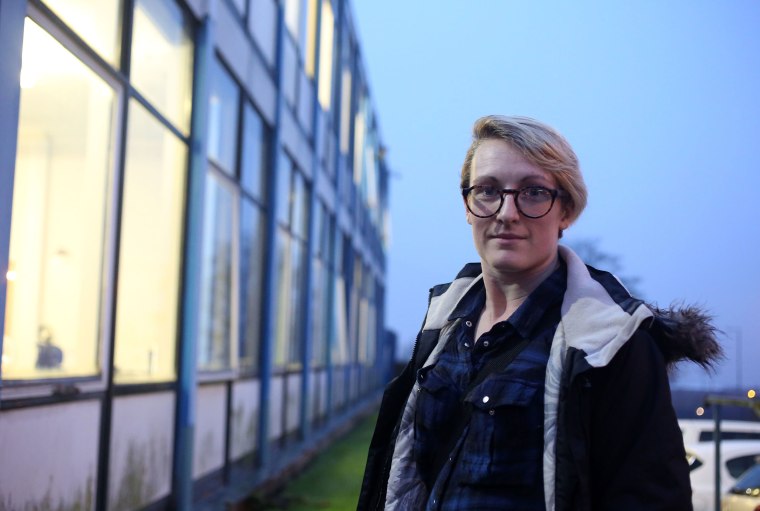 The U.K. boasts the world's fifth-largest economy, but almost one in three of the country's children are growing up in poverty, according to the independent Social Metrics Commission.
And things are getting worse. The Institute for Fiscal Studies believes that child poverty could reach almost 37 percent by 2022.
Such warnings come as Britain's prepares to leave the European Union on March 29, which the Bank of England has said could shrink the economy by as much as 8 percent in about a year.
Brexit means the U.K. will also lose billions in E.U. funding, which has greatly benefited the country's most deprived areas.
The U.N. last month criticized the British government for continuing austerity measures imposed in the wake of the 2008-09 financial crisis.
"Various sources predict child poverty rates of as high as 40 percent," Philip Alston, the U.N. special rapporteur on extreme poverty, wrote in a 24-page report on the effect such policies have had in the U.K. "For almost one in every two children to be poor in 21st century Britain is not just a disgrace, but a social calamity and an economic disaster."
Alston also dismissed the government's theory that work is the solution to poverty, highlighting that 60 percent of those below the breadline come from families with at least one member being employed.
The government has admitted that the country would be poorer under any form of Brexit, and many fear that people like Butterworth who are struggling to make ends meet now will be disproportionately affected.
The statistics are staggering.
Food bank use in the U.K. has increased fourfold since 2012. There are now around 2,000 food banks across the country, compared to just 29 at the height of the financial crisis.
The fall in the value of the pound since the Brexit referendum in June 2016 had already increased the cost of living for people in poverty by around £400 ($506) per year, the U.N. report said.
An average of 36 people have become homeless every day in the past year in Britain, according to the charity Shelter.
The Joseph Rowntree Foundation, a research and development charity, warns that if the government does not sufficiently increase benefit payments to account for post-Brexit inflation, up to 900,000 more people could fall into poverty.
The U.N. report also notes that the U.K. government does not have an official method for measuring poverty.
"British compassion for those who are suffering has been replaced by a punitive, mean-spirited and often callous approach" by the government toward those at the lowest levels of society, Alston added.
Discount stores and derelict buildings
Just outside the city of Manchester, the old cotton-mill town of Oldham has been hit hard by industrial decline and then years of austerity.
With a population of 225,000, it is peppered with discount stores and derelict buildings.
Oldham's municipal government has vowed to fight back and the town center's first new movie theater in three decades opened its doors in 2016 as part of a $46.1 million regeneration project.
More than 40 percent of children living here grow up in poverty, according to the End Child Poverty coalition of charities. It classifies such households as those with incomes of less than 60 percent of the national median after housing costs — or $321 per week.
In the Oldham neighborhood of Coldhurst, 62 percent of children live below the breadline — the highest rate of child poverty in the U.K.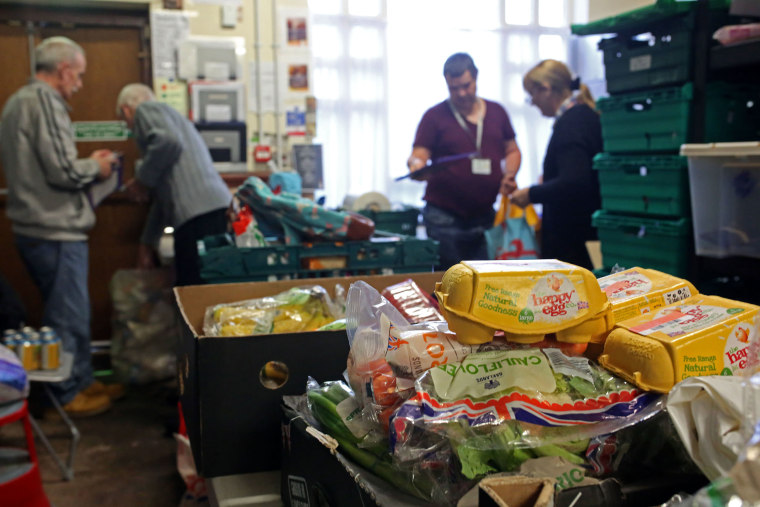 Many in Oldham said high levels of deprivation were key to why 60 percent of people living here voted to leave the E.U. in the 2016 Brexit referendum — well above the 52 percent national figure.
But few of those who spoke to NBC News said they expected the looming divorce to make life easier.
"A lot of people didn't see things getting better for them anytime soon and they saw an opportunity to protest against that, to kick the people who they felt were responsible," said Sean Fielding, who is leader of the town council.
The council itself has felt the sting of spending cuts. Since 2010, its budget has shrunk by $262 million — the equivalent of 42 percent of its funding — due to cuts in grants from the U.K. government. That makes it the sixth hardest-hit place in the country due to austerity, according to a recent study by the University of Cambridge.
And over the past 20 years, the Oldham Council has received more than $126 million in funding from the European Union, which helped projects including a tram system linking the town to nearby Manchester. It is not yet clear how much of the money Oldham can count on being replaced by the U.K. government after Brexit.
With public services debilitated by cuts, residents here increasingly rely on charities to plug the gaps in support. Oldham's patchwork of food banks, social enterprises and not-for-profits is testament to the strong community spirit that flows through the hilly town.
Inside the old pubs, chapels and community halls that have been transformed into food banks and support centers, many people point to relationship breakdowns, personal accidents and sickness as the beginning of their downward spiral.
But they said it was also a series of changes to the welfare system over the past eight years that had left them without a safety net.
Last year, Prime Minister Theresa May's government introduced a two-child limit for benefits saying it would no longer pay additional welfare payments for a third or subsequent child born after April 5, 2017.
"I think politicians really need to spend a week at a food bank and see what comes in or to live a week in the lives of some of the families we have, to see how poor they are."
But many also blame the design and roll out of a divisive new welfare program known as Universal Credit for pushing them into debt, leaving them with little or no financial support and driving them through the doors of food banks.
The government claims its redesign of social security "makes work pay" and "guarantees you will always be better off in work than on benefits."
But the Child Poverty Action Group, a charity that works to abolish child poverty in the U.K., said those policies have driven 1.5 million more children below the poverty line.
The poverty trap
Butterworth, the single mother, blames her most recent difficulties on her transition to Universal Credit, which she said caused her benefits to be cut off twice in the past year because of administrative errors.
To save on funds last winter, she stopped taking the bus and started walking Tyler the 45-minute journey to school through rain or snow.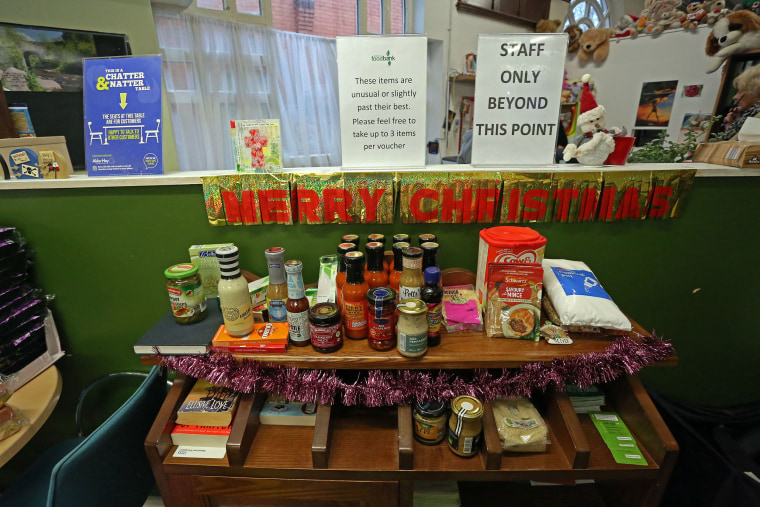 It was only when she was pulled aside to talk about his poor school attendance record that she was directed to the Oldham food bank.
After losing her job because of stress, and moving back in with her mother, Butterworth last month found a new role supporting young people with learning difficulties. Her income was $1,510 in November, but she says she will make less this month and is afraid that as a contractor her work will run dry by late spring.
Because of her new salary, she was only entitled to $99 in top-up welfare payments for December.
With no secure job prospects and not enough money for first and last months' rent on an apartment, Butterworth has little chance of leaving her mother's home — and the bunk bed — without help anytime soon.
With Christmas looming, she accepted a hamper of gifts for Tyler from the food bank.
Butterworth's story mirrors a national pattern, with changes to the benefit system hitting single-parent households particularly hard.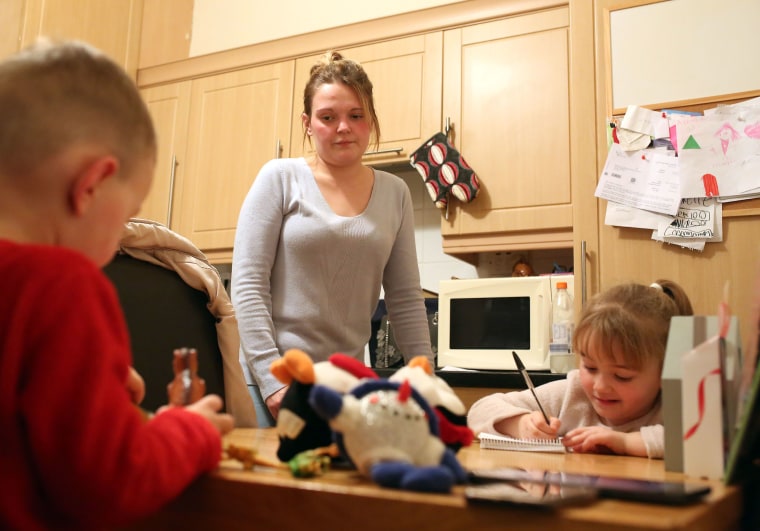 This year, the Equality and Human Rights Commission predicted that benefit and tax reforms since 2010 would see poverty rates for children in single-parent households jump from 37 percent to 62 percent by 2021-22 in England, Wales and Scotland.
While the government points to record employment rates — with only 4.1 percent of the population out of work — the U.N.'s Alston said low wages, insecure work and casual contracts with no guaranteed hours meant millions of Britons were stuck in poverty.
Desperation
With family to fall back on, Butterworth is better off than many who come to Oldham's food bank.
Lisa Leunig, who manages the bank's day-to-day running, said she saw many people come in desperate and alone.
"I think politicians really need to spend a week at a food bank and see what comes in or to live a week in the lives of some of the families we have, to see how poor they are," she said.
Leunig, 52, said she voted for Brexit to have a better standard of living and to stop what she described as high levels of immigration to a country that was already struggling to cope with the numbers of those in need.
Founded in 2011, Oldham's food bank helped 35 people that first year, she said. By early December, the center had helped more than 7,000 people.
"I just want a better country to live in," she said, adding that it was "disgusting" that people have nowhere else to go.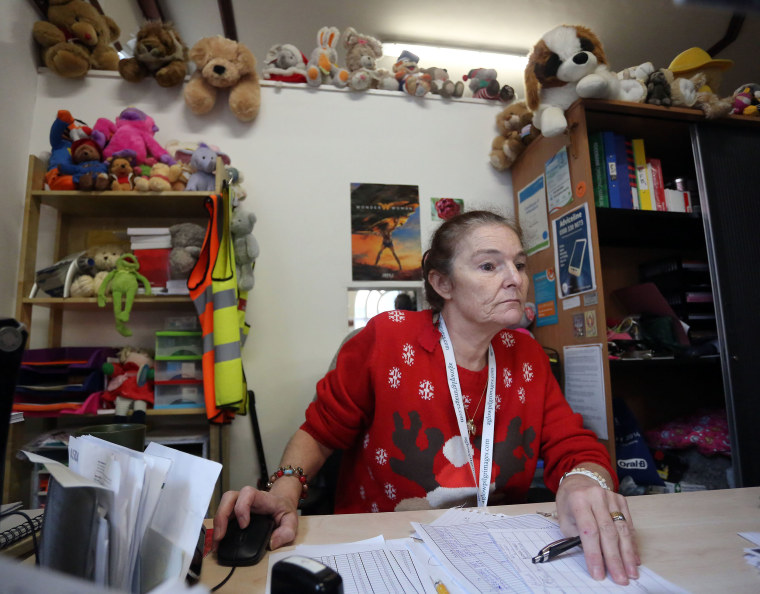 But despite her vote she's not convinced leaving the European Union will change much, and if it does she expects it to take a "very long time."
Like many in Oldham, austerity has left Leunig disillusioned. Many of those who spoke to NBC News said they had fallen through the gaps too many times to believe there was a safety net.
The Rev. Bob Pounder, who co-runs a food aid hub at the Oldham Unitarian Chapel, said cuts by successive governments had created a situation where it feels like "it's everyone for themselves" and where "the rich get rich and the poor get poorer."
The U.N.'s Alston said the government had made "no secret" of its determination to change the value system to focus more on individual responsibility.
The ruling Conservative Party has traditionally been a strong proponent of a small state with former Prime Minister Margret Thatcher famously declaring that "there is no such thing as society," as she advocated that citizens should do more to look after themselves before turning to the government.
More than two decades later, then-Prime Minister David Cameron introduced the idea of the "Big Society" which envisioned that people would not always turn to officials and local government when they faced problems but would instead feel "powerful enough to help themselves and their own communities."
Responding to last month's U.N. report, Work and Pensions Secretary Amber Rudd — who is responsible for welfare reform — said the "extraordinary political nature" of Alston's language "discredited a lot of what he was saying."
But Fielding, the leader of Oldham Council, said it should not be necessary for community groups and charities to do the government's job.
"We cannot lose sight of the fact that people are being driven into poverty as a result of decisions being made by the government," he said.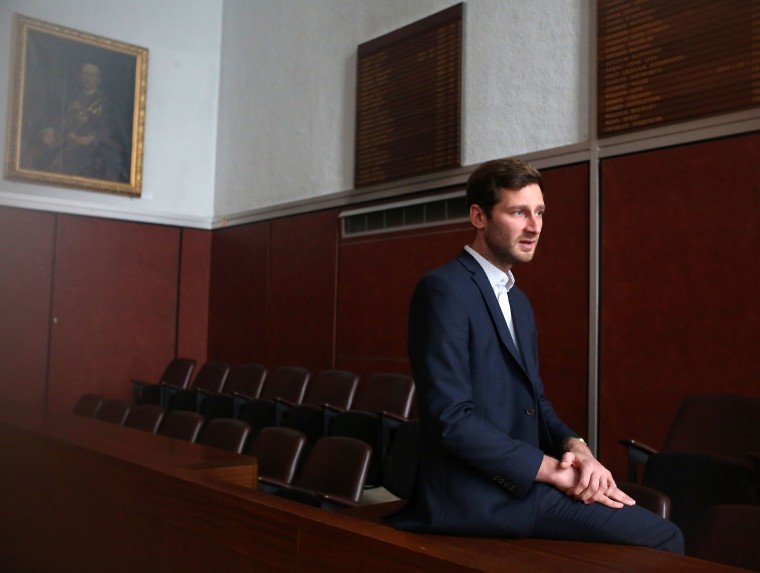 Fielding said he was concerned Brexit would only make things more difficult. Uncertainty over what Britain's future relationship with Europe will look like has also affected Fielding's ability to plan.
When NBC News visited Oldham in early December, the U.K. government had still not finalized the town's budget beyond 2020.
"We know that we have to take £17 million ($21.5 million) out next year and another £15 million ($18.9 million) the following year, and beyond that who knows," Fielding said.
'The kids are freezing at night'
Sharon, an out-of-work single mom, admits she didn't even vote in the Brexit referendum.
"I didn't see the point — they do nothing for you, do they?" she said, having returned home with bags from the food bank.
Since having an emergency cesarean section last month, the mother of five has been unable to work and has relied entirely on welfare benefits. (Her two oldest children live with their father.)
Sharon, 42, says she does not have the money to even heat her house, though she allows her two daughters to switch on an electric heater for 10 minutes at a time to keep warm.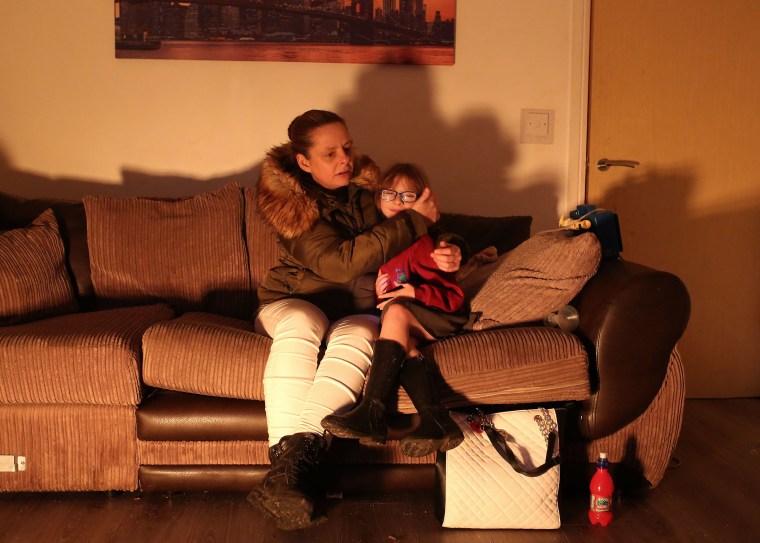 The water heater and washing machine at her small terraced house on the outskirts of Oldham were both broken.
"It's a joke, to be honest," said Sharon, who did not want to give her last name for fear of being identified by an abusive former partner. "The kids are freezing at night, it's horrible."
Sharon's youngest son Levi was born four weeks premature and was in intensive care when NBC News visited in early December.
"Look how tiny he is," she said gesturing toward a picture of Levi, only a few weeks old, hooked up to numerous wires. "He is not going to be able to cope in my house without heating."
After paying bills and $503 in rent, she said she currently lives off $88 a week in benefits, which she uses to feed herself and her two daughters, as well as paying for school trips and Christmas presents.
To make ends meet she uses food banks to get essentials like milk, rice and pasta but says she feels ashamed to not be able to stand on her own two feet.
"It feels like scrounging," Sharon said. "You want to provide for your own kids."