LONDON — Most Brits voted to leave the European Union, so at some point that's what the government will do. Simple, right?
Perhaps not.
Secretary of State John Kerry echoed many analysts Tuesday when he said "there are a number of ways" the Brexit vote might be reversed — meaning the U.K. might remain part of the EU after all.
Related: Full Coverage of Brexit Referendum
Here are some possible scenarios of how that might happen.
Will anyone actually trigger Article 50?
Everyone agrees that the only way the U.K. can leave the EU is by triggering Article 50 of the Lisbon Treaty, a set of rules EU members signed in 2007.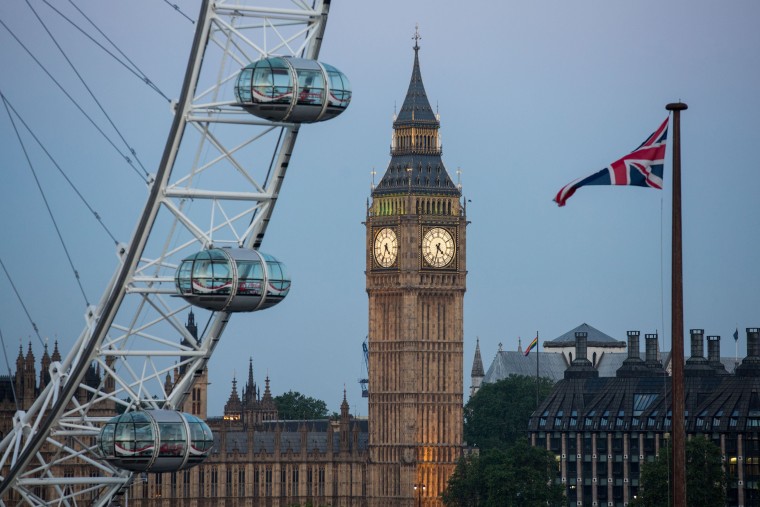 Pressing this imaginary button would begin a two-year countdown for Britain to negotiate its divorce with the EU and set out the terms of their future relationship.
Prime Minister David Cameron said during the campaign in February that the British public could "rightly expect" Article 50 to be triggered "straight away."
Related: What to Know About European Union's Divorce Clause
Except he hasn't done that.
The morning he lost the referendum, Cameron announced he would quit as leader and that Article 50 would be triggered by his successor, who likely won't be elected until September.
"That collides with two political difficulties," according to Professor Robert Hazell, an expert in constitutional law at University College London.
The first is that this delay has put the U.K. under increasingly pressure from the remaining 27 EU member states, "who want the negotiations to start asap in order to end the uncertainty," Hazell said.
"I wouldn't write us out of Europe yet, OK ... I think there's a lot still to come"
The second is that many of the 17.4 million Brits who voted "Leave" did so because they wanted tighter controls on immigration.
However, since winning the vote, several leading "Leave" voices have admitted that Britain may be forced to keep its borders open to EU citizens if it wants access to the bloc's lucrative single market.
"It's an issue that [anti-EU leaders] did not want to expose during the campaign, but as soon as they got the vote, it's clear as day," according to Professor Steven Fielding at Nottingham University.
This might lead to a situation where the next leader of the ruling Conservative party — most likely former London mayor and pro-Brexit campaigner Boris Johnson — would be faced with triggering Article 50 but not giving millions of "Leave" voters the immigration controls they wanted.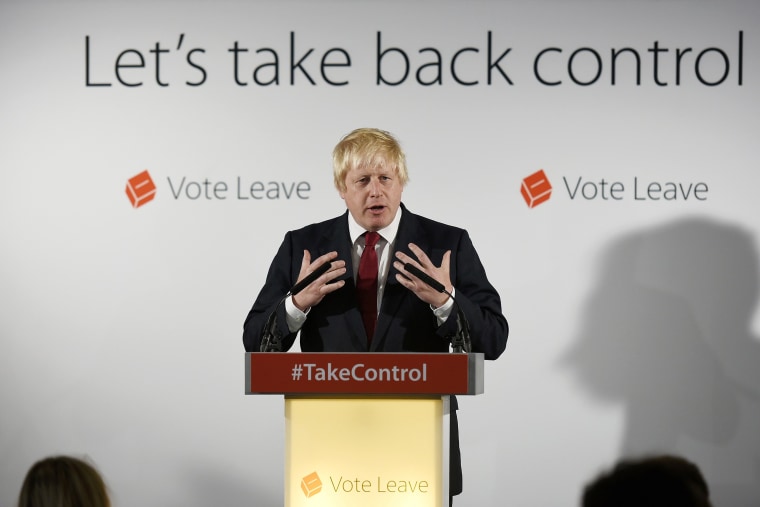 Hardly an enviable position for a new leader.
Other Brexiteers — as anti-EU campaigners are known — have since said they would be able to retain border controls and still have access to the single market. However, it's not clear why the EU would agree to a deal that essentially rewards a member state for leaving the bloc.
Cameron met with EU leaders Tuesday and said Britain "will not and should not" turn its back on Europe — but acknowledged retaining trading ties without conceding border control would be a "huge challenge."
Immigration is just one of the promises that, according to "Remain" campaigners, have evaporated into thin air now the referendum is over.
Hours after the last ballots were counted, Nigel Farage, leader of the right-wing United Kingdom Independence Party (UKIP), distanced himself from a pledge by fellow campaigners to divert £350 million ($470 million) on other areas such as the state-run National Health Service.
"That was one of the mistakes made by the 'Leave' campaign," Farage told Good Morning Britain, the breakfast show of NBC News U.K. partner ITV News.
There are also questions over how Article 50 would actually work.
Its text is just 261 words long, leaving the never-tested process open to interpretation. As Britain does not actually have a written constitution, it's not clear who would be responsible for triggering it.
Cameron implied that the next leader would do it using the government's executive powers, but the U.K. Constitutional Law Association argues it would need to be put to a parliamentary vote.
Some might see this as a formality, but the referendum was an advisory, non-binding decision. Most lawmakers are actually against leaving the EU and could conceivably use the opportunity to halt what they see as a one-way ticket into the abyss.
Related: Anger, Fear Follow Shock Decision to Leave EU
"As some of the core claims made by the leave campaign unravel, Parliament might decide that the case for Brexit has not been made — or was gained under a false prospectus," according to the U.K. Constitutional Law Association.
This uncertainty has led some to suggest Brexit may never happen.
"In my view, if the Article 50 notification was not sent … the very day after the 'Leave' result — there is a strong chance it will never be sent," wrote David Allen Green, a lawyer and political commentator.
Kerry also mentioned the uncertainty over Article 50 during a panel discussion at the Aspen Festival of Ideas, in Colorado, on Tuesday.
"I think there are a number of ways [Brexit might not happen]," he said.
Fielding says failing to invoke this divorce clause is not impossible, but unlikely while the largely skeptical of the EU Conservatives are still in power.
"I just can't believe they are going to be able to persuade the Conservative party not to honor this referendum," the academic said.
But there may be yet another way.
Could there be a snap election?
Ever since Cameron fell on his sword analysts have been predicting a snap election, likely this fall. His successor, chosen by Conservative lawmakers and members, might be keen to do this to secure a strong popular mandate, given the momentous task in their in-tray.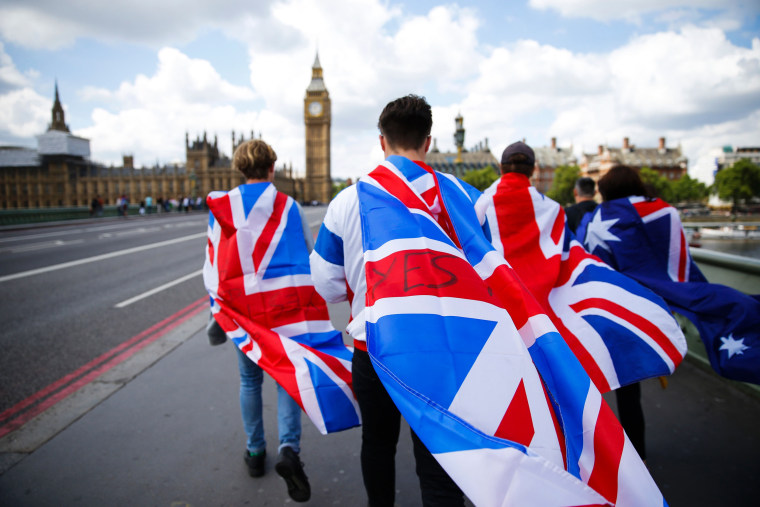 The opposition Labour party certainly looks to be preparing for this, with its lawmakers in open revolt against their divisive, radical-left leader, Jeremy Corbyn, who was criticized for his limp pro-EU campaigning during the referendum.
This could open up another avenue for those looking to reverse the referendum result.
The Liberal Democrats, traditionally Britain's third party until it hemorrhaged votes last year, have already said they will stand on a platform of stopping Brexit.
"The Lib Dems clearly think there are votes in them thar hills," Fielding said, referring to the huge support a pro-EU ticket would likely receive.
The 16.1 million people who voted to remain in the EU would be enough to dwarf the 11.3 million who supported the Conservatives and brought them to power in last year's general election.
But the Lib Dems would need a stratospheric increase on their current tally of just eight lawmakers — out of a 650-strong legislature — to gain power. "I think it would need the Labour party to take the same position for it to actually happen — and I don't know whether they will," Fielding added.
Furthermore, many political commentators have speculated that Boris Johnson, who was born in New York and has voiced pro-EU views in the past, didn't actually want to win. Johnson, so the argument goes, wanted a narrow victory for "Remain" to use as leverage for a new deal with the bloc.
But even if Johnson became leader, there is little chance the emboldened, anti-EU elements within his Conservative party would allow him to run on a pro-EU platform in an election.
As Fielding put it: "It's a bit of a mess."
What about a second referendum?
Another option is that the U.K. could hold another referendum.
An online petition calling for another vote has gained almost 4 million signatures, although many of these are thought to be duplicates by people who voted "Remain" last week.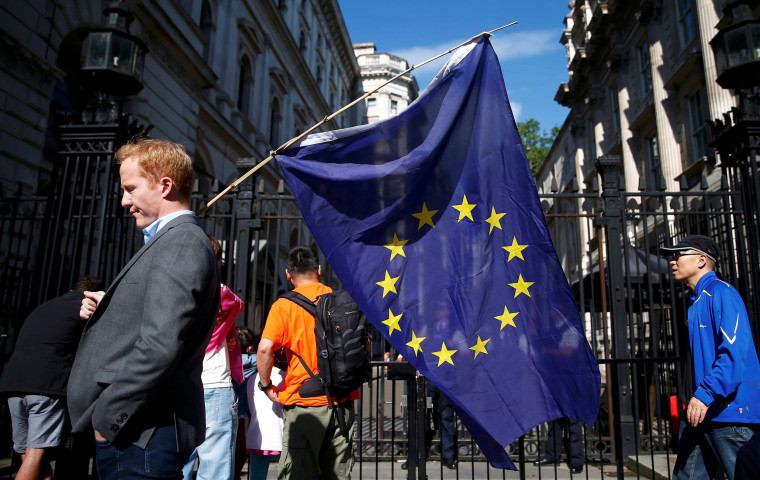 "There's a lot of talk in England today of having another vote," Kerry said in Aspen. "Cameron said it won't happen, certainly not for about a year or so or whatever. But, a year? It's within a two-year period, so who knows? I can't sit here and tell you I know what's going to happen."
However the idea of a second vote has been dismissed as fundamentally undemocratic by several lawmakers on both sides: The voters have already spoken with a majority of more than 1 million, they say.
"It is unlikely, but not impossible," said Hazell, the University College London academic. "It all depends how the polls move in the next couple of months. If they suggest that enough people think they made a serious mistake, as the consequences of Brexit become clearer, there will be a stronger incentive for the politicians to find a way of backing out."
Another possibility, however, is that there could be a second referendum at the end of Britain's negotiation with the EU, which is likely to last years.
This scenario might see the British government turning back to its citizens after a deal was struck and asking: "This is what life is going to be like under Brexit, do you still want to do it?" according to Fielding.
He agrees with most experts that the EU would hold the power in negotiations. With only two years to strike a deal, the U.K. appears more likely to blink than the remainder of the 27-member bloc. It may be forced to make concessions — as it would be far worse off if no post-Brexit relationship was forged.
Health Secretary Jeremy Hunt has already called for a second vote, but only to decide what sort of post-EU deal the U.K. wants, rather than to cast doubt over the decision itself.
In Scotland — where most people voted to remain in the EU — First Minister Nicola Sturgeon has already said she wants a second referendum on independence, after the idea was narrowly voted down by the public in Sept. 2014.
Sturgeon, who is leader of the Scottish National Party, or SNP, also suggested that her lawmakers may decline to give their legal consent to the referendum decision, but others have argued this would not be enough to veto the decision.
The only thing people seem to agree on is that Britain now navigating uncharted waters.
"I wouldn't write us out of Europe yet, OK?" Tony Blair, who spent 10 years as Britain's prime minister, told Morning Joe on Tuesday. "I think there's a lot still to come ... I can't see us having another referendum at this point but I wouldn't rule anything out. Let's wait and see."