LONDON — Germany has for decades been Europe's pillar of stability, supporting the European Union through economic crises, pressures from immigration and the threat of a resurgent far-right.
But with Germany's politics now in disarray — and the future of its chancellor Angela Merkel hanging in the balance — Europe risks losing its de facto leader, resulting in a power vacuum across the continent.
Europe-watchers are contemplating what protracted uncertainty in the country might mean for the E.U. and how it might fare if Merkel does not survive.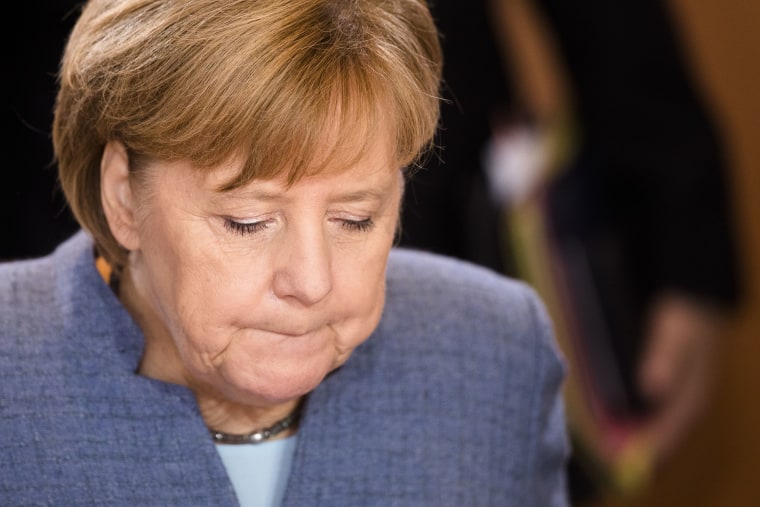 Coalition talks broke down last weekend over migration and environmental policy, and though there is now renewed hope of an agreement, Germany finds itself in unusually choppy waters. The country hasn't had a post-election minority government since World War II.
The clouds gathering over Europe's economic powerhouse come as the 28-nation E.U. faces its own perfect storm of Brexit, social unease over immigration and a rising threat from the populist far-right.
"Europe is waiting for a Germany capable of acting," Volker Kauder, a senior Merkel ally said Thursday as he expressed frustration with political rivals the Social Democrats (SPD).
"The economically strongest country in Europe cannot show itself as a political dwarf," he said.
Facing political deadlock, Merkel appears to have two options to pull Germany out of the doldrums if no agreement is found. The first is to rule with a minority government and the other is to go back to the polls in the hope that a second vote would be more decisive.
The chancellor has already said she thinks the second option is a better solution, describing herself as "skeptical" of governing as a minority. But while returning to the ballot box could strengthen her mandate, it may also mean she loses power altogether.
Related: Can Angela Merkel survive Germany's political crisis?
That could leave a leadership vacuum in Europe, according to Alexandra Borchardt, a long-time journalist for German daily newspaper "Süddeutsche Zeitung" and current professor of journalism at England's Oxford University.
Merkel is very pragmatic, Borchardt said, and "that's exactly what is needed in a union with so many countries with diverging interests."
Europe needs someone who can "make things work," she said. "It's hard to see someone else doing this because Germany and France are the biggest countries with someone who can lead."
France's young president, Emmanuel Macron, has his own vision for Europe "but he's very inexperienced so he really needs Merkel to make this work."
Merkel's other option, forming a minority government, would significantly weaken her ability to drive policy at home and on an E.U. level, analysts believe.
"She is going to have to do a lot of arm-twisting to get different factions together to move things forward domestically and internationally," said Sudha David-Wilp, deputy director of the German Marshall Fund's Berlin office. "It certainly won't be easy."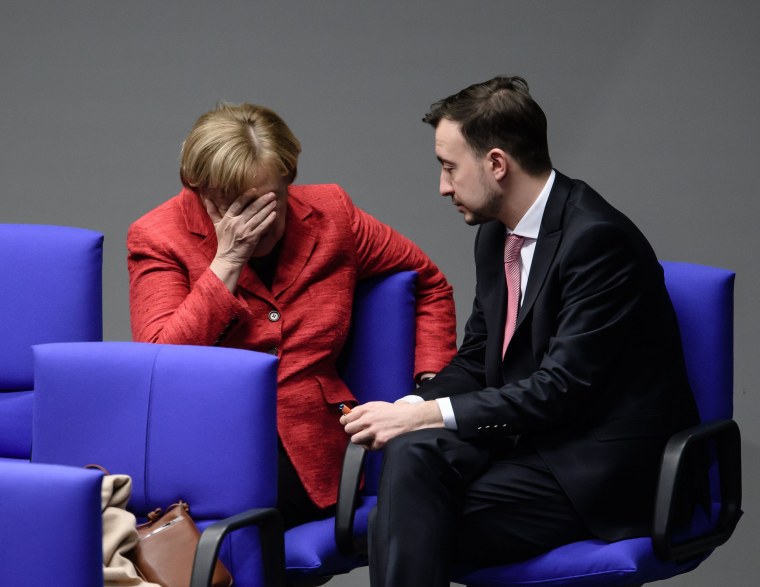 With domestic politics more of a headache, Merkel would also have less time to focus on European issues, David-Wilp said. "She will be very busy here, trying to build coalitions and paths to legislation, to do things in Germany."
In the meantime, analysts say, all major reforms of the E.U. would have to be put on hold.
Germany's caretaker government may have a mandate to continue ongoing European policies, but they're not going to embark on bold new visions, said David-Wilp.
"Macron's idea about eurozone reform, having a finance minister for Europe, debt sharing, those things will be on hold," she said.
But Anand Menon, associate fellow on the Europe Program at Chatham House, cautioned that the depiction of Germany as the driving force in Europe was frequently exaggerated.
While Germany has reluctantly taken the lead on issues such as the eurozone crisis, he said its influence was not limitless.
"Do you think the Germans have come up with a solution for how to deal with the illiberal tendencies in some member states?" he asked. "Merkel can be as strong as you like but it's not obvious how you deal with Poland and Hungary."
Related: Angela Merkel: How Germans See the World's Most Powerful Woman
But while a strong Germany may not be the answer to all of Europe's problems, there's currently nobody on the political scene who can fill Merkel's shoes.
All the parties in Germany "have a generational problem," the journalist Borchardt said. "Neither the SPD nor the CDU have anyone who can really rise as a leader and the other parties are too small to begin with."
In Europe, she said Merkel had been "a central figure" and while not impossible, "it will be hard to replace her."
David-Wilp described the situation as a "waiting game" for Europe. What is clear, she said, is that whoever leads Germany next will be committed to Europe, because the union is central to German security and defense policy.
"Every chancellor in Germany will respect and realize the importance of the European Union," she said.
"The question is what type of European Union will a future chancellor of Germany want," and then, in turn, what that will mean for the future of Europe.