President Obama on Friday defended his controversial op-ed in a London newspaper urging the British to vote to stay in the European Union, saying he was merely offering his thoughts — and that he didn't consider it hypocritical to do so.
"First of all, let me repeat: this is a decision for the people of the United Kingdom to make. I'm not coming here to fix any votes," Obama said in a joint press conference with British Prime Minister David Cameron, who supports staying in the EU. "I'm not casting a vote myself. I'm offering my opinion. And in democracies, everybody should want more information, not less, and you shouldn't be afraid to hear an argument being made. That's not a threat."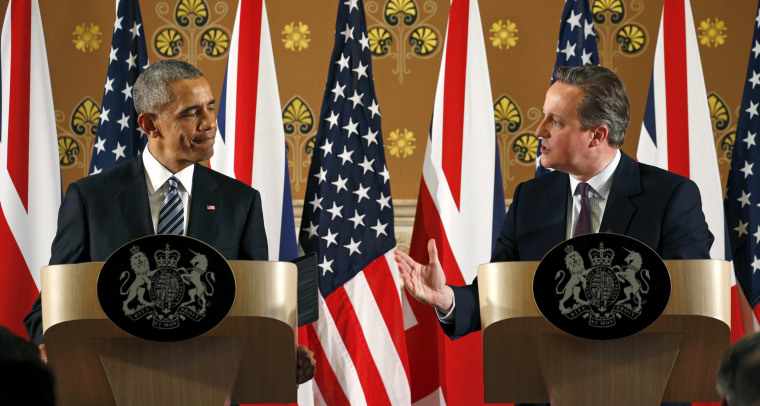 Obama also answered critics' charge that Obama would never endorse the United States joining anything similar to the EU. He argued that America has already sacrificed some sovereignty by being part of the United Nations, the International Monetary Fund, the World Bank and NATO.
Quoting the writer 17th century writer John Donne, Obama said: "I think there was a British poet that said 'no man is an island.' Even an island as beautiful as this."
Related: Obama Slammed as 'Perverse' by London Mayor over 'Brexit'
Obama has come under conservative fire for an op-ed article in The Daily Telegraph in which he urged British voters to choose in a June 23 referendum to remain in the EU. Obama said it would benefit European coordination on intelligence sharing, counterterrorism and economic growth.
London Mayor Boris Johnson, who was born in New York, led the backlash with an angry op-ed in The Sun newspaper. "It is incoherent. It is inconsistent, and yes it is downright hypocritical," Johnson wrote of Obama's statement.
Obama did not back down on Friday, saying that leaving the EU would have potentially dire economic consequences for Britain. He acknowledged that EU opponents have said that the United Kingdom should negotiate its own trade deals with the United States, and responded with a warning: If the separation did occur, he said, the United States would continue to negotiate trade agreements with a collective Europe.
An isolated United Kingdom "is going to be in the back of the queue," Obama said.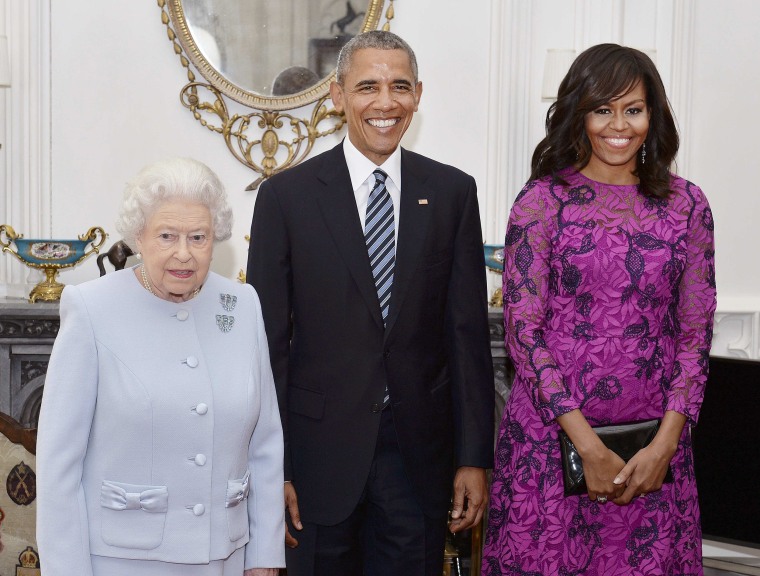 Cameron said the vote represented a choice whether to maintain his country's role as a joint leader — with the United States — in global security and economic issues. "Now is the time to stay true to those values and to stick with our allies in Europe and around the world," he said.
With his op-ed, Obama joined Cameron's campaign, which fits the president's broader effort to prioritize multinational coalition building.
"This this vote will send a signal that's relevant about whether the kind of prosperity we've built will continue or whether forces of division are more prominent," he said. "That's why it's relevant to United States and why I've had the temerity to weigh in on it."
The president also responded to Johnson's accusation that Obama, whose father was from Kenya, a former British colony, harbored an "ancestral dislike of the British empire." Johnson said that explained why Obama removed of a bust of Winston Churchill from the White House.
Obama answered by saying that a second bust of Churchill sat outside his second-floor office, where he sees it every day.
And he explained the removal of the first Churchill bust.
"I love Winston Churchill. Love the guy," Obama said. But he said that when he became the first black president, he felt compelled to add a bust of Dr. Martin Luther King Jr. to the Oval Office "to remind me of all the hard work of a lot of people who would somehow allow me to have the ability of holding this office."
The MLK bust replaced the Churchill bust installed by President George W. Bush. "There are only so many tables where you can put busts, otherwise it starts to look cluttered," he said.