LONDON — Britain's pound currency plunged in value against the dollar Monday after mop-haired London Mayor Boris Johnson dramatically defected to the campaign for Britain to leave the European Union.
The high-profile announcement dealt a serious blow to Prime Minister David Cameron ahead of the June 23 referendum that could see Britain vote to exit the trading bloc.
It was followed by a string of similar announcements by other senior ministers in Cameron's Conservative government, adding to fears that a so-called "Brexit" is now a real risk.
"I think there is genuine worry that Britain might vote to leave and the uncertainty is going to rise into the referendum," Alvin Tan, a strategist with French bank Societe Generale in London, told Reuters.
The pound fell nearly 2 percent at one point to a one-month low of $1.4133, putting it on track for its biggest daily percentage loss since May 2010.
It also fell sharply in early trading against the euro, underscoring jitters about a referendum that polls suggest could be a close-fought battle.
The New York-born mayor's endorsement immediately gave the "Brexit" campaign a huge boost, although he is not the movement's official leader or even its most senior backer.
Johnson's buffoonish upper-class persona — he once dangled on a broken zip line waving two British flags — masks a shrewd politician and he is viewed as a possible successor to Cameron. Pursued by a gaggle of reporters as he cycled from his home early Monday, he pledged to promote Britain's "great future outside the EU" as he enjoys his final weeks in office as mayor.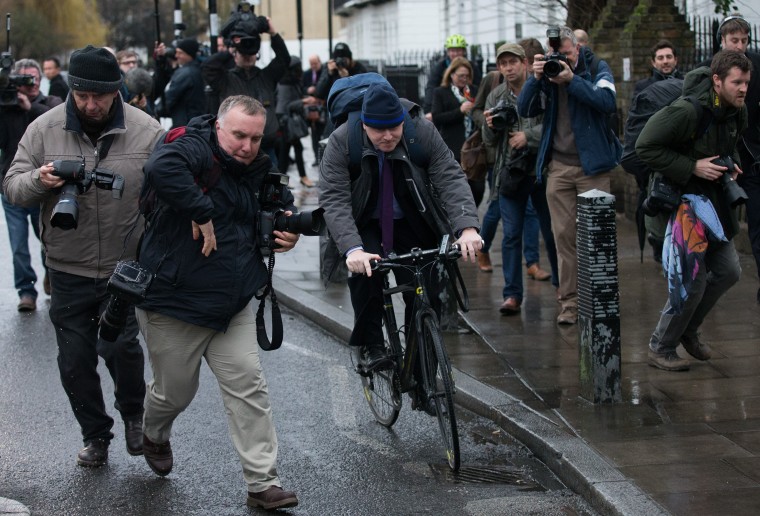 Polls published before Johnson's move suggest the "in" campaign to keep Britain in the EU has a narrow lead over the "out" movement, but about one-fifth of voters remain undecided.
The issue has divided not only voters but also political parties: House of Commons lawmakers have been given a "free vote" to campaign along personal, not party lines.
A "Brexit" would strip the EU of its second-largest economy and a major military power, adding to its woes amid Europe's migration crisis and the collapse of the Greek economy.
"The EU can do things that NATO cannot," British Defense Secretary Michael Fallon said Monday, arguing that Britain could not survive alone. "At the moment our defense and security rests on NATO, not on the EU, but the EU adds to that security."
Other pro-Europeans, including former Prime Ministers Tony Blair and John Major, have warned that an exit could also trigger the break-up of the United Kingdom by prompting another independence vote in less-skeptical Scotland.
In a 2,000-word article explaining his decision, Johnson said his beef was not with Europe but with the EU itself, which he said was a "political project" that was increasingly undemocratic.
"Britain needs to be supportive of its friends and allies — but on the lines originally proposed by Winston Churchill: interested, associated, but not absorbed; with Europe — but not comprised," he wrote.
Cameron, who last week negotiated new terms for Britain's membership of the EU, is tasked with persuading voters that the U.K. would suffer financially if it quit.
He has received the backing of business leaders, according to the Financial Times which reported Monday that 100 CEOs were ready to publicly endorse the "in" campaign.